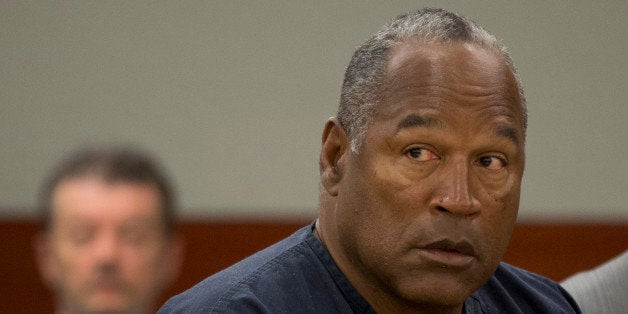 I'm looking forward to watching director Ezra Edelman's five-part documentary series O.J. Simpson: Made in America on ESPN. Ezra is a fine director and he has done great work and I'm sure this is no exception.
For me though, there is anxiety, sadness and frustration attached to this program. I interviewed O.J. Simpson numerous times and most notably interviewed him on Up Close on ESPN about two years before the murders.
On that show, I asked him about an alleged incident of physical violence toward Nicole Brown on New Year Eve. He denied there was anything to the story.
There were no arrests, no charges filed, no criminal investigation, and I assumed, wrongly, that it was a private matter and the book was closed.
That interview, as inconclusive as it was, was still entered as evidence into the O.J. Simpson murder trial. The interview was dismissed in the trial.
Given the horrible events to come, I wish I had known more, questioned more, and I fault myself for that. I still do to this day. The clip which appears in the documentary makes it appear that I was chummy with Simpson. It makes it appear, even two years BEFORE the murders, that I was dismissing the seriousness of the issue of domestic violence.
Every nine seconds in America, a woman is assaulted or beaten. One-third of ALL women internationally have been beaten, coerced into sex or abused in their lifetime. Domestic violence is the leading cause of violence to women, more than all the car accidents, muggings and rapes combined. Every single day in America four to five women are murdered by their husbands or boyfriends.
To be in any way seen as lighthearted, chummy or even mildly enabling some monstrous issue like that still haunts me 22 years later. The Simpson interview is one of the most tragic examples of how the media (including me) and the public trusted and accommodated their heroes, believing their mythology and perpetuating their deification. Even Marcia Clark told me that the LAPD was more interested in getting O.J.'s autograph at his home than investigating the warning signs of domestic violence. They weren't doing their job.
But back to "our" job as broadcast journalists. Was there a more beloved and respected man than Joe Paterno? Lance Armstrong was viewed and reported by many as something of a saint, who rode clean with cancer as his cause.
Marion Jones, Sammy Sosa, Barry Bonds, Tiger Woods, Mark McGwire. Nothing remotely close to O.J. or Paterno, but all, in one way or another, championed by the press as great people with character and integrity.
In one way or another, they were all liars, deniers or cheats. The Simpson interview is still the one that cuts deepest for me personally. I wish I had the benefit of hindsight. I didn't have anything but a denial from Simpson. There's not much more I could've done given what facts I had in that interview. Yet, I still have deep regret and sorrow for it. I'm glad we ask tougher questions now. I'm glad the media raises issues that run deeper than a few minutes interview with a celebrity. Thats real progress in broadcast journalism.
But, like all the people who were duped, lied to, and still lionized America's heroes, I hope there is a healthy distrust and skepticism to the men and women who dazzle us with their athletic talents and celebrity.
I know I will never look at sports heroes the same way again.
Popular in the Community