The Jadeed Voices Initiative is a special project by the Muslim Writers Collective which offers a platform to reflect on our faith and the diversity among us by highlighting the exigency of promoting nuanced, multifaceted perspectives. We will be sharing one narrative a day from July 8-19. For more information about this initiative, please visit our author page, and follow the Muslim Writers Collective on Facebook and Twitter.
"Sing, sing a song.
Sing out loud, sing out strong.
Sing of good things, not bad.
Sing of happy, not sad.

Sing, sing a song.
Make it simple to last your whole life long.
Don't worry if it's not good enough.
For anyone else to hear
Just sing.
Sing a song." - Joe Raposo, "Sing"

Joe Raposo wrote the lyrics of my childhood, and the rights were owned by what was then Children's Television Workshop.

I was a Sesame Street baby.

I used to say that "Stand by Me" by Ben E. King was my first favorite song as a five year old, but "Sing" precedes it by a year or two. After bringing up my favorite songs, I usually begin cataloguing them from five years old onward, stumbling over my years of unrequited love in my early twenties with sadness and ending with a question mark. What is my favorite song, and who's my favorite artist these days? When I've escaped from the grips of nostalgia, I'll let you know.

I sang before I learned I was Muslim. Story goes that as an infant, my mother often found me singing in my crib on early mornings as she prepared to go to work. It's natural that music is so integral to my life. I am a high school clarinet player turned amateur jazz, soul, and Música Popular Brasileira singer. Luckily for me, around the time when I became a practicing Muslimah, Yusuf Islam had evolved and no longer avoided performing, and that informed my position on music.

I had graduated from high school years before and entertained the idea that my belonging to the marching and symphony band was a sin, but it didn't stick. Reveling in that perfect performance of "Overture to Candide" my senior year made me love God too much for it to be haram.

Maybe that's why, years later, hijab wouldn't stick, either. I started hijab right before I studied abroad in college. Two or three months in, I found myself perfecting the steps of bachata and merengue in the Dominican Republic to a chorus of "ella sabe, ella sabe," from our neighbors. I ignored that some Muslims may consider my singing voice awra as I belted out Spanish and Portuguese verses to the delight of my host mom. I was ashamed. This is not who a muhajaba was supposed to be.

I held onto hijab for two more years in spite of myself and shed it on the day of my college graduation, knowing it would hurt my Christian father to see me flaunt our religious difference on that day more than the cloth was meaningful to me.

I felt guilty at times that lyrics of songs defined my life more than ayat of the Qur'an, but the possibility of love did not seem so fanciful in the Qur'an as it did in Jeffrey Osborne's "On the Wings of Love." That was my favorite song at the age of seven. I first heard the song on the beige sofa between my parents in the family room of my childhood home, still short enough that my legs dangled as I sat. "Can we hear it again?" I asked as my father lifted the needle from the groove.

And I listened to it again, maybe hundreds of times, since that day in 1992, weeks before my father would buy our first CD player. That's the love I wanted. "Up and above the clouds, the only way to fly," had to be in the spirit of the ayah that stated that my future husband and I were created for each other, to dwell in tranquility with each other (Qur'an 30:21).

Indeed, songs defined my love and love defines my religion.

I grew through phases of love and despair, of progressiveness and conservatism, and I find myself here, at the start of my third decade, losing my religion just to find it at the beginning. This is not the first time. I don't fret this time. I found love, alhamdulillah, so I need to refine my religion.

My religion now is weighed down by so many things, fear being the foremost. Fear of how I may not be enough; how my practice may not be enough. Fear of terrorists and how they threaten the lives of my brothers and sisters and spurn hatred for my coreligionists globally. Two mosques in my community were threatened days after the Orlando attack because people don't know where to place their pain. I was so afraid. I wanted to retreat into even more invisibility than I already have as a black Muslimah.

Instead, I'm going back to the basics. I'm returning home, that childhood home where, as a toddler, I first sat in my mother's lap as she performed salat in English because that was the best way she knew how. I'm going back to her lively Qur'an lessons, her version of Sunday school, for me and my brother with autism. Her Islam was pure, easy, and self-evident. It was not paralyzed by shame and fear of missteps. Here, God is merciful and forgiving, certainly more than I am of myself.

I have no favorite song now because nostalgia rules me and keeps me coming back to the beginning, to that child raised in song. How appropriate that my first favorite song takes me home to my original religion.

So in the face of fear of racism and retaliation from those who don't understand how my faith is the antithesis of terrorism, I sing my faith loud and strong. I focus on the good, on love and compassion. I remember the happy, that the purpose of life is to help each other through this life and remember that I was blessed to enter the perfect profession to do it. My religion shall be simple, simple enough to guide me through this life so that my soul is sated and healthy when it's time to put my body to rest.

I don't worry if it's not good enough for anyone else. This is mine. This is my song. This is my love. This is my religion.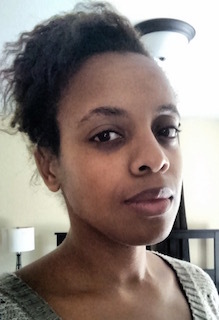 Chinyere Obimba is a family physician who lives in Kirkland, WA and works and plays in Seattle. She hasn't quite figured out how to make writing and singing fit in with her day job. She lives out her life's purpose by providing primary and maternity care to underserved patients in English, Spanish, and Portuguese.