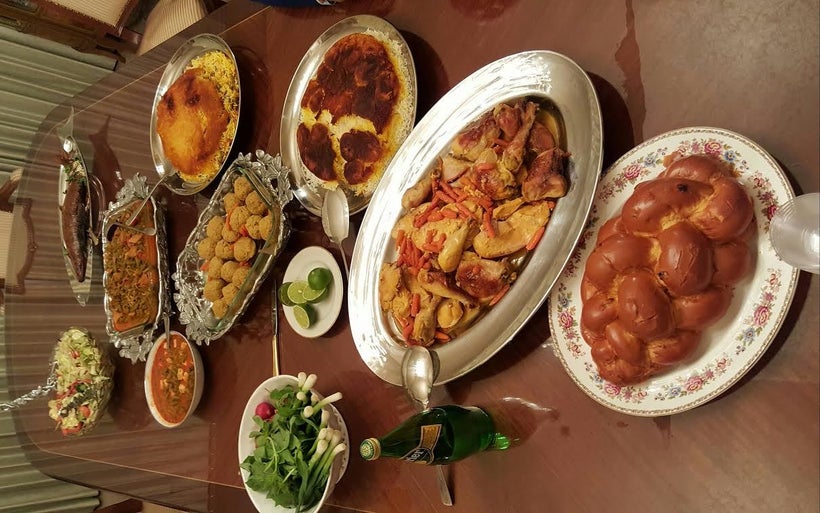 When I was a little boy in ‪Iran, in a new school with mean kids, at the end of the day I would wait for my mother's smiling face and comforting hug.
That's what ‪Shabbat does for me now. When she arrives, after a long and hard week, I feel her calm, soothing embrace.
Having lived in the Middle East, in Europe and now in America, more than anything, the Shabbat dinner has become my religion.  
Over the years, my family has hosted Muslim, Christian as well as Jewish friends on Shabbat serving them traditional Persian Jewish food and all of them share the following sentiment.
My religion is ‪Shabbat dinner 
where memories are made that last a lifetime, 
where children sing hip new songs, 
where grandparents tell old stale jokes, 
where generations ridicule each other, then reminisce, 
where grudge-holders are reacquainted through food, 
where new recipes are showcased and old ones perfected,
where the corners of old homes are remembered,
where our insecurities & imperfections are mocked & cuddled,
where I nap to the lullabies of chatters,
where cousins become tomorrow's best friends,
where a son or a daughter asks "How are you?" 
and actually listens to the answer,
where a rough week's work is left behind
because the seventh day is holy,
because the purpose of life is in that togetherness,
because there is more permanence in that moment,
because we stand all together at Sinai,
because we all need to love and be loved in return.
The Shabbat dinner redirects our focus away from social media onto a beloved's face.
We break bread, we drink wine, we exchange vulnerable words of wit and wisdom, and within moments of loving glances, we celebrate this world awaiting our wonder, begging our joy.
Perhaps that's why we sing "Come My Bride."
My religion is Shabbat dinner.
Calling all HuffPost superfans!
Sign up for membership to become a founding member and help shape HuffPost's next chapter
This post was published on the now-closed HuffPost Contributor platform. Contributors control their own work and posted freely to our site. If you need to flag this entry as abusive,
send us an email
.