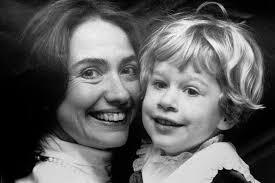 My Request To Hillary Clinton For A New Title For Women



I have but one request. And I don't know of anyone in the whole world who is more qualified to help me with this besides you, since you have been the perfect role model for beautifully balancing motherhood and a major career throughout your entire life. "It Takes A Village," is my guide and encyclopedia that I trust and turn to for advice. I suggest everyone read it to know what sort of genuine and wonderful person we will have for our president. We need a woman president! And you, Secretary Clinton, a woman of God, with your intelligence, experience, and courage, who understands family, and especially children, are the right one for us all. I believe you will understand my zeal when it comes to standing up for children, something you've done so well throughout your years of service.


When I was 26 years old, I became a widow with a 5-year-old daughter depending on me. I also buried my mother one month later. The government supported me while my late husband's SS was in process. I'll never forget the warm support I got when a kind social worker came to my home and went over my rights and the grants that were available for me and my daughter. But one thing really bothered me through all this incredible support I was getting. For some odd reason, I felt the system seemed to separate me from my daughter with their focus on educating both of us, rather than keeping us closer together to establish a firmer foundation we both lost. Surly education is a must, but I'm glad I was shown another way of success that is more powerful and nurturing to people of all ages. And I know you've lived it too.


I've been working full-time as a caretaker for my family for over 35 years. Although I'm not really fond of the title, and often thought it would be better to have had a more prestigious title as a talented hairstylist, or a teacher, or even a well-known author, speaker, or writer. But honestly I didn't really hold any of these titles in their fullest sense because I didn't focus on them long enough to make them first place in my life. However, I am a full-time caretaker who took this job a long time ago because no one else wanted it. And now, in my later years in life, I would love to share the irreplaceable value a caretaker provides as she serves the lives of all the people around her. My beautiful role model of a mother taught me the genuine value of people, and how to put this goodness into practice. The same ways your own example, Secretary Clinton, of intelligence, experiences, and courage continues to remind us to stand-up for the children, making sacrifices that bring us forward. That example gives us hope.

When my daughter was just two years old and my first husband's company wasn't doing well, I took a part-time job as a hairstylist on Saturdays to make some extra money while my husband stayed home with our daughter. I loved working and being with other adults, and my boss wanted me to work more than one day a week, and even full time. I wanted to accept but noticed that Mom was not very supportive when I told her. She saw my joy from working as a stylist instead of from raising my daughter. When I asked why, she told me that my daughter was much too young to even consider leaving with someone else, and that I could go back to work when she started school in a few years. She also told me that I had the rest of my life to focus on my career, and that this was not the time because it was my responsibility to nurture my daughter before she started school. After that, I stopped working entirely because I couldn't stand having Mom upset with me and I trusted her wisdom. I never regretted my decision because by the time my daughter started first grade, I had become a widow, and soon after that lost Mom and then Dad, and ended up with the full responsibility of providing for myself and my child. I realize now that those first five years were of the utmost importance for my daughter in helping to maintain her sense of well-being during such a sad, trying time for both of us.

My mother taught me how to prevent serious consequences that might come later if I'd missed time with my child. I was in my early twenties at that time, and now I know for certain, Mom left me a treasure in more ways than society recognizes, because society thinks that to get ahead, one needs a prominent title recognized by society. But what the world might have forgotten is that our choice to first serve our professions might bring serious consequences later. I believe that you, Madam Secretary, have put into practice the right way to balance family and work. I've read all your books and wisdom, and agree with you in service to the family, first.

I also learned how to work around my daughter's life, and all the lives of those who've needed my attention for most of my life. My passion to remain a caretaker came with tremendous rewards. And now in hindsight: my caretaker way of life actually opened up more jobs for so many other people in my family who were freed of responsibilities that were mine in the first place! This is so much better for everyone in the long run! There's enough serious work for all of us in this world, when we mind our own. And we make things work financially, too.

All of this has become so much clearer to me when I found contentment, something that provides a greater reward to me and is more valuable than the other titles I had previously wanted. For many years, I was considered a woman without a real job, rather than a woman who learned from her wise mother what was right to do in her particular situation. In that sense, being a caretaker/caregiver was quite demanding and exhausting at times, and I would have preferred to work in a professional job. But I knew that in my particular situation, this would only have kept me from the needs and demands of everyone all around me. I would have been less available, especially to my children. And I would be running away from my responsibilities.

I am with you, Hillary! I stand by your flawless love of all the people and there's nothing more I want to see than you as our president. That's because I admire how you serve family. I admire how you support education all around, and work towards creating jobs and education for all children. But I feel there's something missing in our system when it comes to educating women who are fighting for their own children, especially when they are missing support in their family. And I know that's when it seems like the hardest job in the world. Most of us already have enough work laid out for us that needs our attention even with just one child. I hope and pray that you will look deep and educate America's women about their own value as mothers. A new title would be great! Perhaps it might be something prestigious or glamorous. We women love the dazzle. I believe that along with this great new title, we'd be held in higher esteem in society. I know you'll find a way to accomplish this because you spent your entire life fighting for children, and you're not stopping now! I believe you are the only one who can open our eyes. I know you will make room and open more jobs and opportunities for those who have studied long and hard, and who have trained for positions that make our world and families stronger together.

Thank you so much, for hearing my request, during this most important debate!

Best of luck, Madam Secretary. I'm with you!
About Catherine Nagle: Catherine grew up in Philadelphia with 16 brothers and sisters, reared by loving, old school Italian parents. Catherine's artist father's works graced churches and public buildings; her mother was a full-time homemaker. A professional hairdresser, Catherine worked in various salons while studying the Bible and pursuing spiritual growth through courses, seminars, lectures, works of Marianne Williamson, and conferences, including the National Theology of the Body Congress. She is also an Ambassador of the Society of Emotional Intelligence. The mother of two children and now a grandmother, Catherine lives in Pennsylvania with her husband and son. She is the Author of Imprinted Wisdom, and a contributor to Anne Born's These Winter Months: The Late Orphan Project Anthology.
Calling all HuffPost superfans!
Sign up for membership to become a founding member and help shape HuffPost's next chapter