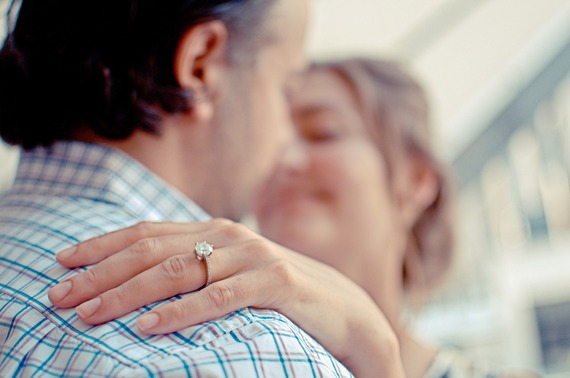 On April 6th, 2016, my phone looked like a strobe light. The screen was lighting up and blinking so quickly, with notification sounds dinging non-stop. My room sounded like a casino floor on a Friday night.
To be honest, at first I was alarmed that something was wrong, until I realized that a post about my small wedding ring was actually going viral.
"Our love story is about to be everywhere," I said quietly to my husband. The feelings were a mixture of fear and excitement.
It's been just over two weeks since the post went viral. After being featured on Cosmopolitan, Glamour, TODAY Show, Huffington Post, as well as a myriad of other top publications, not to mention a repost by George Takei, the response has been overwhelming.
Have you ever received 17,000 comments on a Facebook post before? I certainly hadn't. I braced myself for the onslaught of positive and negative responses that might be left for me to read.
Millions of women read my story, 46,000 people shared it, and 198,000 individuals agreeing and liking my post. I had become the face of a movement for women with small rings!
As I read the comments, however, I realized there was another trend of activity on my post that also caught my attention: a big-ring shaming movement, of sorts.
"To those PEOPLE who feel you need a BIG ring [you] must be very materialistic."
"To all the girls who want a big ring good luck finding true happiness!!"
"Theres [sic] some pretty shallow people in the world today ....they actually think bigger diamonds mean something."
There were many who attempted to use my post as a weapon to attack women whose hands are adorned with large jewels. I even saw a video created with my story that cited "A 2014 Study Linked Bigger Engagement Rings to Higher Divorce Rates".
It's time for me to share my response to women with big diamonds, because you got dragged into this craziness with unkind words.
Here is my response to women with big diamonds:
I don't think you're shallow.
I don't assume you're insecure.
I don't expect that your marriage is unhappy or doomed.
I think your ring is beautiful.
I believe that your love is bigger than your ring.
The success and happiness of your marriage and your life are about so much more than the ring on your finger, regardless of the size. Your husband had the funds available to buy something incredibly precious for you, as a token of his love for you.
My original statement still stands, and is completely applicable to you as well, "Wait a minute.... Since when did the size of someone's ring become an indication of success?!"
It is my hope that you never let anyone talk down to you because your ring is big. Don't ever waste a day being embarrassed or ashamed of your beautiful rock. Your ring tells a story of a beautiful love that changed your life forever.
My original point remains. Ring size doesn't matter. Your love is all that matters.
I welcome you to share your own love story in the comments.