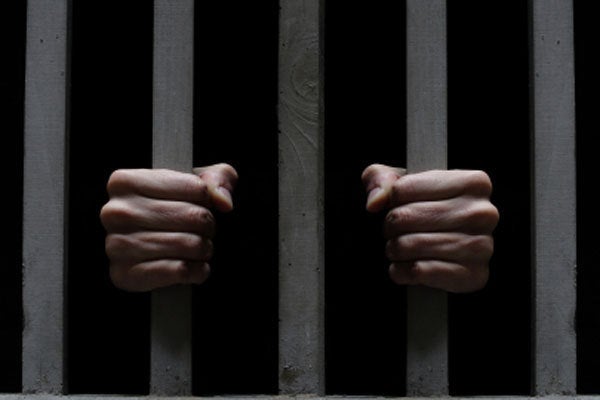 On Saturday, May 2nd 2009, I returned to prison. Again.

Tom Morello, Jerry Cantrell, Billy Bragg, Perry Farrell & Etty Lau Farrell, Gilby Clarke, Boots Riley, Carl Restivo, Dave Gibbs, Don Was, Handsome Dick Manitoba, Eric Gardner and the Road Recovery staff went with me. The prison was the infamous Sing Sing maximum-security facility in Ossining, New York. I talked with the prisoners and we played music for them.
And we went in with the blessing of the New York State Department of Corrections to inaugurate a new program focusing on inmate rehabilitation. To tell you the truth, I didn't think it would happen. I could not have been more wrong. We had all played a concert the night before in Manhattan for Road Recovery, a non-profit organization that works with at-risk kids. The show was sold out with the help of my comrade Iggy Pop and it was a resounding success.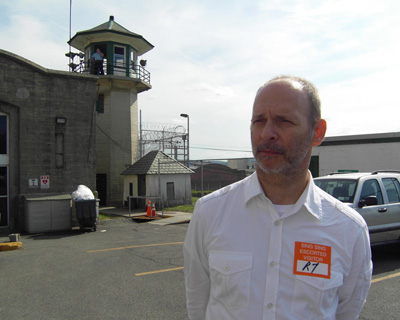 Credit: MARGARET SAADI KRAMER
Me in front of one of the guard towers
The Sing Sing show was a bonus. To say it was memorable would be a massive understatement. As would be understating the importance of reaching out to the people on the receiving end of the greatest failure of social policy in America's domestic history.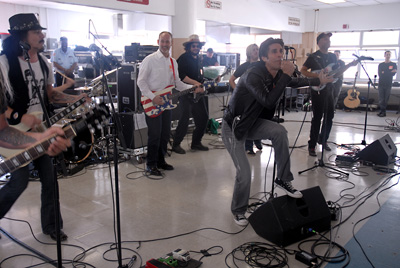 A performance photo in the chow hall
You would have to be living on the moon to not know what a disaster the "War On Drugs" has been. Twenty billion dollars a year for the last 30 years, two million Americans in prison -- 60% of them non-violent drug offenders -- and you can go out on any American street corner and buy cheaper, higher quality heroin and cocaine than you could anywhere in America 30 years ago. The political expediency of "get tough on crime" along with the sure-fire vote getting "lock them up and throw away the key" mentality has successfully created the highly profitable Prison Industrial Complex.
On Saturday, I asked a corrections officer at Sing Sing what the prisoner population in New York State is right now. "Just over 50,000," she replied. Then, it occurred to me: When I was imprisoned for drug offenses in the 1970s, the entire Federal Prison population totaled just over 50,000 inmates. Then the C.O. added that, when she started her career in corrections 20 years ago, there were 23 prisons in New York State. As I write this today, there are over 60!
Crime stats have stayed consistent over the last 30 years, but incarceration rates have more than quadrupled. It's the human cost that has been the most damaging. I'm talking about non-violent drug offenders. Countless families broken up, the marriages destroyed, three generations of kids with fathers (and mothers) in and out of the system. These are mostly brown and black people. People from America's cities who, as screenwriter David Simon describes them, "Leftover people. People who were necessary in an industrial America but who are of no use to the economy today." Non-violent drug offenders who are locked up are people who are pawns in urban political gamesmanship. Nobody talks about them. There's no political will to look at it. There's no political capital in it. It's a no-winner. But, there's certainly money in prison building and guard hiring.

Out here in California, the prison guards union is one of the most powerful political lobbies in the state. I don't have any naive ideas about this changing anytime soon. Make no mistake, though, this situation is a crime against humanity. Government should be helping, but it's not. Instead, it has created a self-fulfilling monster that eats humans whose judgment has been, at one time in their lives, critically flawed and then the monster shits out profit and political gain.

What I can do as an artist is the same thing you can do as a friend and neighbor -- stand up. Speak out. Get involved.
At Sing Sing, I talked to men who had been locked up for eight, 10, 17, 30 years but had somehow managed to hold on to hope. Men who sang along with Billy Bragg on Bob Marley's "Redemption Song" still had hopes and dreams. Their spirit was strong. I doubt any of them ever heard of the MC5 or Jane's Addiction or Audioslave, but it didn't matter one bit. They all connected with the music. What mattered was they knew, by our simple presence, that not everyone has thrown them away. I certainly haven't. Neither have all the musicians who went with me to this historic visit. Not everyone in this country believes in the Draconian approach to drug enforcement that has been the status quo for the last 30 years.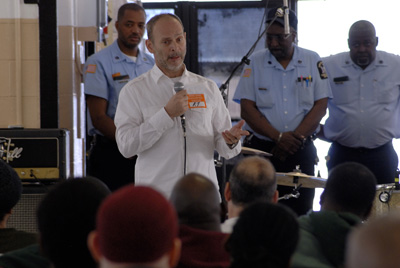 A shot of Wayne speaking to the inmates
Kudos to Gov. Paterson and the NY Dept. of Corrections for inviting us in. Maybe other governors will start to wake up to the economic and human disaster that is their failed policy. Maybe Barack Obama can step up and bring justice and reason to one of our nation's greatest failures.

Handsome Dick wrote to me the following day, "Seeing those prisoners slowly shuffle back through that door, and go back to jail, got to me. Can't stop thinking about it. And me being free... and... how much I appreciate everything I have." Tru dat, Richard.

Yesterday's HuffPost ran the headline "White House Czar Calls For End to War On Drugs." Sounds good. Now let's see who steps up.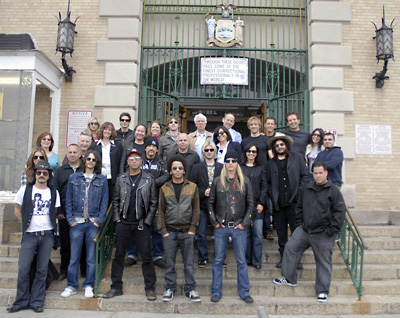 Front Row: Gilby Clarke, Dave Gibbs, Tom Morello, Boots Riley, Jerry Cantrell, Jason Lemiere 2nd Row: Daniella Clarke, Vaughn Martinian, Handsome Dick Manitoba, Matt Pinfield, Carl Restivo, Susan Silver, Don Was 3rd Row: Una Cote, Billy Bragg, Deputy Superintendent Dr. Malin, Jack Bookbinder, Eric Gardner, Margaret Saadi Kramer, Scott Schumaker, Anthony Nater 4th Row: Etty Lau Farrell, Perry Farrell, Officer O. Marchese, Peter Jenner, Wayne Kramer, Laurence Kern, Bobby Danelski, Kirsten Charlebois
REAL LIFE. REAL NEWS. REAL VOICES.
Help us tell more of the stories that matter from voices that too often remain unheard.