*** I originally wrote/posted this review on January 28, 2016.... seven days after attending the show. ***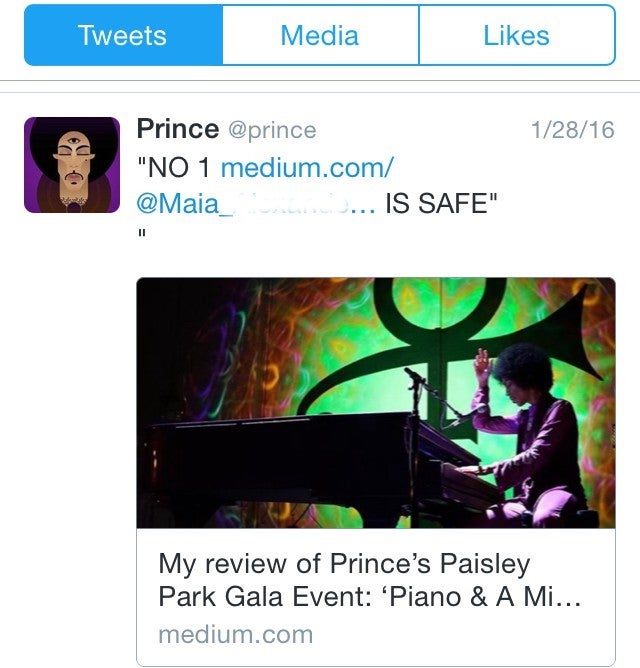 I'm honestly still speechless right now, so apologies in advance for any moments that I may sound discombobulated while I attempt to at least write about it. As already noted in various reviews, other than a handful of songs, the set lists were not the same (set lists below). Both shows were different. Both set lists were outstanding.
A plethora of songs seeped into my ears, my body, my being. The music was beautiful and blissful and euphoric and peaceful and melancholy and haunting and thick and deep and sticky and hot and soulful and raw and strong and jazzy and bluesy and just so very Princely. Prince is a multitasker didn't you know? And yes, I needed to describe it that way, with all the 'ands' and all. I suppose I could have just said it was captivating and intoxicating but I need to really get my feelings out about this, ok?
Lights off except for on Prince and piano for entirety of both shows. Dark. Prince, piano and the candles flickering on the small stripped down stage. He walked out through a cloud of smoke (how else should Prince walk out?) and got busy. As banal as this may sound, it's true; it was as if time stood still. It seemed like everyone's world in the room for those moments turned into only Prince and his piano and his mesmerizing voice. Nothing else. People were consumed with every single note. His voice was **%@! flawless. I've attended MANY a Prince show and I'm not typically the concert crying type but it felt as if I were trying to hold back tears and wanting them to flow at the same time. Oh, I don't know! Prince has a way of sometimes causing people to become disorientated - even the most poised and self-assured. No one is safe. So I know it sounds crazy that my own body and brain whom know each other so well didn't know what to do. Hold back tears or have a good cry? Your guess is as good as mine.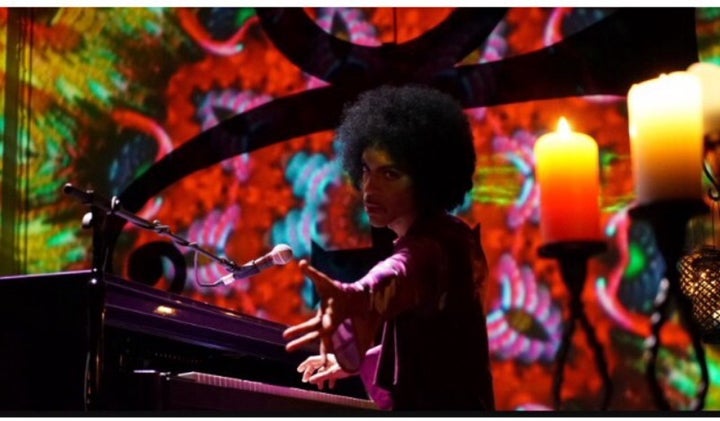 At the beginning of the first show, he told us, with his voice being followed by deep dramatic echoes, about his dreams and uncertainties as a very young child, of mastering piano playing. He often had to sneak to play his father's piano, which at the time he was forbidden to play. 'Can't mess up dad's piano!' He started at three years old and moved up in age in between songs. "I can't play piano like my dad. How does dad do that?" He acted out to us his attempts at improvisations at one point. "I thought I would never be able to play like my dad, and he never missed an opportunity to remind me of it." He told us his father was his best friend. He continued on with the rest of the show, pounding out song after song (to an extent in chronological order). Other than time seeming to stand still for the most part, it also felt as if we had gone back in time occasionally. When he would pull out some of his much earlier songs, it felt as if we were in that particular space, as his voice has NOT changed. It is still just as crisp and refreshing.
At the beginning of the second show, he glided out again, stood at the piano and raised his hand up high into the air as if it were about to come crashing down for some serious hardcore piano playing. He looked over at us with that Prince grin and then gracefully sat down at the piano instead. He then played and sang his heart out. It was emotional and powerful… as well as serious and hardcore.
This was all about the music (but of course, it was a Prince show!). We all soaked it in. There was nothing to sidetrack us. Nothing else to hear or look at, other than the psychedelic kaleidoscope lighting he had going on behind him which was very intricate, yet quite soothing. There was an alluring and hypnotic feel about it. The vibe in the room was so chill and comfortable. The music sounded so good. I had to remind myself at times that I wasn't listening to Prince on my speakers at home; he was actually right there, just a few feet from my face playing and singing.
His piano game was TIGHT. I wish I could elaborate on method and technique but unfortunately I do not understand the complexities of it all — I only understand how much I love the sound. His voice was powerful. Deep and low, loud and piercing (falsetto!), soft, slow and sultry, strong, sharp and demanding. With the tip ending of his sung words having that certain Princely ending to it. I can't think of how to explain it but I'll try. Think back to him singing The Beautiful Ones, and how he sings 'babyyy' during that song (specifically the second verse, third 'baby' right before "Can't you stay with me tonight?". Try to keep up y'all 😉). He sings it with a pointy swirly end on the tip of the word as if someone is writing it with a calligraphy pen (while dressed in silky lacy lingerie… or maybe leather… or both). Well now that really didn't explain it! All I'm saying is that swirly slinky curlicue sharp pointy tipped thingy at the end of his 'baby' and other sung words is a huge part - although only one of many parts - of what got me hooked on his singing in the first place. And 'that part' was ever present during these shows.
While the vibe was chill and calm it was also simultaneously intense. After all, we were sitting in Paisley Park with Prince and he was playing piano for us and singing to us. INTENSE. A good intense. The kind of intense that gives one 'belly butterflies' and warm flushes from head to toe. The kind of intense that might make one grasp their chest or heart and whisper, 'Oh my'.
During the song Free, he stopped to acknowledge David Bowie. How appropriate. "Peace to David Bowie." "…He was very nice to me. He seemed like he was nice to everybody… I just wanted to say that". He then continued with the song. That touched my heart.
During Purple Rain: Prince got emotional. He left the stage for a moment and could be seen wiping his eye as he disappeared behind the wall. He came back out and said he forgot how emotional music could be for a moment and that maybe he should have waited to play that until later. I will say, there have been some shows that I've attended where he played Purple Rain on piano only, and yes it's beautiful but I also always want to hear the guitar solo since I personally love it so. On the times that this has happened, I've rushed home afterwards to blast Purple Rain on repeat a few times to get my guitar solo fix. But this time, it was just absolutely delicious on piano. Delicious, I said! What guitar?? I didn't even know what a guitar was afterwards, I tried to snap out of it later. I did, but it took a few days. And thank goodness because how horrible would it be to forget how marvelous Prince is with his guitar?
I won't go into each song's amazingness, the set lists speak for themselves!
Usually when I am at a Prince show, I try to fight this feeling I get about halfway through, but sometimes I can't. This feeling is 'bitter sweet'. How ridiculous and selfish of me. I always have that 'It-will-have-to-come-to-an-end-eventually-Oh no!-Where is the slow motion button?!' feeling in the back of my mind. This night was different. I didn't feel that way at all. I was able to savor the moment in time and just enjoy what was taking place without any other care or thought in the world. I have a feeling others around me felt the same way. Not that I would be able to look around to see, since we were in the dark, but I'd be willing to bet on it. There was nothing else except for Prince and his music. It was as if he and his music were one. And they were. They are.
Maybe there really is an invisible slow motion button and it somehow got pushed. Thank you Universe.
To wrap it up, Prince's hands and fingers were all over those piano keys and they were very dapper. Yes, his hands and fingers were dapper! I know that word is usually used to describe a whole person and not just parts, but we are talking about Prince so the usual rules don't apply.
It was amazing to see and hear. Prince seemed relaxed and open and very into his music. He seemed happy, and I love to see that. For this to have taken place at Paisley Park and for this being my first time there, it made things a million times more special to me. It was a surreal feeling. I wished that all my loved ones were there to witness it. I wished 'everybody' could have been there. I feel like that at every Prince show though.
The ending of the first show ended with the song Anna Stesia (Lovesexy, 1988) and with all of us (including Prince) softly singing/repeating , "Love is God, God is love. Girls and boys, love God above." This went on for a nice while and it filled the entire room.
The second show ended with the song Free Urself (newer song from 2015 — Tidal and itunes) and with all of us (including Prince) loudly singing/repeating "Free! … Free yourself! You got to free yourself." This went on for a nice while too and again totally filled the energy and space of the room, even after Prince walked off of the stage and until the lights finally turned on. I get goosebumps thinking about it. Perfect ending.
Prince mentioned freedom, feeling free and being free throughout the evening.
He also let us know somewhere in between A Case of U and Motherless Child: "The space between the notes, that's the good part. How long the space is…that's how funky it is or how funky it ain't". The groove got soulful and revved up for a bit before he finished it up. We were in the spaces between the notes!!!
At one point, he gave recognition to Wendy Melvoin and Lisa Coleman. Ya know… "Wendy?" "Yes, Lisa." "Is the water warm enough?" "Yes, Lisa." "Shall we begin?" "Yes, Lisa." He told a funny story about first meeting Lisa and thinking how she wasn't going to work out… until he heard her playing something… He told us how the beginnings of Raspberry Beret came about, giving her credit for her part in it.
He mentioned his appreciation of jazz pianist and composer Bill Evans. He sang about Michael Brown and Freddie Gray, and added in lines about the water crisis in Flint, Michigan and the current gun violence epidemic. "Peace is more than the absence of war."
Prince thanked us and said "This is a first, you were here and so was I." He reminded us, "Paisley Park is in my heart". Ours too Prince, ours too.
Both shows were very strong and magical and I'll never forget the evening. One would think such a special occasion could only happen once, but Prince can make magical things happen back to back and on the same night if he feels like it. He just can. Oh, and did I say I was speechless? I stand corrected.
"This is what I usually do at this time of night," Prince told us earlier on. "It's better with you all present." I'm sure I wasn't the only one imagining him sitting there alone late at night, playing his piano - and then snapping back to reality and realizing that there was no need to imagine it at all. We were there with him this time, we were part of it.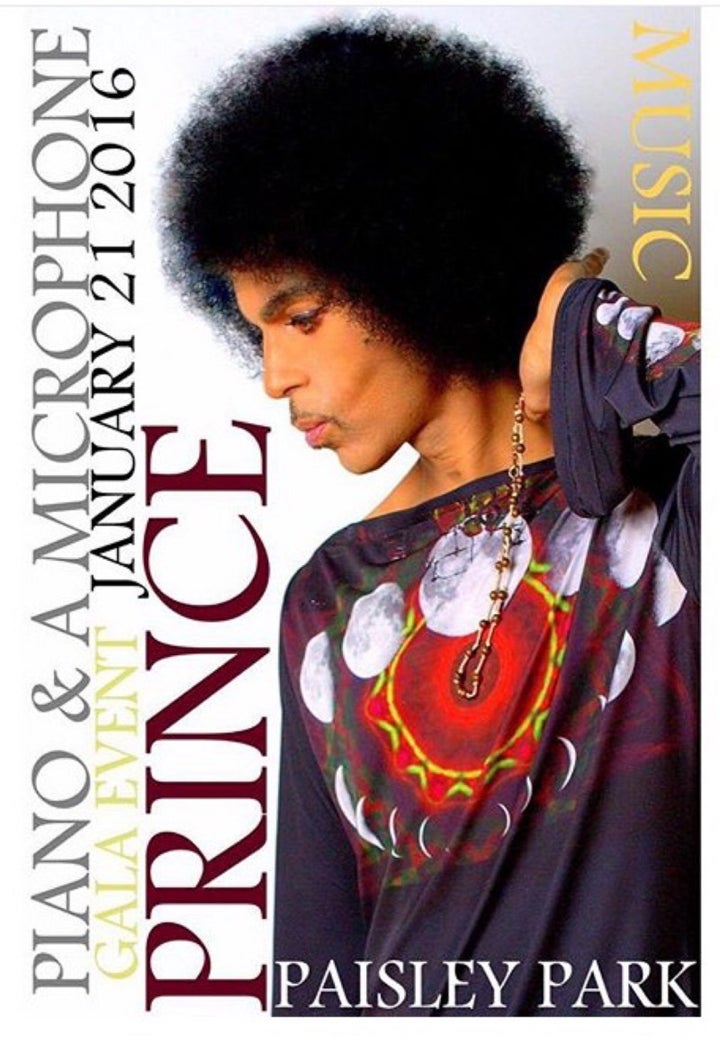 Related
Popular in the Community