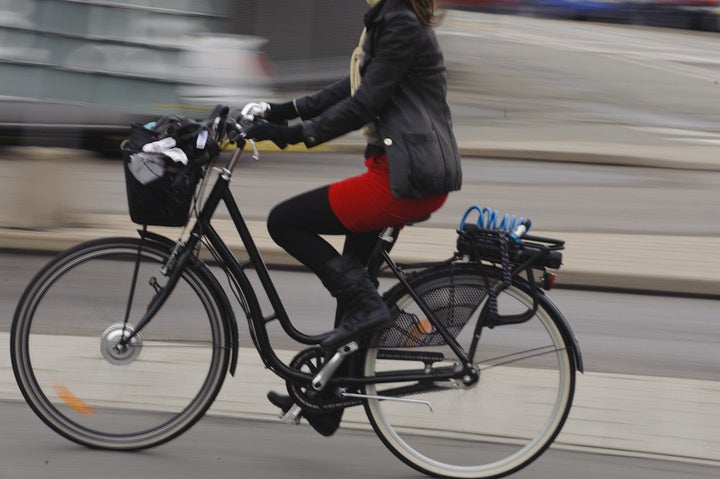 A little over a year ago, I went to the doctor and was diagnosed with high blood pressure (160/100), atrial fibrillation (irregular heartbeat) and high cholesterol. The doctor told me that I was a candidate for a stroke. She said it wasn't a matter of if, but when!
The doctor then tried to prescribe medication that I discovered could cause erectile dysfunction, so I declined. I asked her if I could deal with my condition with exercise and better nutrition. She said definitely not.
Figuring I had nothing to lose, the next day I bought a bicycle and started riding five miles a day. Then 10 miles a day, then 20. I eventually arrived at my now-daily routine of 50 miles a day.
I went back to the doctor after riding my bike for three months for a followup and she told me I had good blood pressure (116/76), my cholesterol was normal and the atrial fibrillation was gone.
That day, I decided to make cycling a lifelong ritual. I immediately started training to do a Century Bike Ride (100 miles). I also decided to get into the spirit I would attend the Tour de France in July of 2012.
Shortly after arriving at the Tour de France I was given a backstage VIP pass, where I had all access to everything.
Everyone was talking about a guy named Bradley Wiggins and how he'd probably win the Tour de France, making him the first person from the UK to do so. I actually got a chance to meet Bradley in Pau, France.
After a grueling 21 days of racing, Bradley Wiggins did win the Tour de France.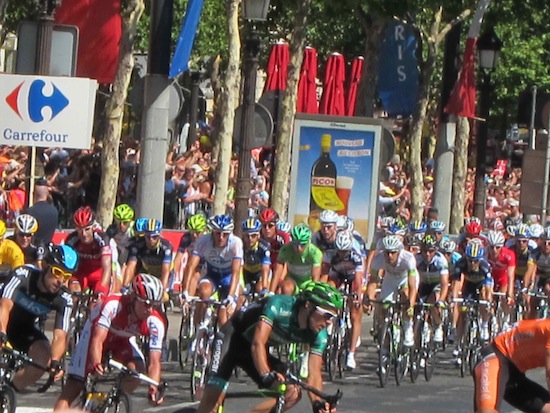 Shortly after the Tour de France, I was invited to do a long bike ride with Bradley Wiggins in his hometown in England. It was called my Ride with Brad.
I bought my ticket and flew to Manchester, England. The experience was awesome. I'd never been to England, so it was great to see Bradley and a ton of really nice British people as powering through a very long bike ride.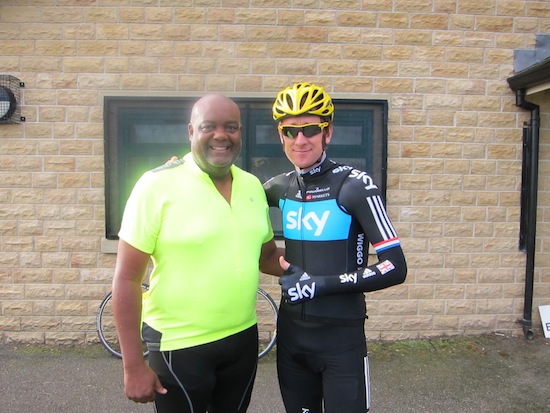 The countryside of England was spectacular and I had a blast even though it started raining midway through the ride. As people crossed the finish line, you could see everyone's pride from being involved with such an awesome event.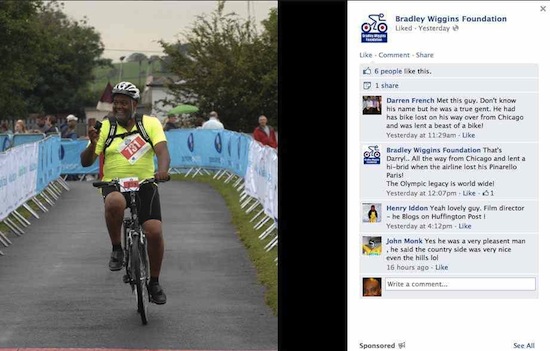 I came back to the United States more motivated than ever to ride for the rest of my life. Bradley Wiggins officially became my cycling role model.
I went to the doctor six months after my last visit and hundreds of miles ridden on the bike, and I'm still in perfect health.
Cycling is awesome for me, but it seems clear to me that we should all find our exercise of choice because being fit seems to be a great way to become healthier.