I liked to say I had the coolest chiropractor in Los Angeles. A bass guitarist still active in his 60s, John Ciambotti played on hit records with Elvis Costello, Lucinda Williams, and Huey Lewis, and spent years of his life in the intimate brother- and sisterhood of the touring rock band.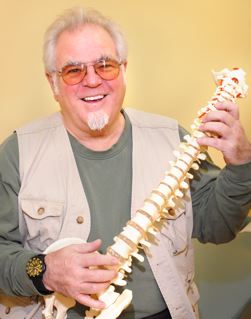 John turned the gift of his strong hands and big heart to a second career as a healer, which is how I came to be introduced to him in 2003. His style: warm and laid back, a soul patch on his chin and a mischievous twinkle in his eyes. His specialty: easing the aches and pains of an eclectic tribe of creative types like himself, holding fast to dreams while meeting commitments to work and family.
At John's memorial service Sunday, I discovered I was not alone. On a modest stretch of Victory Boulevard, in the narrow parking lot behind Glendale Chiro Care, a thriving practice that Dr. John nurtured into being with his business partner and fellow chiropractor Dr. Gassia Titzian, over 100 people came to pay their respects--musicians and roadies, surfers and film people, artists and LGBT folk, young parents and kids, vibrant retirees including my septuagenarian yoga teacher, medical colleagues, a Jewish cantor, a professional stuntwoman. Although we knew John had been struggling with a knee problem, we were all shocked to learn of his sudden death last Wednesday of an abdominal aneurism. The news went out via email, phone call, and an obituary in the LA Times.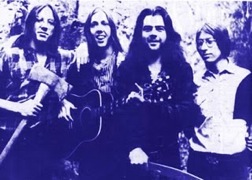 Alongside photographs and handwritten notes, a heartfelt, four-page tribute from Elvis Costello graced the impromptu, candlelit altar in our parking lot sanctuary (and is also posted on his web site). Costello's words honor John's rascally spirit while affirming his bona fide contribution to rock music history:
The news first arrived from Alex Call, chief vocalist and one of the several talented songwriters in John's former band, Clover. Some of those reading this will know that Clover were the Marin County group, who were persuaded to take up residency in England by our former managers and Stiff Records founders, Jake Riviera and Dave Robinson....Clover's early 70s albums on the Fantasy label, "Clover" and "Forty-Niner" were very rare and fine but only appreciated by a tiny group of admirers. I had finally found "Forty-Niner" in a Wandsworth second-hand store, just a vinyl disc without a sleeve. I played it until I knew every note in the grooves. The relocation of the band to Headley Grange--a rat-infested, English country house and former rehearsal haunt of both Led Zeppelin and Bad Company--did nothing to change the band's fortunes but proved to be greatly to my advantage. Newly signed to Stiff Records, more as a songwriter than a recording artist, I soon found myself working with players whose records I had previously hunted down in those cut-out bins....I was introduced to the full line-up of Clover instrumentalists: guitarist and pedal steel player, John McFee, keyboard player, Sean Hopper, drummer, Mickey Shine and on bass, the most outgoing and wickedly-humoured of the outfit, bassist, Johnny Ciambotti...."My Aim Is True" was recorded in a total of six, four-hour sessions, yielding the original 12-track sequence and three completed outtakes. It transformed me from someone who recorded his songs in a bedroom to a pop singer with an odd name, who had the chance to appear on television and radio, perform on club and theatre stages and eventually make his way in the world. The recordings with Clover were the first thing that most people heard with my new name attached and whatever naivete I now detect in my own performances, their impact and the debt I owe to the players, is undeniable....Legal reasons meant that Clover had not even been credited on the "My Aim Is True" sleeve....Whatever other adventures I have enjoyed in the succeeding years, none of it could have happened without that first step, when I was effectively a student and they were the masters....Johnny had always established this great rolling motion when the music was moving the right way, with the player and his instrument making one big wheel....
Costello's homage blew me away. In this city of poseurs, I thought, our John was the real deal.
Out in the chiropractic parking lot, as the sun climbed higher and shadows receded, his family, friends, and clients introduced themselves to each other and a fountain of memories, unscripted and uncensored, began to pour forth. From the men:
I remember my first visit. In comes this guy in board shorts and Vans. Where were the white coat and the penny loafers?

He was a good cracker, but you already started to feel better even before you got to the table.

I want to speak for all the young musicians. I'm a drummer and I've got neck problems, nerve problems, carpal tunnel, you name it. He was as much a mentor as a healer and a doctor. I'd call him from the road. I could ask him about anything, bandmates having drug problems. I'm just so glad I found him. He was a guardian angel.

He encouraged me, and I'd always leave here feeling like I was walking on clouds. He bought this ukulele for my daughter [holding it up for everyone to see].

John was truly a renaissance person. In a world where people specialize, he had so many things in his hip pocket that he could pull out.

He just loved so many things that he was doing.

I didn't know him long but I instantly knew him well.

There was no better friend or chiropractor.

I used to tell people, he's not a chiropractor, he's got magic hands!

His music will go on and on. When it goes through the wire and over the airwaves out into the atmosphere, it just goes on and on.
He could call you honey, baby, sweetie--even doll face--and still get away with that.

At the end of my first visit, on my way out, he kissed me! I went home and told my then-boyfriend, now my husband. 'It was great,' I said, 'but he kissed me!' And my boyfriend said, 'That's OK, he kisses me too.' [With that, several men spoke up for the first time, "He kissed me too," chagrined to admit it.]

Whenever I'd have a pain in the neck or a pain in the back or a pain the ass...I'd come to John. That's the silver lining it in it, that my pain brought me to John.

He took care of my health all those years. I'd just look at him and he'd get it.

John not only adjusted my spine but also my soul. He could align me just looking at me. We talked about God and motorcycles and show business, or lack thereof. Life didn't suck so much when he was around.

He was a brilliant man but he never put on airs, he was always humble.

He gave you unconditional love. When I left, I'd say, 'See you later, good friend.' And that's what I'll say today, 'See you later, good friend.'

Also on hand for this celebration of John's life were his mother and brother, his life partner Lisa, and his adult children Robby and Gia. Struggling to speak through his tears, Robby thanked everyone for coming, and Gia reflected on the sheer life energy that their father possessed, "like a locomotive train." She continued:
I'm a singer and as I grow older in my musicianship I see his ability to communicate through his bass guitar. Then he became a chiropractor! He was here in this office and he was just groovin', he was just hitting his stride, ready to take off--and then he took off! My dad went out in a ball of fire.
Everyone agreed that John would have relished this get-together. "John loved a party, any party," said Lisa, adding later that he was "an Italian with a vibrant and passionate reputation to uphold." She reminded the gathering that he'd recently entered a pastoral program, studying for Christian ministry. "He had straight A's, even working six days a week. He did everything 110 percent. He was called home," she said. Later, in an email, she amplified her belief that, "As a healer of bodies and spirits through his medical work and music, he has now gone on to where he can expand upon that even more. He is now free of his body, and able to continue his work from an even better vantage point."
Like John and many of his patients, I'm blessed to have a day job that not only pays the bills but also provides the satisfaction of contributing in some positive way to society. This month my work as a writer turns out to have personal resonance I did not anticipate. On assignment for a health advocacy foundation to write about the concept of the "health home"--patient-centered care coordinated by a team of providers focused on prevention--I've been interviewing physicians, community clinic directors, and policy advocates throughout the state about the proven difference that a home-base for health care makes in people's lives. In an era of long-overdue heath care reform, it's encouraging to note that such models of change, taking an integrated approach to the whole person, are well underway in this and other California neighborhoods.
Small in size but bursting with heart and (as one patient put it) "good doctoring," here's a place where John's aim burns bright and his work continues. As we raised our plastic cups in a toast to John's memory, Dr. Gassia lifted hers toward the insistent blue sky. "I love you, babe," she said. "We're going to keep your legacy alive."
And on we roll, one big wheel moving just the right way with a little help from John.
Thanks to Jessica Sterling for the photograph of John Ciambotti "playing" a spine. In the picture of Clover from the 1970s, John is third from the left. (If anyone knows the photographer, please let us know.) You can also watch John performing in Clover's live concert reunion with Elvis Costello in 2007. He's the white-haired dude on bass, and he's come home.
Related
Popular in the Community