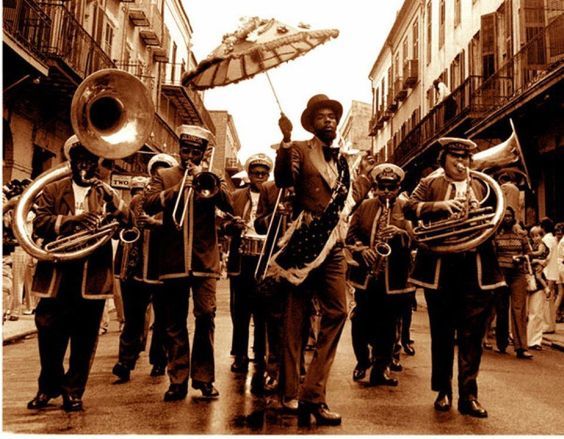 The idea sparked from a love-fest wedding this past summer in the heart of the Hudson Valley. Fresh out of a four year relationship, the trip from Tampa to the welcoming, loving, massive group hug of my closest friends couldn't have come at a better time. These friends, a band of misfit orphans on the countries toughest island, were my family for my twenties.
We met while all at different points in our lives, but like a platoon of bigger than life personalities, we all found ourselves as complete equals, slinging sea bass at Blue Water Grill in Union Square. We all joke now that it was the Marines of food service and that's why we all created such a timeless bond. Our next deployment was my idea. Why not all meet up in New Orleans for a weekend of more memory making eating and drinking in the most hospitable city in the union? I sent a specifically vague email to rally the troops that mentioned Nola in November. Everyone still feeling the residual love from the wedding quickly clamored at the opportunity to do it again!
Once I got a rough number, it was time to find a house on Airbnb that could sleep 13 adults! Oh, and was wheelchair accessible in a city whose beautifully unique architecture isn't exactly ADA friendly. Picture trying to find the wireless network in an Amish home….
Thankfully the travel gods found our home for a long weekend. I'd never used Airbnb before but it was amazingly easy and so cost friendly. The house, named Bluesy Fairytale was perfectly charming and well located.
Plus it kept us all under one roof. That meant coffee filled recaps of the previous night's adventures and great late nightcaps all huddled around the kitchen. The halls were a little tight for my chair and I needed every inch of the 8-foot ramp to get in and out of the front door but it only made every trip like a team building exercise!
We managed to, in my opinion, own the city! Thursday night was a mixer with the super humans behind Team Gleason at Fulton Alley. A night filled with beers through the feeding tube and bowling. Yes, I even bowled a few frames!
Friday we showed how cultured we are or showed how old we are when we made a group decision to go to the new WWII Museum. After a few hours of culture we were all in for caffeine, food, or a drink! We ended up at Cafe Dumont, a New Orleans landmark.
The sidewalks were tough terrain but I never hit a bump or cracked curb without at least one set of hands on my chair or me. The coolest and most endearing part of this protective coat of arms is that my chair and I are almost 400 lbs. of inertia. So, realistically there's not much anyone could really do to move us, but God it felt good!
Almost as good as being in a cramped, nostalgia dripping jazz bar and getting ushered right up front. One of the perks of ALS I guess. There we were nearly 12 hours after leaving the house, again owning the city. At this point it seemed like I had a Miller Lite IV, which meant a restroom break was mandatory!
Once again the perfect blend of the most loyal friends and the most gracious city came together to part the crowd like Moses himself. My amazing caregiver, Sue who was instantly initiated into our group, and I rolled right into the bathroom like the bar was empty!
Sunday morning it was time to make our way to the Super Dome for the Saints game. We got there early to make sure we could take advantage of the sideline passes that Team Gleason gave to us. I can honestly say that the players were the biggest humans I've ever seen!
The trip was perfect down to every fiber. I was able to have a house full of my favorite people on the planet. Think about it, there were 11 friends who all hopped on a plane just so we could all be together. It wasn't for a birthday or a destination wedding, it was just for fun, for our family.