The seeds of a gap year abroad -- the British tradition of spending time far from home -- were sown when I was 22 and studying in France's Loire Valley. It was 1979, and my time abroad ignited a love affair with France and a wanderlust that compelled me to travel the continent. However, I yearned to share my experiences with Joe, the high school sweetheart I would later marry. I promised myself I would return to Europe for an encore year when I was older and wiser, this time with my partner beside me.

From early in our marriage, Joe and I discussed our future gap year with joint imaginings that soon took definite shape. I became borderline obsessive about fleshing out the details of our sabbatical, pushing aside what we should do and replacing it with what we wanted to do at every juncture.

Our code for taking leave of the U.S. was "2011," a reference to the year we would shake off the bills of our children's education. Our son would graduate from college in 2007 and our daughter in 2010. Both of us needed a break from work -- I, from book publishing; Joe, from being a marine engineer. We contemplated life-after-tuition and planned to drastically reduce our financial footprint (sell our house, along with the cars, and divest ourselves of our accumulated belongings), thereby freeing funds for our "senior" year abroad.

Even so, our impending departure never seemed quite real. Then, one hazy summer afternoon in 2005 I was sitting behind my office desk, gazing at the suburban parking lot below, my mind wandering beyond the budgets in front of me, when I had an existential moment. In my mind's eye, I was no longer senior vice president of a book distribution company. I was "Gap Year Girl," an expat living in Europe.

The paradigm shift of how I viewed myself changed everything. From that point forward, I focused on making our gap year a reality. I decided then and there to leave the world of business I had inhabited for a quarter century. By the end of the week, I registered for a master's degree program in education and was on my way to becoming a middle school French teacher.

By the time September 2011 arrived, our worldly possessions were sold and our bank account subsequently fattened. Armed with spreadsheets that detailed our projected budgets, we took our cue from adventurous youths who leave their lives behind to hit the road. Joe and I quit our jobs and embarked on our long-awaited adventure at the age of 55.

Family and friends were hardly surprised; we'd talked about our intentions for years. But colleagues deemed us incredibly brave or absurdly foolish. The truth was likely in between.
We left the U.S. just after Labor Day, and over the next 12 months traveled through 21 countries in rental cars and on countless trains, planes, buses, shuttles, gondolas, ships and ferries. We passed through some places quickly (Austria, Germany and Portugal); others we enjoyed for extended stays (France, Greece and Italy). There was no blueprint, no grand strategy for our year. It unfolded organically, with plenty of flights of fancy and time for reflection. All we knew for sure was that we would start with a month in Paris, our favorite city where previous weeklong stays had always left us wanting more, and end with a farewell in the City of Light 11 months later. We mapped out an approximate itinerary and then booked accommodations online along the way.

Budget-conscious throughout, we stayed in inexpensive, often out-of-the-way lodgings and ate modest meals. But there were occasional splurges: staying in a chateau in Provence, skiing in the Dolomites, enjoying a spectacular riad in Morocco and occasional fine dining.
Much of the trip was thrilling, and viewed from the sidelines, long-term travel appears kaleidoscopic, sophisticated, Technicolor-hued every minute of every day. But the reality is that an extended journey is just life, with days filled with laundry and other mundane tasks. While our year was a dream come true, it included bouts of tedium, exhaustion and longing for our kids, who thankfully stayed healthy and happy during our absence.

Our trek included some European Grand Tour destinations, but we added visits to lesser-known places such as Carcassonne, the ancient fortified town in southern France; Andorra, the Catalan principality high in the Pyrenees; Agrigento, Sicily, with its honey-colored Greek temples; the Greek island of Kos, home of Hippocrates; Split, Croatia, once the retirement palace of a Roman emperor; Lipica, Slovenia, where Lipizzaner stallions are bred; and, Butrint, Albania, a spectacular archaeological site on the Mediterranean.
We savored the rich food of southwestern France, sipped the wines of Italy, smelled the blooms of Holland's Keukenhof and scrambled over ruins in Turkey.
On our final day in Paris in late August, we bid au revoir to our rented studio and, dragging our bags behind us, passed Parisians performing their morning rituals: sweeping brasserie floors, polishing shop windows, posting plats du jour and hosing down the plastic-webbed chairs of sidewalk cafés. It was difficult to think of life in Paris continuing without us.

As we rolled onto the Metro platform, a busker serenaded us on an accordion, a fitting elegy for the conclusion to our gap year. Our adventure had come to a close.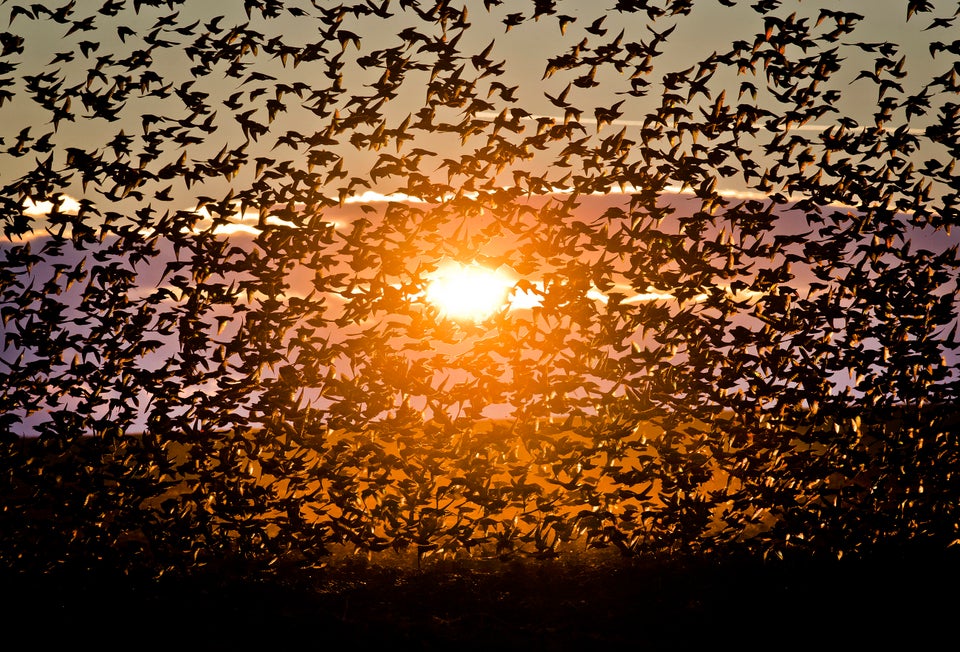 Stunning Images From Around The World
Popular in the Community