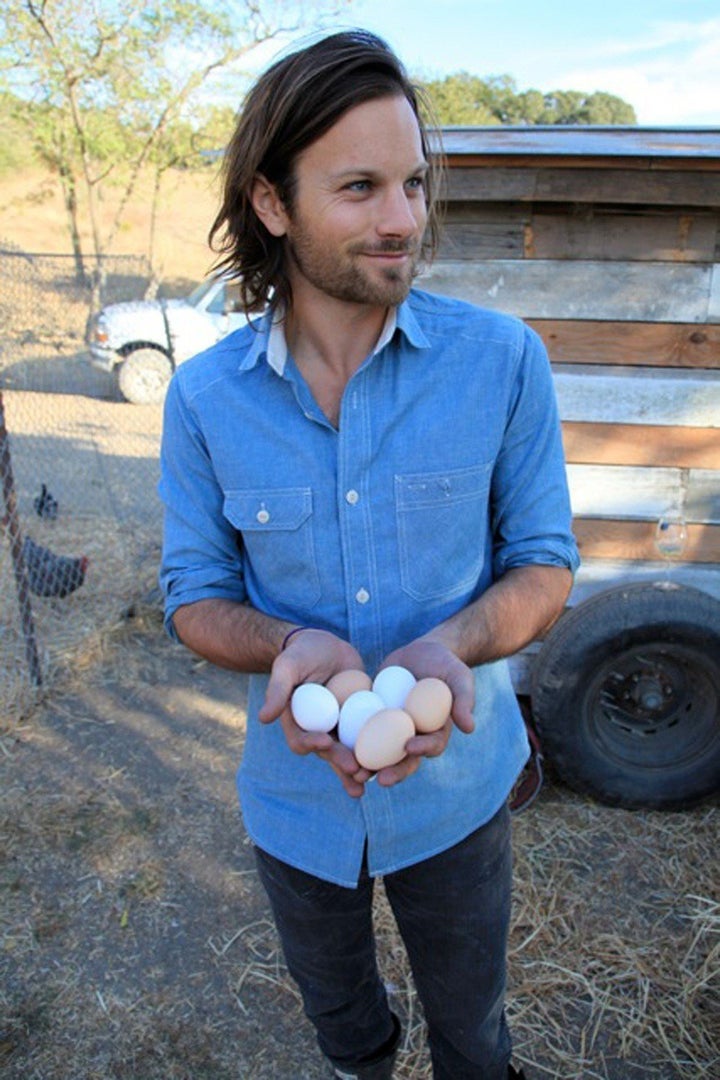 Who: Andrew Mariani Years in SF: 4 Current Neighborhood: Hayes Valley Gig: Vintner of Scribe Winery, Sonoma; Educator at Anna Tasca Lanza cooking school in Regaliali, Sicily; Native-American Teepee builder; Student of the Dark Green Religion; Founder of Zarko Bura Natural Fermentations
Tell us about your new wines. We've just released some wines from the 2010 vintage that I'm very excited about. A wild-yeast-fermented, unfiltered Pinot Noir; an early-harvested, malolactic-fermentation-arrested Chardonnay; a 2-barrel experimental bottling of a skin-fermented Chardonnay, and our first Sylvaner. And Sonoma's first Sylvaner since prohibition. We planted a couple acres of this German varietal as an homage to our lands' founding father Emil Dresel, who brought the first cuttings of Sylvaner and Riesling to America in 1858.
Do you see more SF restaurants collaborating more closely with wineries? It's exciting to reexamine the relationship between producer and restaurant and consumer. It's been great to work with Bar Tartine and be able to blend a keg from barrel at 3pm in Sonoma and then see it in someone's glass at 7pm in SF. It's the most direct path from barrel to glass, and the most environmentally sound. OTD on Bush Street has a great keg program; it's a constant rotation of atypical local wines; really inspiring stuff.
What are your go-to places with the best wine lists and sommeliers? Mark Bright at Saison and Amy Goldberger at Fifth Floor are creating really exciting lists, and the dudes at Terroir have built the Natural Wine church of SF; it's the smartest wine-drinking establishment in the city.
What do you love most about SF? The Fog. It's a character in this city that you have to develop your own relationship with. It's a slow, stoic monster, you have to negotiate it, you marvel at it, then it eats you up. It's a constant reminder that the natural world is out there on the edge of the city waiting for you. I also love how the American Zoetrope Building talks to the Transamerica Pyramid. And then there is this poem by Robert Hass called "The Beginning of September" that pretty much sums up San Francisco love.
What do you hate about SF? Parking tickets. Any local bars you can suggest that have unexpectedly good, affordable pours for around $10? David Lynch at Cotogna has an amazing list where all bottles are $40 and glass pours are $10. If you can snag a reservation here, you'll drink like an Italian Duca. And it's not a wine bar, but if you ask the right questions you can find some delicious stuff at The Orbit Room. What's your idea of a perfect day in SF? Wake up at Specs [Yelp], have a Crab Cocktail, Oysters, and Anchor Steam breakfast at Swan's Oyster Depot [Yelp], stop in to praise the Bear at Silverman Gallery, eat anything at Tartine Bakery, buy something mystical at Gravel and Gold, go on a vision quest in Golden Gate Park, eat at Namu, eat at Bar Agricole, eat at Bar Jules. Folks flock to wine country for romance, but SF has its own fair share. What's so romantic about SF? Terminal2 at SFO holds the key. There's nothing more romantic than flying into SF at dusk. Then when you're on the ground it's all about The Bay; watch it, swim it, sail it. Why San Francisco? Because I can be a country mouse by day and a city mouse by night.
Popular in the Community