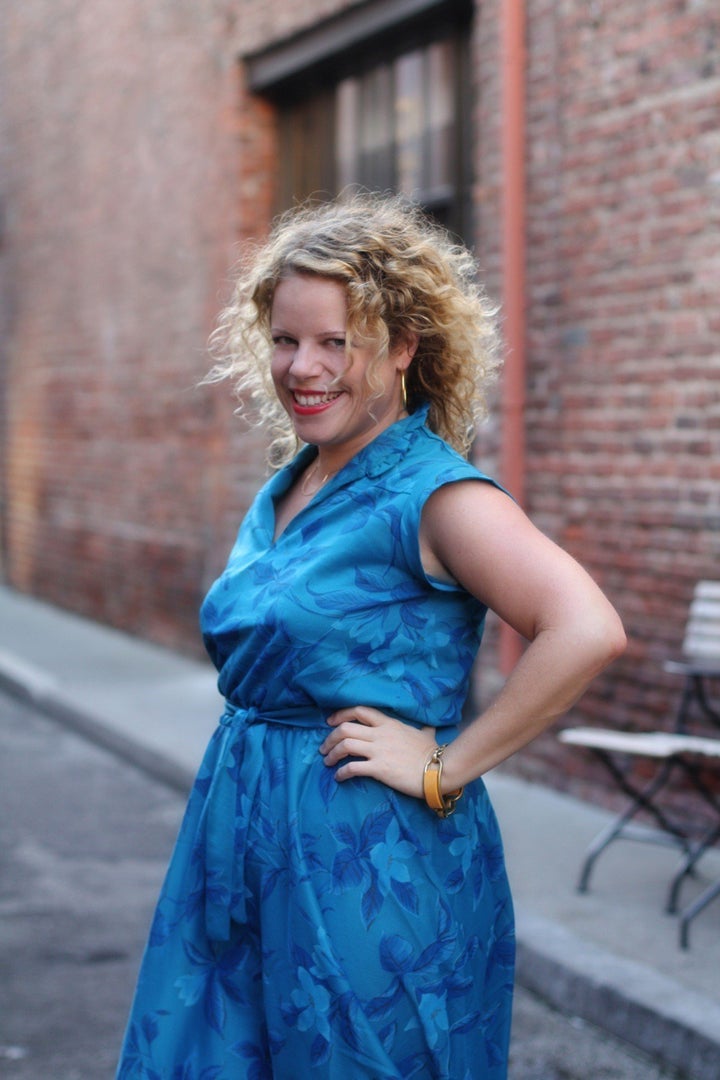 Current Neighborhood: Western Addition/Nopa
Current Gig: Founder and publisher of tablehopper.com, DeepDishing.com, and author of "The Tablehopper's Guide to Dining and Drinking in San Francisco: Find the Right Spot for Every Occasion"
What's new with Deep Dishing? How do you maintain civility on it - negativity seems to be such a big part of food discourse.We currently have over 600 users, and I am continually impressed with the fantastic dishes people are mentioning (and the pictures they post). So much so that I'm going to be integrating a Deep Dishing section in the tablehopper newsletter soon, highlighting a tasty dish, image, and hot tip each week. As far keeping things positive, most users understand Deep Dishing is about what's good - and some say it's refreshing to take a break from reading rants and to focus on the raves (the legal ones, ha).
What's your secret to indulging and staying healthy? Where do you workout in SF?Thank the stars for my trainer, Joe Peteque, who hosts "Boozy Bootcamp" in Alamo Square twice a week. He makes me do all the things I hate to do, and deep down I love him for it. I try to ride my bike as much as possible in the city - it's my favorite way to get around. I'm totally in love with my brand-new powder blue PUBLIC bike. She's a total cream puff of a bike - and doesn't get grease on my clothes!
What's the weirdest dish you've ever eaten?Stinky tofu from Spices was definitely high on the funky factor (in more ways than one). I just ate mealworms from Don Bugito at the SF Street Food Fest, crunch crunch. And my dad had me join him in a lunch of goat brain one Easter - it was literally the half of the baby kid's head, roasted with garlic and breadcrumbs. I felt like I was back in biology class, looking at the cross-section of a head. I was done after a few bites.
Your last meal would be...? My parents' lasagne. My mom makes the best tomato sauce for the dish, and my dad layers slices of hard-boiled egg, his homemade soppressata, and little handmade meatballs inside, with all that mozzarella and Parmesan cheese - it's the most amazing dish.
Favorite cheap eats? Bodega Bistro is a fun one, whether I'm getting their excellent beef pho for lunch, or out with a posse of pals for dinner. Lers Ros is a Thai star in the TL. Mission Chinese Food just continues to innovate and rock my world, and the quality of the food at Nopalito is impressive. Old Jerusalem in the Mission is a great deal. And in the Inner Richmond, Spices II is a fave. Oh, and I'm digging the scene at Wing Wings in the Lower Haight - those are some killer buffalo wings (spicy little devils!).
When you're not working, where do you take your friends to eat?The counter at SPQR is one of my preferred perches, brunch at Nopa (again and again and again), and Ragazza is in my neighborhood, so that's an easy one to walk to.
What do you love most about SF?So many things - I love our playfulness and willingness to try new things, our creativity, our commitment to quality and artisanship, and I think we really champion individuality here. There's a great bohemian style - so many of my friends are self-employed, making their own way, and following their artistic or creative passions. And I so value the strong sense of community here - people like to come together and support each other in their ventures. The smaller scale of the city is what makes it strong.
What do you hate most about SF?I hate how much my dating life sucks. So many of my fab female friends say the same thing - we don't get asked out on enough dates. Yawn. I will say the foggy 63-degree summers are beginning to wear on me - I try to go away as much as possible to Tahoe, to wine country, and this year, to Turkey! I need a summer. Oh, and it's hard to disappear here - you'll always run into someone you know, especially when you are dressed like a schlub. So...don't dress like a schlub!
Your book detailed some perfect spots to do a break up. Any new, quiet spots you can share since the book's publication?Ha! Well, I guess that's one upside to no dates: I haven't had to deal with that scenario for a while! But I will say the Burritt Room would be a good spot to have the "we have to talk" talk. The lounge at Bluestem Brasserie has some private nooks where you could parlez, and the lounge at BOURBON STEAK could work as well - odds are you won't run into someone you know.
You always show up in such gorgeous outfits at food events around town. Where do you score your lovely threads in SF?Awww shucks. I'm a total vintage hound, and I like to wear unique pieces, so I visit the guys at Schauplatz, Ver Unica in Hayes Valley, and I go to vintage gatherings, fairs, and flea markets.
What's your idea of a perfect day in SF?Well, first, I'd sleep in. Heh. Then I'd hop on my bike (known as Peche Trois), pedal over to the new Sightglass Roastery and Cafe for a macchiato and a breakfast treat from Tell Tale Preserve Co., and then look at that, it's Thursday! I'd hit up the 4505 Meats stand for one of their cheeseburgers or siiiick sandwiches at the Ferry Plaza Farmers' Market for lunch, and hopefully there would be a cool show at SFMOMA, or maybe I'd swing by the galleries at 49 Geary. If it's a rare sunny day, Dolores Park would be a blast, with a bottle of pink bubbles from Bi-Rite Market. A quick visit to Omnivore Books, and then dinner at the bar at Bar Tartine, with sommelier (and my good friend) Alex Fox pouring too many wines for me to try. Nightcap at the Hideout in the back of Dalva. And...scene.
Why San Francisco?It's a perfect place to find out who you are, push the envelope, make enduring friendships, do your own thing, and let your freak flag fly. And it smells good.
Related
Popular in the Community