The descent was bumpy and by the time we hit the tarmac at Newark Airport my cat, who had been cooped up for more than 11 hours in her carrier was foaming at the mouth with discomfort. Clogged with airport-airplane air, my head throbbed like a felted percussion section. But in the taxi, the window rolled down sipping in the unseasonable springtime air, I began to revive under the tonic effect of the New York skyline, ferocious and youthful compared to Paris, where I've been for the last two months.
Home. A place so familiar that even an absence of two months cannot dull its edges--the sharp particularities of its geography. The smell that to my nose has no definable scent, is the absence of scent, is neutral, is simply me, the way our own voice and inflections have no accent; the density of water in the shower; the weight of a sheet; the rush chair seat under my legs; the soft kitchen counter stone, cold against my palm; the colour of night, the lights of the park refracted on my ceiling like a Kandinsky painting.
Two months is no more than a sip of Paris, yet its flavor is so distinct from New York, certain nuances can be discerned even in so brief an encounter. I wanted to write something light and airy about a very few of these differences. I wanted to write about the small, inconsequential, even frivolous things that made me feel different inside my skin. But then the November 13 attacks happened, and I thought, how can I write about such trivialities. And then I thought, life, the fact of it, the luck of it, the chance of it, and how we choose to live it may contain trivialities, but the sum of our trivialities is the geography of home for each one of us, and is still worth a few words.
I'll start with the stationary bicycle, enclosed in an open-topped tank filled with warm bubbling waist-high water, on which I found myself one day in Paris. As beautiful as it is to run on the bank of the Seine, cobblestone is murder on my various latent and insidious running injuries, so in the spirit of new-city-new-skin I try out Le Waterbike, which, as high as I set the resistance and as fast as I try to pedal, is not much of a workout. The video coach on the console perched between my handlebars hasn't broken a sweat either, which is probably a good thing, since she's wearing enough makeup to make a mess of her tank water if it ran. But the sleek little otter of a 25-year-old in her one-piece speedo and high perky ponytail, has spent a lot of time exhaling deeply through her high gloss lips and counseling me to respire. Breathing is not a problem. Le Waterbike is a gentle tralala on a bicycle immersed in a waist deep Jacuzzi. The idea being that while you are riding, you are also giving your cellulite a good little pummeling, so you will emerge sleeker and slimmer. Alas, I think it takes more than the 1 Euro introductory session I was willing to spring for to achieve these miraculous results.
Parisian women, I've noticed, are much more casual about their workouts-- At aerial yoga last week, our instructor Florie led us through an increasingly challenging sequence of moves, as we finished she said, "Madeleine, tu n'a rien fait." "Non," Madeleine responded. She hadn't done anything. Just like that, no apology, no excuse, no attitude either, just a simple comfort in saying no; no I don't feel like doing that, as if she were turning down a waiter's offer of fresh ground pepper. In New York, the equivalent sequence would last until the sweat beaded into our eyes and our muscles shook with the exertion, and everyone would be trying. The same goes for other sports I partake in: There are far fewer women out running and those who do run are generally not the stringy-hungry-speedy-cheetahs (not cougars!) so often seen in Central Park; at the Paris version of Soul Cycle, branded Dynamo (pronounced Dee-namo, of course) the music is loud and there's plenty of challenge, but the overall atmosphere is dialed way down, and the lingerie in the change room is much prettier and usually matches (a particular mania of mine).
As for walking around in workout clothes, mais non! Although lululemon has made a small incursion at Dynamo, it is not street-worthy. And fleece?--perhaps for skiing in the Alps, but certainly not for les grands boulevards.
Yet les Parisiennes are rigorous about their cellulite. Every pharmacy window is bedecked with produits minceur from creams to extremely ugly tights that purport to squeeze away your cellulite while you sleep. As a result (or more likely completely unrelated) Parisian women are rarely fat. And yet, they eat. New York women, too, are rarely fat, but they also pride themselves on picking at their food, at never cleaning their plates, at salad-ing and juice cleansing and gluten-freeing; at pretending they aren't doing all those things. In Paris, everywhere I go I spy women who eat their whole big lunch and desert, without so much as a peep about "oh I haven't eaten anything yet today," or "last week I ate only raw," or whatever justification they feel like they need to give for actually eating a generous quantity of food. In case you were wondering, yes, I am eavesdropping shamelessly. I pretend that it's part of my French language improvement regime. Lunches may be substantial, but grocery shopping is done almost daily in small doses, instead of by the giant cartload. New York's ubiquitous delivery men, sighted everywhere on bicycles, with carts, bearing take out food and groceries and dry cleaning, are nowhere to be seen. Maybe that's the secret to being lean--carrying your own stuff around, and often.
Then there's women's hair, a particular obsession of mine. In New York, I feel self-conscious about my curly hair. I've lost count of the women who've told me they secretly have hair like mine, but by dint of blow out or keratin or Japanese straightening or whatever else I haven't even heard of yet, they have subjugated their hair into a glossy straight orderliness. Not so in Paris, where it's like walking onto the set of a 1970s movie, and I remember that most people don't actually have straight hair, and that curls and frizz and volume are all apparently perfectly acceptable.
Finally, I have to mention the Parisian reverence for movies. There's no chat in the sacred space of the movie theatre. Even a comedy is consumed for the most part in reverential silence. To laugh, out loud?--heretical. Every time I feel a laugh bust out of me in a movie house in Paris, I feel a giant finger pointing at me, inscribed with the words, "not from here."
Still, there's this ... one of those strange how-can-it-be-a-coincidences ... On November 13, my partner and I were close enough to Bataclan to have experienced a sliver of an iceberg tip of the events around the attacks. I wrote about it in this piece. In it I wrote these lines: "Then I am out of the restaurant and running as fast as I can ... my partner is a few steps behind me. I keep looking back, as if nothing can happen to us if he is in my sight, Lot's wife be damned. We run headlong into a line of journalists with cameras. I think: How did I get on this side of that camera? I think: Why am I not even more scared?" Almost a month later, one of our only friends in Paris brought a copy of the November 15 edition of Le Monde to dinner and showed us this picture.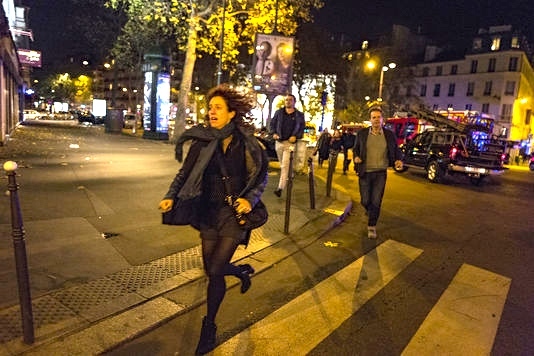 Beneath the picture were these words: "Des Parisiens fuient les environs du Bataclan." We were the Parisians fleeing the streets and we were honored that Olivier Laban-Mattel (whoever he is) and his camera mistook us for locals.
Nous sommes tous Parisiens, as they say these days, even if I do laugh out loud at the movies, exert myself too much in workouts, and deny myself dessert more than I should.