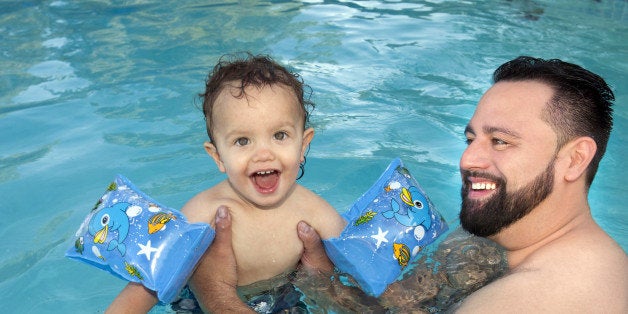 This summer, I had the great pleasure of living and teaching a few days each week at Camp Ramah in California, a Jewish summer camp nestled in the mountains of Ojai. It's a magical place, overflowing with laughter, song, spirit and the very best of religious values and practice. As the parent of two small boys (a 3-year-old and 8-month-old), I was not only privileged to interact with the children of hundreds of other parents, but I also enjoyed the sort of quality time with my kids that I rarely get to do in a hyper-busy, normalized, year-round schedule.
Since I'm not a huge lover of swimming, I was surprised that of all my daily activities, the most highly anticipated was an hour in the pool. Without fail, at 4:30 p.m. sharp, my son and I would meet at the pool for the most intense daddy-son time one can imagine. As any adult should know, the pool/lake/ocean is a precarious place for the safety of our children. While this pool was well guarded by an expert lifeguard staff, it is still water, and my older son is still a 3-year-old with limitless energy and less self-restraint than a pledging frat boy away from home for the first time.
But he can swim well enough. His smart and pragmatic mother (the better-looking, more talented Rabbi Alexander) did him a great favor this past spring and took him to a learn-to-swim intensive in anticipation of this summer. We wanted him to be more competent in the water. It worked. I wouldn't allow him to swim alone, but he can keep himself afloat and get from point A to point B, as long as they aren't that far from one another.
But no matter how comfortable he is in the pool, I always stay right there next to him--and nothing can divert my attention. It's 100% on time. No distractions are permitted to keep us emotionally apart when we are physically together. In that 45 minutes the world around us melts away like a cheesy love scene. It's just the two of us -- talking, playing, giggling and loving one another. So much so that on days when other staff or kids vied for his attention, I'd get a little bit jealous, stealing him away to a deeper part of the pool where we could be alone. Yes, I "creatively" manipulated other toddlers away from our sacred space. Sorry, I don't feel that guilty.
I just didn't want my swim lesson to end. Yes, I can swim, literally speaking. But most days I forget how to intentionally tread through the world focused only on that which is right in front of me. Maybe you can relate: I'm too often one of those distracted parents -- the phone, email, newspaper, my head, Facebook, Twitter -- you name it, I can be swept away in it. I try to stay focused and sometimes succeed, but mostly, I'm the parent who immediately feels a swell of guilt when a friend posts an article about how today's parents are too disconnected from our kids due to the sheer volume of distractions and our inability to manage them. I'll work on it, I keep telling myself. And I have better days than others, as most caregivers do.
But in the water I need no self-help reminders. In the pool, I intentionally relate with my son in a way I can't quite seem to figure out while at the dinner table, bedtime, walk, playground... you name it. It's the perfect mix of a fear for his safety and the impossibility of bringing my digital addictions into the water that force me, thank God, to focus on nothing but my most holy task in the world: fathering.
So while it was my wife that fulfilled for us our religious duty for parents to teach a child how to swim -- an essential skill that impresses upon us the value of life as well as survival skills (Tractate Kiddushin 29a) -- it was my son who taught me how to swim. And in doing so, how to spend more of my life, living.
I can't wait to see what I learn when we teach him how to ride a bike.