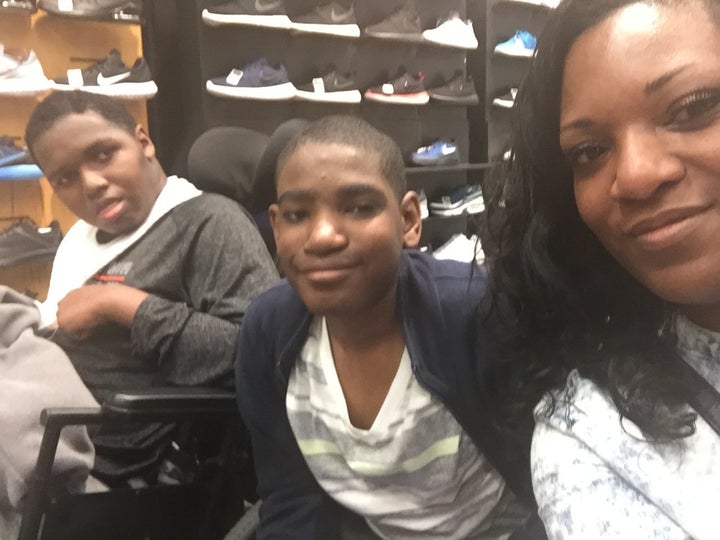 On February 1, 2014, a single bullet changed everything for my family.  It was a very atypical winter day in Indianapolis. The sun was shining like it hadn't all winter long. I felt like I was beaming on the inside but, in my belly, existed an unexplainable worriment - a deep uneasiness.
That uneasiness was quickly confirmed in the most unimaginable way. My then-13-year-old son, DeAndre, had been shot in the head while attending a birthday party.  A stray bullet ripped through the bay window as the boys played and pierced my son's skull, penetrating his brain. My heart stopped when I received that call. How could this happen? Dre was in the right place at the right time - playing with friends as a child should. How could such a normal Saturday occurrence become an act of gun violence?
Dre was the type of teen most parents wanted their younger child to look up to. He was funny, creative, outspoken, kind, and generous. He wasn't perfect, but he was mine.
Dre's smile would light up a room, and it still does. But needless to say, our lives have been changed forever. That one bullet left my son paralyzed and unable to speak. Dre told me he loved me only hours before his voice was taken away, words I'll never forget.                                                                                            
My tall, dark and handsome son now needs 24-hour care. He can't do anything for himself except breathe. The once-athletic honor student now has the mind of a small child, we can only assume. Because he cannot speak or do much on command, we really can't be sure of what he understands. Caring for a 6'1", 220lbs, 16-year-old is quite the task. Dre has to be changed and repositioned every two to three  hours. He must be kept dry and turned to prevent bedsores that could lead to infections in his skin and bones. He has to be bathed with the assistance of at least two people, only after he is lifted out of his bed by a Hoyer lift. Not quite the life we imagined for this standout ball player. 
One shot diminished every hope and dream my son had of being a football player, a fireman, and even the class clown. I can no longer look forward to him learning how to drive, his prom pictures, hearing about his first broken heart, his high school graduation.
Because this wasn't the life my son ever deserved, I have become his voice, and not only his but the voice of so many others who have been silenced too soon. As a member of the Everytown Survivor Network, a local voice for gun violence prevention in Indianapolis, and most importantly, a mom, I advocate for common-sense gun legislation in the US.
Along with other concerned parents I've met through my advocacy, I'll be urging our leaders in Indianapolis to reject permitless carry, a proposal that would let people carry loaded handguns throughout Indiana without a permit.  We'll also be urging our representatives in Washington to oppose concealed carry reciprocity, which would undermine Indiana's ability - and that of all other states - to enforce strong standards for who can carry a concealed gun in public.
My hope is that through sharing our story - by letting the world see who Dre was and now is - we can help show our leaders why sensible gun laws matter. I don't want another mother to cry the tears I've cried.
REAL LIFE. REAL NEWS. REAL VOICES.
Help us tell more of the stories that matter from voices that too often remain unheard.