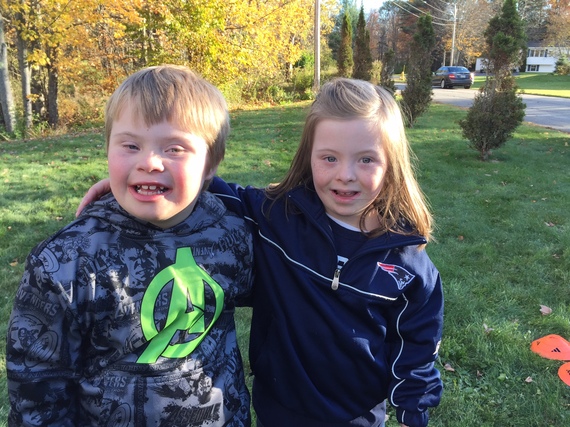 My son, Thorin, who has Down syndrome, celebrated his birthday earlier this week. His friend, Maggie, who has Down syndrome, shares his birthday.
For the last four years they have celebrated not just a birth date but their birthday celebrations as friends. How they found each other is a reunion story.
My son, husband and I were on a school tour. As the administrator led us down the hallway, she pointed ahead and said, "Here's a family you should meet!" A mother walked toward us holding the hand of a girl who looked similar to Thorin. They were the same height and build. Both had blue eyes and blond hair. It was also apparent her daughter Maggie had Down syndrome.
Normally they would not have been there in the hallway walking towards us at that moment -- but that day they were running late.
Thorin and Maggie moved away from us almost immediately to play.
Amy asked, "How old is Thorin?" When I said five, she said, "She's five, too." Then she asked his birthday date and when I told her she said, "That's her birthday." I could tell from the look on Amy's face something was up. She then asked what State he was born in? Both, Maine. City? Same. Hospital? Same.
Amy was triumphant, "I have been looking for him for five years!" Her story came out in a rush: She had not known Maggie had Down syndrome until she was born. She was overwhelmed by the surprise. A nurse shared with her that a few hours before, a boy was born at the hospital who also had Down syndrome. The nurse said two babies both born with Down syndrome that day which never happens at the hospital. She also said: "Maybe they'll be life long friends."
Amy wanted to meet the boy's mother hoping for some connection with the boy and the family but the boy's mother did not want to meet.
The woman giving us our tour was so engrossed with the story she interrupted to ask me: "Why didn't you agree to meet then?" Good question, Nosey Parker.
"Ward and I adopted Thorin," I told her.
This moment was monumental in another way for my husband and I. We were hearing the only information we had about the day our son was born. When we met Thorin he was 2 years old.
Since that day in the hallway there have been play-dates and birthdays. Maggie's sister calls them "the twins." Our family's see each other as related by our children. It's not just their Down syndrome but their birth dates. It's how Amy searched for the baby boy through our state's Down syndrome organization, Buddy Walks, doctor's offices and questioning other parents of children with Down syndrome if they knew of this boy. She and her husband even feared he may have died due to medical reasons. It is also my husband and I finding someone who saw our son the day he was born. We don't have a photo from that day but Amy describes him so lovingly I do forever in my mind.
Thorin added something new to the connection this birthday.
Days leading up to the birthday, my husband and I noticed every time we mentioned Maggie he said: "And, Henry, too."
Henry is another friend of his who has Down syndrome. We corrected him each time: "Just you and Maggie have the same birthday."
In talking with Thorin yesterday about how much fun we had at the birthday parties he again said: "And, Henry, too."
I finally got it. "Thorin do you think all people with Down syndrome have the same birthday?"
"Yes" he said matter-of-factly.
Had we played up their connection too much? Or was this not related to that at all? I thought about how to respond: "Well, it's just you and Maggie who have the same birthday, not all people with Down syndrome."
"Oh, wow!" he said. Well, at least he didn't sound disappointed.
"Does the fact you look similar to Maggie and Henry have anything to do with it?" I asked
"You look similar because of a chromosome in your body. All people with Down syndrome have it. Do you remember me saying that before?"
That was a stumper. I'm not a biological relative to my son but I am his mother.
"Well, you share something so I guess it's like family."
I didn't want to leave it there though. "Thorin, all humans share something that makes us all like a family. We are all people. Does that make sense?" I sounded like a mother in an after-school special from the 80's.
Thankfully, he said: "Yes".
A door was opened I had not been able to pass through before. Thorin made huge strides in his speech this past year including tackling apraxia which means he knows the thoughts he wants to convey but has difficulty parsing them into words. It seemed every week he was telling me things I didn't know. For one thing, we learned he had wanted a bowling party last year for his birthday so we planned for one this time around. He told us it was the best birthday ever. Of course it was, he planned it.
Maybe he has wondered about birthdays and Down syndrome for years but couldn't articulate that thought.
"Listen, as long as we are talking about this--how are you feeling about your Down syndrome?"
"Daddy and I feel great about it! We really love your Down syndrome."
"Anything else?" I asked.
I am convinced as our conversations evolve we will both learn more about each other and everything.
October is National Down Syndrome Awareness Month. The intention of this month is understanding the importance of inclusion and acknowledging the achievements of people with Down syndrome.
Kari Wagner-Peck is a frequent contributor who writes on disability and typical life at her blog: a typical son. You can follow her on Twitter @atypicalson.
Related