There were no goody bags full of candy and Hershey kisses. No bowls of M&Ms or jelly beans. No chips or pizza. There weren't even juice boxes. Instead, there was a room full of smiling and laughing 2- and 3-year old children, with their parents, learning about dinosaurs, making their own dinosaur fossils and going on a short nature hike in the snow. After the morning activities at our local nature center, we snacked on a fruit platter, vegetable platter, hummus, and two varieties of homemade mini-cupcakes, made with a short list of widely recognizable ingredients found in my kitchen pantry, and the perfect size for small bodies.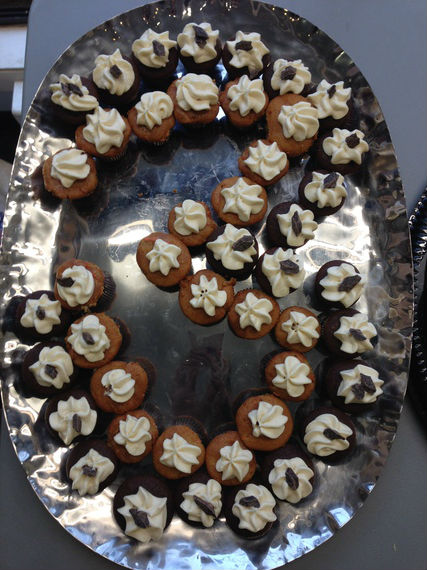 The children had a ball. They enjoyed the activities (even touching a long, red snake!) and loved eating together, at a long, child-sized table, where they could pick what fruit and veggies they wanted, talk and feel like the big kids. By all accounts, it was a success. My son wore the birthday hat his friends in preschool made for him and sat at the head of the table. The teacher at the nature center let him touch the snake first. He proudly showed his friends the reptiles placed in glass boxes around the room. He loved the attention and it definitely made him feel like the special birthday boy he is.
Now about the food. Yes, it's a birthday, and that's special. Yes, it's just one day a year (though with 15 or 20 children in a class, it's more like once every three weeks as far as the children are concerned). And yes, it's a tradition to serve tons of food loaded with sugar to mark the passage of time and celebrate. Many of you have a hard time imaging a child's birthday party without these seemingly required items, and I am not here to change your mind. But for those of you who want to reshape the tradition and culture around how we teach our children to celebrate their birthdays, I say do it, and don't apologize.
I'm not against cake. Or cupcakes. But I'm not interested in teaching my children that we celebrate with copious amounts of junk food. Instead, I want them to remember their birthday parties as a special time in which they gather with family and friends who made a big deal about them. Not the junk food.
I want to teach them that celebrations (as well as, quite frankly, sad occasions) should not be marked with food. We don't eat to feel better after a bad day at school or celebrate when we get a good grade. We eat to nourish our bodies and when we share food with friends, we connect in an intimate and special way. Our feelings of joy or frustration or boredom or sorrow cannot be expressed by eating a chocolate chip cookie or bag of potato chips.
Don't stress about what will happen if the children don't all love carrot sticks or cupcakes that aren't sickly sweet. They will be ok. And yes, some of the parents may be surprised that their children aren't being served a giant slice of cake covered in layers of colored frosting. But some will be grateful that their children are being offered a variety of healthy options, including a small sweet, and their appetite (or nap) isn't ruined for the rest of the day. Some parents may even marvel that their children are eating foods, and especially fruits and vegetables, that they don't normally eat at home. It's amazing what can happen when we raise the bar around what we feed our children and they are positively influenced by their peers.
I'm not going to worry if I offer healthier alternatives that not everyone loves. I think it's selfish to assume that just because it's my child's birthday, I should overload everyone else with junk food because it's my child's "special" day. There are countless recipes and options for fun and tasty food with short ingredient lists and better-for-you ingredients. Kids can and do love foods that aren't the dumbed down, plain, overly sweet and processed options we continue to serve them. If we raise the bar, and expect them to rise to the occasion, they can surprise us.
The party was a success. The kids enjoyed the pineapple carrot cupcakes and chocolate cupcakes, as well as the fruit and veggie platter. But most of all, they had a great time running around and being kids. They loved the dinosaur stamp pad, sticker book and dinosaur bones in their goody bags and no one seemed to notice there was no candy inside. Most of all, my son felt special and the memories of family and friends enjoying his party will last a long time.
Visit First Bites and join the First Bites community on Facebook and Twitter for more information about kids' health habits, nutrition and preschool programs.