"You are not a true adult until both of your parents have passed on, you are then an orphan."
John F. Kennedy, Jr.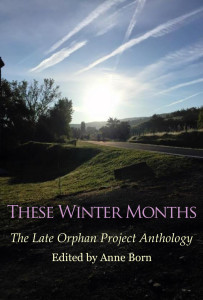 At the age of 26, I buried my first husband and dear mother. My life suddenly changed forever. Even after 40 years, I never regained that young carefree attitude of being on my own without my mother here to guide me. Deep sorrow forced me to grow in more ways than I can count. And I grew in ways that were different from most everyone who was around me. That is, from those who haven't yet touched the hidden blessings growing within my new state of unrest. In a real sense, sorrow induced in me a mercy that continuously shows me its virtue. Perhaps it was my time to receive it. Heaven knows I must have needed it! I believe it is in God's time when we all come to this place, and when we do, we touch one another as we never did before. We orphans now hold hands together until we see God's face.

After my trials of sorrow, I've since been devoted to scripture and spirituality books that have truly saved my life! And yet, even to this day, it's no coincidence that the book I need always falls into my hands. Anne Born's beautiful forthcoming book, September 2016, These Winter Months is one of those treasures and I am thrilled and honored that my story, Defending the Defenseless is among those 25 collections of stories that have the power to lift the broken hearts, minds, and souls of most all of us here who have lost our parents. It's as though after all these years, I've finally caught up with myself through this book. Each story holds a bond of togetherness and community that echoes a truth we all recognize. My hope is that like me, you'll find a peaceful meeting place that opens the door where heaven and earth come together through these beautiful heartfelt stories in These Winter Months. The following piece is my contribution:


Defending the Defenseless by Catherine Nagle

Make justice your aim: redress the wronged,
Hear the orphan's plea, defend the widow.
Isaiah 1:17

Five of my siblings were still living at home when my five-year-old daughter, Natalie, and I moved back in, following the death of my husband. Mom died only one month later. Her youngest kids - the ones who were still living with her, Shirley, Ronny, Tommy, Charles, and Louis, between the ages of sixteen and twenty-two - felt Mom's loss more deeply than the rest. It was obvious how they had depended on Mom, compared with the others who were married with families of their own. Nobody outside that house could understand what lost souls we all were, and if I hadn't been living there at the time too, I may have been as blind to how hard it was for all of them.

Without Mom, my father completely lost the will to live. He could do nothing for himself or for anyone else: it was complete chaos, and nothing was right without Mom. She'd brought the light of the living God to all of us, and had always guided each of us in whatever way we needed. We were now a family of eight at home; counting Dad. And each of us was grieving.
During my journey of hardship and sorrow, which I blamed on the world around me, I prayerfully searched for answers. I was lost and looked for ways to endure my overwhelming problems, and watched my family and friends to see how they coped with tragedies like mine, which I was having such trouble overcoming. They seemed to handle their grief so much better, perhaps by being distracted by their busy lives, or else by distancing themselves from anyone who would bring down their spirits. I realize now that they simply were better grounded, having spouses or family members they were close with, and on whom they could rely; this gave them a sense of security or foundation that my younger siblings and I lacked.

My own suffering was compounded by the strain of trying to support my younger sister and brothers, who all looked so lost. Each of them was struggling and in dire need of help, and I reached out to them in any way I could. I surely could relate to what they were going through; we were basically dealing with the same level of loss. I felt a deep need to take care of them, and found that as I did so my heart, mind, and spirit began to be soothed. This gave me a bit of joy, as that lonely feeling of separation began to diminish and I felt slightly more grounded. Before I had shifted my focus away from myself and onto them, I could barely even function; but the more I did for the kids, the better I began to feel.

I tried to take care of my younger sister and brothers, especially being joined with them in our loss. But I couldn't be the mother Mom had been, and I couldn't stay home to be with them the way Mom had always been, taking care of everyone full-time. It helped that for the first month after Mom died, my oldest sister, Bea, came to stay with us to help out. We were so grateful to her husband for taking over their family responsibilities so she could be with us, and she did her best to manage everything until we could pull ourselves together. But eventually she had to go home, and she left hoping that Dad and I would be able to take care of everyone else. When she'd gone, I once again felt the sense of loss and separation, and my heart whispered, "Weren't we her family, too?"

During the day while I was at work, my dad, sister, and brothers found it hard to deal with even the simplest things on their own. Life was by no means getting better: without Mom, there were no dinners waiting for us, no freshly washed clothing, and no tidy, warm house she'd always made ready. We missed how she lit up when we came in, and her smile had always warmed our hearts. Realizing how the whole household was struggling, I offered to quit my job to stay at home and take care of the rest of the family. But Dad, in his infinite wisdom, told me that working was good for me and that I should stay at my job. While I was glad to keep working there, I felt torn over not being home to take care of my family - all still so lost without Mom.
My brother Ernie, who owned a construction company named after Mom, gave jobs to some of our brothers, giving them an opportunity to learn his business and providing some stability after losing Mom. And even though we were all grieving and having a tough time making decisions, the younger kids found ways to take care of and serve each other with my help.

One night, as I put my daughter to bed, I overheard my older sister talking with Dad. I was surprised when she said she thought Mom died because she couldn't take hearing me cry over the loss of my husband. The next morning I asked my dad if my grief caused Mom's death. He said, "Cathy, only God knows why she died."

After that, I tried my best to contain my sorrow. And rather than closing off my emotions, I began to ask God for comfort and help in understanding what I was going through. For the first time in my life, I was learning to depend on God, and I trusted that I would be guided to the answers I needed. I began to see that the same compassion I sought was exactly what I needed to give to others in order to heal.

I found that the more I gave, the more I had to give, and I prayed that I wouldn't bring negativity to those around me. I didn't want them to feel responsible for my crises, which were beyond anyone's control. Staying positive and seeking God's guidance helped me focus on my father and the kids, letting me feel empathy for them, rather than having them feeling sorry for me. And when I stopped crying, I eventually attained a greater sense of peace, assurance, and an awareness of God's presence.

At last, I was starting to heal.

But Dad could not find a peaceful way to live in the house without Mom. His responsibilities overwhelmed him as he grieved, and the change in him was obvious; from weight loss to depression to his devastated appearance. He was lost without his wife of forty-four years, and he wasn't able to help himself or anyone else. Heartbroken, only six months after Mom's passing, he decided to sell the beautiful big house where we all lived. Anxious to get away from the memories, he practically gave it away. Mom had been the one person who always could show him the light when he couldn't find it himself. Without her, and unable to stand the pain any longer, he rented a small apartment, hoping to start over and have a completely new life. But in reality, he was trying to run from his memories and his sorrow.

Looking back, it's understandable that Dad made such drastic decisions after Mom's death shattered his emotional foundation. But the consequences for the rest of us‒my sister, brothers, daughter, and me‒were devastating; it meant suddenly having to find a new place to live. We were separated and scattered, and went to live with various other relatives. We were so forlorn without Mom and our beloved home.

I soon learned the true meaning of orphan and widow, as so many questions flashed through my mind about where we would go and who would take us in, and how I could help support my family. I continued to pray for help - for myself and for all of us. I wanted to be loving and not bitter, and that cry echoed from my heart. My faith grew stronger because I wanted to believe in God's help even more than I had before.

To this day, He hasn't let me down.
About Catherine Nagle: Catherine grew up in Philadelphia with 16 brothers and sisters, reared by loving, old school Italian parents. Catherine's artist father's works graced churches and public buildings; her mother was a full-time homemaker. A professional hairdresser, Catherine worked in various salons while studying the Bible and pursuing spiritual growth through courses, seminars, lectures, works of Marianne Williamson, and conferences, including the National Theology of the Body Congress. She is also an Ambassador of the Society of Emotional Intelligence. The mother of two children and now a grandmother, Catherine lives in Pennsylvania with her husband and son. She is the Author of Imprinted Wisdom.

REAL LIFE. REAL NEWS. REAL VOICES.
Help us tell more of the stories that matter from voices that too often remain unheard.