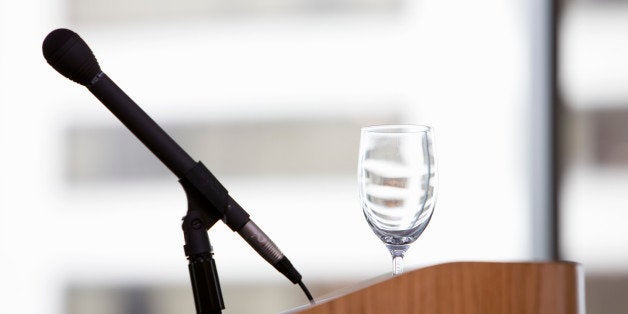 Have you ever been told that you should never leave the house without making an effort to look good, because you never know who you may bump into?
How about, because you never know when you may have the wrong date for a speaking engagement? Oh, please read on, as this story gets very interesting.
I was asked to speak to a group of men and women in Danbury, CT. They were in a profession that requires that their photos to be used on business cards and correspondence. My talk was to offer advice on how to choose the right clothes, so that their professionalism and skills shine through on their headshots.
Perhaps the first hint that this presentation was not going to run smoothly was the description of my presentation, as shown below:
Your Profile Photo Is Talking
And other secrets of effective online marketing
Presenter: Scarlett Johannsen, Image Consultant and Online Marketing Expert
Scarlett Johannsen? Are you kidding me? These attendees are being told that a highly talented and beautiful Hollywood actress will be giving them personal and business image advice!
Can you imagine how quickly I contacted the person in charge of this event to ask her to identify the speaker as myself, Scarlett De Bease? Seconds, that's how long it took me reach out and request a correction.
Fortunately for me, I was going to get credit for my own presentation. Unfortunately for the attendees, they were not going to meet Scarlett Johannsen.
Once I corrected the "I am not that Scarlett" issue, I went back to working on my presentation, selecting the best before and after photos to represent my tips and carefully writing out my personalized talking points. I even made an appointment to get my hair styled, cut and colored the day before the scheduled presentation, so what else could possibly go wrong?
With 24 hours to go till "ShowTime," I left the hair salon and started driving to meet a friend for lunch in Mahopac NY. As I was getting close to our meeting point and my stomach was grumbling, I noticed that the organizer for my talk the next day had left me a voicemail stating that if I need directions to the location for the event, to just give her a ring. Of course I don't need directions, as I have GPS.
Again, what can go wrong?
Just as I pulled into a parking spot to meet my friend, the organizer called again, and this time I answered. She wanted to know if I was lost. It was now 12 noon.
I was beginning to shake, stutter and sweat. She wanted to know when I would get there, as my time to present was only 30 minutes away.
I asked while my mind was racing, "you mean today?"
"Yes, didn't you see the date in the announcement"?
She was referring to the invite stating that Scarlett Johannsen would be speaking. All I could do was say I will drive over now, and I'm sorry, I'm so sorry over and over again.
I ran into the restaurant to tell my friend that I could not stay, and I ran out, jumped into my car and started to drive home to pick up my computer with the slide presentation that I had worked on for a week. Oh, did I say drive? More like race vs. drive home. Not only would I have to grab my computer, I would also need to change my pants, as I was wearing jeans, and put on more makeup.
While driving much faster than I should, I was berating myself for having made such a huge mistake. I then realized that if I were to go to my NY home before heading to Ct., I would arrive after the attendees had already left. So, I turned my car towards CT and decided to wing it. I would ask them to go to my website to see the before and after photos of a few of my clients and I would improvise my talk. I made a 45-minute ride into a 30-minute one, and I am not proud of it.
Did I mention that I was wearing jeans? Remember that I had just had my hair colored. Well, you know that bit of color that remains along the hairline, after color is applied? So I arrived, dressed nicely but in jeans, which is not proper attire when presenting to professionals, little makeup, a band of brown on my face, no visual presentation and not a not a single piece of paper with notes to guide myself.
After apologizing profusely to the group for my Hollywood style tardiness and for not being Scarlett Johannsen, I asked all to use their smartphones and/or tablets to see my photos, and I proceeded to present and answer questions from my audience.
When my presentation ended, and if I may say so it went very well, I was slightly calmer but still extremely upset with myself. I am a professional, and looking and acting anything other than one is simply unacceptable to me.
As I made my way around the room saying goodbye, one of the other organizers responded to yet another one of my apologies, with this: "Well in your defense, the original date was tomorrow."
I stood there nodding and confused. My heart was still not beating properly, and I was simply out of sorts. Frankly, I was a mess inside while doing my best to be polished on the outside. How could I have not changed the date on my calendar? was all I kept asking myself.
I drove straight home, as all I wanted to do was throw on a bathrobe and hide under the covers of my bed. Instead, as soon as I got home I opened up my computer, and searched over and over to find the email informing me of the date change. Can you guess what I found? There was no such email to be found. I was NEVER informed of the date change. As a matter of fact, the only time the new date was sent to me was on the invite stating Scarlett Johannsen would be speaking.
Confirm details with a phone call in addition to email.
Know your material well enough so you can present anytime and anywhere.
Don't leave your home without being dressed in such a way that if you were to bump into that loser who once broke your heart, he or she would quickly regret their stupid mistake.
Named Red Hot Image Maker by Westchester Magazine, Scarlett Image is the #1 learning and consulting resource for businesswomen who are sick and tired of not knowing what to wear. Her clients have confidence when they walk into a room and no longer feel insecure about their appearance.

Related
Popular in the Community