It's no surprise that so many have been sharing their experiences. Over the past month Harvey Weinstein and Kevin Spacey stories have triggered something in us - a solidarity, a hope for change, a collective catharsis. When one person is brave enough to share, it inspires all of us to share. That's why I talked to The Washington Post.
I started at TED as a receptionist when the staff felt like a loving, dysfunctional family. Throughout my time there, I moved to different roles, but I always adored my job. People often asked if I would work for TED forever - it was apparent that I was a huge fan of the organization - and I always responded, "I think so. Why would I ever leave?"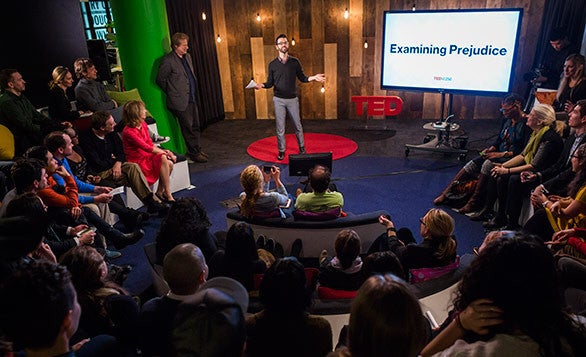 TED has a magnetism. It's fun even on a bad day - even amidst the stress of it all. There's this big, bold vision from Chris Anderson that's steeped in curiosity - a vision that challenges the boundaries of the mind and heart. It glamorizes ideas without sacrificing their integrity, and it compels people to listen to lectures for 18 minutes about topics in which they otherwise would have no interest. The staff and the TED community are full of incredible people - many of whom I adore deeply. Once you're a part of TED, it's difficult to imagine life without it.
Beneath all of that, however, there are challenges. One of them is sexual harassment.
I first experienced sexual harassment early in my employment at TED. In a way, it was a part of the culture. Again, we were all like family, and we were all very comfortable with each other. The lines of inappropriate behavior were blurry, and that resulted in uncomfortable situations for some of us.
For instance, I showed up at TED's holiday party one year, and an executive walked up to the bar around the same time I did. "I see you've met our resident porn star," he said to the bartender. "Jordan's dick is really big, that's why we put him in all the TED porn videos."
I'm pretty sure my jaw hit the floor. The executive went on to say explicit things about the man I was dating. I didn't know how to respond to the 20-something year old bartender who I am sure was as shocked as me.
It wasn't the first time this had happened, and it wouldn't be the last. The real tragedy is that I admired the person who was doing this. He had been a mentor to me when I first started at TED, but as the harassment mounted, I distanced myself from him.
I was a member of TED's Office Culture Task Force, a committee of people appointed to help make the office a desirable place to work. While I think we did a great job planning fun activities, the committee functioned beyond it's intended scope. It was the default HR team - TED didn't have HR for most of my time there.
While in that role, many people told me in confidence how they were harassed. We all felt conflicted - do we tell our stories and risk losing our job at TED and the community surrounding TED that we love so much, or do we carry on and deal with it as best we can?
I decided that I was going to talk to Chris Anderson and another member of the executive team. To be safe, I took a peer with me into the room. I told Chris about everything. Without naming anyone, I told Chris what people had been saying to the Office Culture Task Force. I also told him what I had personally experienced, and I named the executive that had been harassing me. Chris and the other executive were visibly uncomfortable. Who wouldn't be? Knowing that this behavior is happening under your watch must be harrowing.
I was told that there's nothing that could be done about the nameless stories. Maybe that's true. But I was horrified about what I was told in response to my personal experiences. "[Executive] often thinks he's the funniest person in the room, and often he is..." Chris said. My stomach sank, and my chin quivered.
The other executive in the room chimed in. "Unfortunately, this kind of thing is often accepted in the gay community..." I couldn't believe what I was hearing. I quit the Office Culture Task Force effective immediately and begged Chris and the leadership team to take some sort of company-wide action. That never happened. Chris asked me to keep the conversation extremely confidential.
I am sure that the executive that harassed me was given a metaphorical slap on the wrist, but I wasn't privy to any disciplinary action. What I know for sure, however, is that the remainder of my time at TED was awkward. I am glad that I told my story, but I am not confident it was handled well. I left only months after I had that conversation with Chris.
Before The Washington Post contacted me on November 16, 2017, I contacted Chris to talk about what back when I still worked at TED. I said:
I have been going back and forth about writing you. I took the TED newsletter [featuring Gretchen Carlson's talk] as a sign that I should reach out. What happened to me at TED still haunts me. Every time I hear a story, I think about it. It's alarming to see the breadth and depth of sexual harassment and assault through the #MeToo campaign. From Harvey Weinstein to Kevin Spacey, it's all very sad. I wondered if I should come out publicly about what happened to me at TED. I remember so vividly what you and [other executive in the room] said to me in response to the allegations. I wonder if it still happens. Over the past few years, I've reached out several times to [executive that harassed me] asking for a chance to talk. I've apologized, as if I did something wrong, and I've even asked some of my former TED colleagues out for a drink to talk about what I was feeling. I think I've been searching for closure. It's a crazy time - it keeps me up at night. I want to do what's right. I don't know what the best path forward is. I don't want others to go through the same thing, and I hope these kinds of allegations are never excused as "just a person being funny" or as "commonly accepted in the gay community."
Chris responded with what seemed like a heartfelt desire to make it right. He offered me a couple of paths forward, but I was shocked that he didn't remember me ever telling him about the member of the TED executive team that sexually harassed me. Sharing those stories was one of the hardest things I've ever done, and I will never forget it. I am sad that Chris did. That's when I knew I had to share my story publicly.
While I'm glad that The Washington Post amplified my experience, it's unfortunate that these kinds of articles never quite convey the humanity behind the stories. My experiences were reduced to a bullet point, and that made me feel dirty, guilty, used and insignificant - simply a puzzle piece.
Perhaps these are all irrational feelings, but sexual harassment happens to real people - it's not a one-off experiences that happens in a moment of time. Sexual harassment is tough, and it stays with a person. It becomes part of who you are.
I think this is a terrible and necessary learning moment. We have to admit that we've failed - as organizations, as a government, as families, as corporations, as friends of those who experience harassment and assault - and then we must all agree to do better.
Allow me one moment to say that TED isn't bad. There are many people in the TED ecosphere who do great things when given the space and time to figure out the solutions that plague the world. However, TED must do better in preventing sexual harassment.
There's so much more to this story, and there's so many stories still untold. #MeToo
Related
Popular in the Community