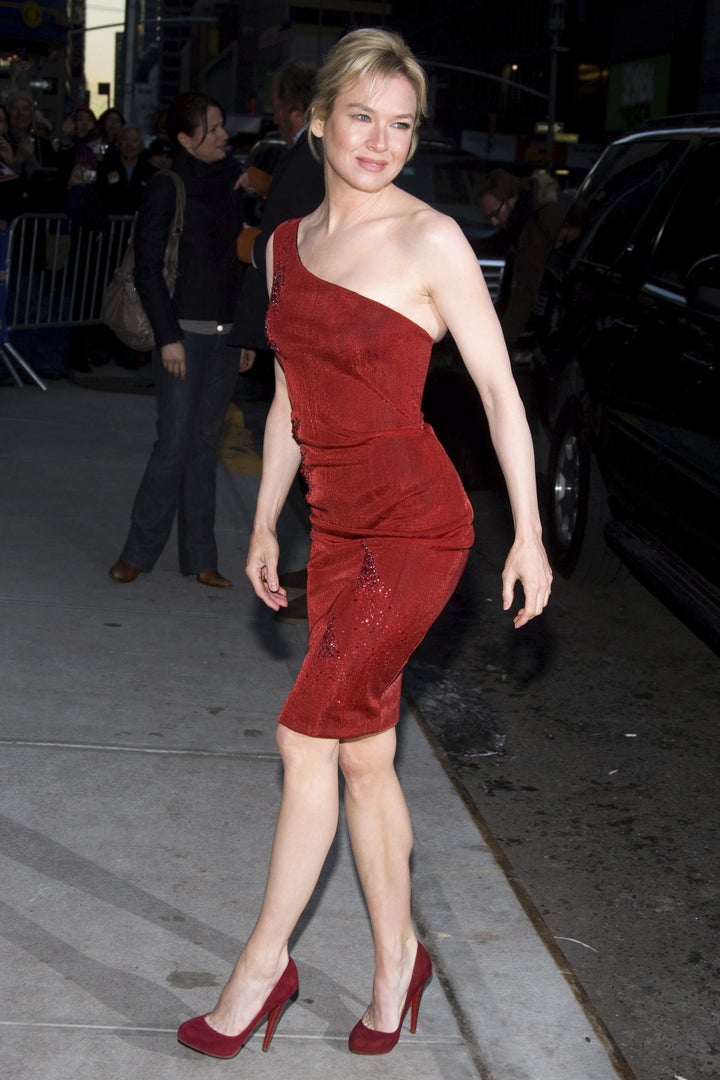 I first saw Renee Zellweger pushing a rack of luggage uphill on a West Side sidewalk--no entourage, no aides. Like most stars, she instinctively stops traffic. We ogled (discretely) as she strained against stacks and stacks of suitcases, her skinny body forming a wide triangle with her luggage and the pavement.

A week later, she ran past me in Central Park. Before I recognized her, I'd mused: look at that girl's movie star ankles -- defined but narrow calves exquisitely tapering (like a Matisse line drawing). She glanced back, and bingo, the girlish, innocent wonder of Renee Zellweger's plump, wind-reddened cheeks and sweet almond-shaped eyes..
I bet when Zellweger turns eighty, she'll be girlish, sweet-- and running.
I've been holding a Renee Zellweger film retrospective in my bedroom. In the teen film Empire Records she's a scenery-chewing, rambunctious kid with a flash of perfect butt. She steals scenes wearing a backless slip of a red slip dress and dancing like she's got wings -- while brandishing two feather dusters that she transforms into the best props since the invention of puppets.
The very same physical exuberance powered the film Chicago. (Her co-star Catherine Zeta-Jones feels as shivery cold as Zellweger feels warm and kind.)
In her early Texas masterpiece The Whole Wide World, she plays a spunky compassionate schoolteacher who writes for herself and can't accept the craziness of the famous writer she loves.
This wondrous performance led to Jerry McGuire--where she beams such superhuman, but real, goodness that she lifts Tom Cruise up too.
I love Renee Zellweger because she's a real person with the occasional unglamorous flaw on her gorgeous surface. Once, while sweeping onstage to Letterman, she teetered embarrassingly on her high heels. And as usual, her hair and clothing seemed unstyled and unblanded-out by silly pros.
And chatting with Letterman, she feels to me like a plucky little kid imitating a sexy Mae-West type movie star.
Renee Zellweger isn't a Hollywood product. Indeed after graduating the University of Texas at Austin, she made local indie movies.
She fascinates me much more than the plastic-surgeried, glammed tinsel-town girls. Remember her soft stomach acquired for the wondrous Brigitte Jones' diaries.
I once sat next to Michelle Pfeiffer at a memorial service in Beverly Hills for a studio executive and I swear she filled only a third of her seat: no discernible muscle in her bare arm resting on our armrest. Her face was surgically stretched and re-stretched.
Back to Zellweger: it took her seven years to produce an amazing Lifetime TV drama about pioneering oncologist Dr. Dennis Slamon who refused to buckle and finally invented a life-saving treatment for a form of breast cancer.
I can't wait to see Zellweger in My Own Love Song which just had a big premiere at the Berlin Film festival. (In Central Park, I overheard a passer-by boldly ask her, "Are you going to Berlin?" "Sure Aaa, ayum, thanks for askin'" she sang out in her sweet, Katy,Texas drawl.)
So maybe one day I'll get bold and thank her for how good she makes me feel while I absorb the subtleties of her glow on the big screen.

This column also appeared in the West Side Spirit newspaper.