My grandmother had a stroke six years ago. Having such a close relationship with her, I took it very hard. Seeing her in pain and thinking she was going to die, I didn't understand how the stroke felt and how she was feeling, and I just wanted to understand more. I did not know what exactly to say besides that I was sorry and I didn't understand her discomfort. I could never have imagined that, just four years later, I would come to relate so strongly to her.
My name is Rachel Castro, and two years ago, I had a stroke at the age of 17.
The last week of my junior year in high school, I had everything to look forward to. I love to travel, and that following summer, I was excited about going to Spain with my school.
I had no stress in my life. I worked at the mall, and life was good.
One day, while I was at work, my life completely changed.
It started at around 5 p.m. I remember my hearing came and went, like when you go underwater. I got a headache.
Two hours later, I fell out of my chair. My left side became paralyzed. My co-workers immediately recognized I was having a stroke.
I was taken to the hospital, but the paramedics thought I was on recreational drugs, so I was "treated" for that. I was vomiting as they tried to give me medication to counteract the drugs I wasn't taking. Eventually, I was taken to another hospital and given a CAT scan.
The arteriovenous malformation (AVM), a deformity in my blood vessels in my brain (which was there since birth), caused an aneurysm to pop. My brain was bleeding a lot in the right temporal and parietal lobes. The surgeons removed part of my skull for two months.
After some time, my left side was very weak, but I could move it. It took me a while to learn to walk again, and I was hospitalized for a month. I had to wear a helmet for two months, and a belt around my body for balance. I was in rehabilitation, occupational, speech, and physical therapy for three months, and my family had to fight our insurance company so I could get speech therapy for three more months to be able to work on memory.
Today, I feel much stronger emotionally than I was right after my stroke. I know what I should fight for. I lost friends in school after that happened, and have a hard time recalling facts for a test. My short-term memory became impaired. Still, I'm so grateful to be here!
I am currently a neuroscience major at UIC, with a minor in disability studies. I really love the research part, and dream of going to medical school, perhaps becoming a neurologist.
According to the American Stroke Association and the American Heart Association, someone in the U.S. has a stroke every 40 seconds. Every four minutes, someone dies of a stroke, and it's the leading cause of long-term disability, as well as the leading cause of preventable disability.
May is National Stroke Awareness Month. I invite each and every one of you to become a Stroke Hero. Please join me along with other stroke survivors, volunteers, educators and public health advocates as we educate our families and communities about the signs and symptoms of stroke and promote stroke prevention for those who are lucky enough to have the chance.
I still dream of traveling to Spain, and most importantly, I want to continue telling my story and letting others know that stroke knows no age, but we can take steps to prevent it from happening.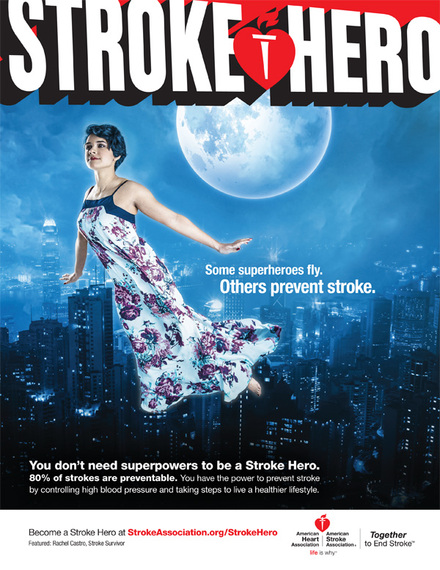 Calling all HuffPost superfans!
Sign up for membership to become a founding member and help shape HuffPost's next chapter