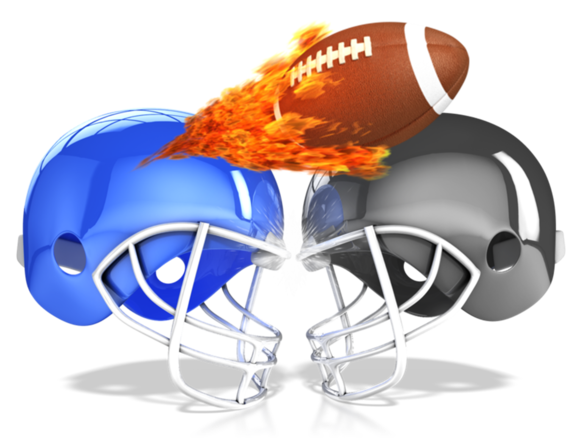 As part of building a digital video library at Carnegie Mellon University, I worked on a visionary video play analysis project with the NFL video directors from 1995 to 1997. Having had the privilege of learning the nuances of the game of football from none other than the Rooney family, of the legendary Pittsburgh Steelers, I developed a great appreciation and love for the game. Until then, football was merely a fascination for me, as I had watched my first Super Bowl in 1985 and what caught my attention were the ads. Throughout the entire game, I believe it was Ford advertising with Dan Marino as their spokesperson. As soon as the Miami Dolphins lost, the same ad instantly switched to Joe Montana of the San Francisco 49ers. I was stunned with the swiftness of the move, since I had arrived from a not-so-sophisticated media industry in India just a few months prior in August of 1984.
I became a big fan of the Steelers and watched every game with great attention. Our son was born in 1998 and as he grew up, he ended up watching football with me. I was not the dad who played catch with him; we didn't do much of anything else other than religiously watch football together. We really enjoyed our bonding time over Steelers football.
In 2013, my wife and I attended a workshop in Santa Clara where a psychiatrist and clinical neuroscientist was talking about ways to take better care of your brain. One of the things he said in passing -- "a helmet does not prevent you from getting a concussion, it just protects you from skull fractures" -- had a major impression on me. Several years ago my roommate and his wife were involved in a motorbike accident, where his wife suffered a head injury while wearing a helmet and was in a coma for nearly four weeks at Cleveland Clinic. I simply could not understand at that time how she was injured so badly while she was wearing a helmet. Later, I was given the explanation that her helmet was loose and did not fit her head properly.
Listening to the neuroscientist claim that helmets do not prevent concussions, since they are caused by the brain getting jarred within the skull, was a huge revelation to me. Being an engineer and having enjoyed physics in school and college, I finally understood why my friend's wife was so badly hurt.
Unfortunately, my newfound knowledge began to get in the way of my enjoying the game of football. Every time I saw a player get hit or even land on the ground and snap his head, I started to feel uneasy. Given that they tend to show replays in slow motion again and again, I started to get nauseous. I would make comments and my son did not like it, as the game was all about tackles, big hits and sacks. After a few months my son told me, "Watching football with you is no longer fun." I was crushed and heartbroken; it was the one thing we did together where we had a lot of fun and opportunities to bond.
As part of the Mindful Nation Foundation, having worked with veterans with post-traumatic stress and traumatic brain injury, I tried to explain why I struggled watching the game but he could not understand. I told him about concussions and how they could happen even during drills and practice. He would get upset and finally one day screamed, "So you want to stop football in schools?" While I am not a doctor, I felt that children whose brains are still developing could be more susceptible to long-term damage caused by concussions. It really bothered him that I was threatening the future of a game that he really adored.
Here is some hope for parents: While I felt very sad that I had lost the only fun connection with my son over my concern for concussions, my boy was actually listening. A few months ago, soon after his 17th birthday, he came to me and said, "Papa, I will not let my children play football," a 180 degree shift in his perspective. He had read some of the write-ups about the movie "Concussion" and researched the topic further on his own. This was a major turning point in our relationship. I reminded him of many arguments over the years, and how becoming more aware of the consequences of the game of football and not just being blinded by the entertainment could have avoided a lot of conflict in our home.
Two weeks ago, I showed him an article about the "Six Things You Should Know About Concussions" in the January/February issue of Scientific American MIND, and after reading it came to me and said, "Without knowing much neuroscience, you knew five of the six things mentioned in the article." We have once again begun to watch football together, but with much greater empathy for the players. He no longer cheers for big hits and he is actually concerned for the affected players' well-being. He looks the very next day to see if the perpetrator got fined and shares it with me.
Having watched the Super Bowl with millions of people around the world last night, I thought it might help some others by sharing my personal opinion as a spectator with you. Finally, I was simply amazed to hear my son tell me yesterday, "I think football will die off over time." When I asked him why he felt that way, he said, "A Mars [neighboring town] high school senior, John Castello turned down more than six college scholarships to play football and has chosen to play basketball instead." My wife later told me, as I was sitting down to write this after the game, that my son also said, "Papa has a love-hate relationship with football."
In conclusion, I don't know how the league or the rules of the game could ever reduce concussions in football. Some studies tell us that the shock of going from 20 miles to zero in an instant is enough to cause a concussion. That can happen fairly easily in this game.
Popular in the Community