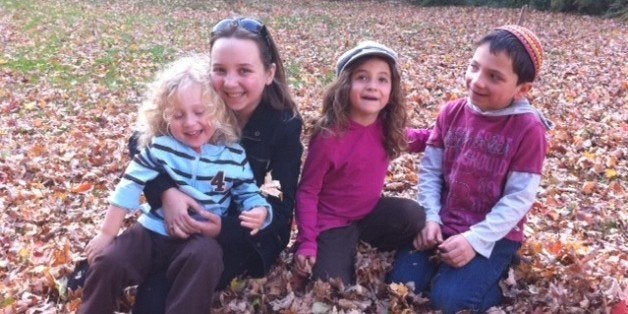 Hi, my name is Leah and I have a super-secret addiction. To TV shows. About big families.
I know. It's a little weird. And a little specific. As a kid, I devoured any show about big, sprawling families with lots of kids -- or even neighbors or cousins as hangers-on. I watched reruns of "The Brady Bunch" and "Little House on the Prairie," "Eight is Enough" and "The Partridge Family." I loved the end of "My Three Sons" when they had triplets (triplets!), and I was super-excited when in separate jumping the shark moments on both "Growing Pains" and "Family Ties," they welcomed fourth babies, magically transforming from "typical" American families to huge broods.
My mother thought this was because I loved babies. Not true. Oh, I like babies well enough, and I did my fair share of babysitting and childcare through high school and college. But that's not what drew me to those shows.
I had a lovely childhood, to be sure. It moved from middle-class to upper-middle-class. I went to great schools, took all the lessons I wanted (piano, guitar, ballet, jazz, swimming, gymnastics, voice), travelled abroad and went to summer camp. I have one sister who was alternately a huge annoyance and a best friend, loving parents and plenty of friends. I wanted for very little.
These shows, though, left me with an emotion I felt so rarely that I was slow to identify what it was. That pull in the pit of my stomach, that longing. I imagined that my own family was big enough that my father would run through a series of five or six names before getting to mine. That I would wear a pair of pajamas, super-soft from hundreds of washings, well-worn in by big siblings or cousins. That the sounds of just our immediate family would fill the entire house. That I would have a whole bunch of people who I felt I was obligated to care for, and who would have to care for me.
What was that feeling? Oh, right, jealousy. I wanted what I couldn't have. No matter how much I cajoled, my parents were not going to give me what I really desired: more siblings. They were right, of course. Nobody should be bullied by their own 8-year-old into having more children. It's not as though I was equipped to take care of all of these little people I was imagining. Still, I was pretty disappointed that my well-reasoned arguments had no effect on them.
So, I lived in my fantasy world. At slumber parties, I made my friends suffer through yet another viewing of The Sound of Music, imagining myself as each of the Von Trapp girls in turn. Well, not the running from the Nazis part. My relatives had had decidedly mixed results with that. I came up with lists of names for my six children -- go big or go home -- which I would effortlessly balance with my lucrative, high-powered career. I told you it was a fantasy.
But here's the thing: It wasn't all just a fantasy. When I met the guy I would eventually marry, having a big family was one of the first things we talked about. I didn't stop longing for that big, boisterous flock. Despite what my mother suggested, I did not outgrow the feeling that a really crowded house would have the power to expand my heart.
A bit embarrassingly, as an adult, my addiction continued. Unfortunately, the quality of the shows started to slide, and I found myself watching a show about a minister with seven kids who did some of the worst acting I had ever seen. Still, I tuned in. And of course, if anyone reading this is at all identifying with me (please, please let there be at least a few of you -- we could start a mildly creepy Facebook group!) you know what other family I followed. Let's just say 19 kids isn't even my fantasy. Seriously.
So, why? Why did these big families fascinate me so? Why did I want one of my own so very much? I'll say one thing about my own babies. With each successive child we brought home, we noticed how much less they played with toys. In a big family, the currency is time. Time with parents, time with siblings. We value the personal connection over all else. And in a society where we spend more and more time in front of screens, there's something infuriating and comforting and validating about knowing that even when we disappear behind our iPods and tablets and TV screens, we'll never be alone for long. A phone will ring, a brother will throw a ball and say, "think fast!" or a child will absently climb into your lap, plug a thumb in and curl up, so perfectly you can almost hear the Lego click, like you're one person with two hearts.
That's what a jumbo family is. The same heart beating in a whole bunch of different bodies.
In the end, I have only a "mini" big family. With four children, we have crossed that arbitrary line from three kids, which for some reason is considered eminently reasonable, to our family, about which strangers are comfortable commenting with raised eyebrows. "Four? I couldn't even imagine that! You're crazy!" Maybe it's because we no longer fit in a five-seater sedan. I am chained to that minivan, for sure. And to Costco. And to family-sized everything. And all so that my own children might have the chance to live out what was my fantasy. They will always have each other. That's what I remind them when they're coming up with new and exciting ways to torment one another.
Still, my kids complain that at holidays and other celebrations, there just aren't enough of us around the table. I have to explain to them that they'll have to wait a bit longer. I couldn't magically provide them with loads of insta-cousins, but since there are four of them, I have hope that their own grown-up celebrations will be full to overflowing. Patience.
My latest television obsession is "The Waltons." I watched it rarely as a child, but it's growing on me now. A family in Appalachia during the depression? Why exactly do I identify with them? In our big suburban house, everyone has his or her own room. We have food security and too many clothes and reliable electricity except after a hurricane. But many nights at our place see a bunch of the bedrooms empty as the kids pile into one room for yet another "sleepover." From behind the closed doors I hear them bickering. And whispering. And giggling. I can't quite make out the words. But I can fantasize. "Good night, John Boy. Good night Elizabeth." Good night my big, exasperating, beautiful family. I've been waiting for you for longer than you know.