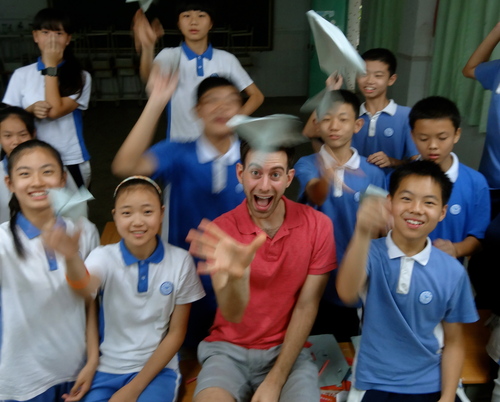 I had just graduated college. It was the summer of 2013, and I received my first job offer: the opportunity to teach English in China.
Soon after I began celebrating my first "real-world" job, red flags started coming in. My program went silent for a month. I had no idea what city I would be teaching in and when I would be starting. No details, no e-mails, no phone calls. I got onto Skype to call their office in Shanghai, and after they found an English speaker to address my concerns, I was given a response: be patient.
After waiting two and a half months, I finally received notice I was assigned to a private school in Shenzhen. Since the summer holiday was ending, I was left with 48 hours to receive my visa from the New York consulate and board a flight to Shanghai for orientation.
The one-week orientation was nothing more than a hodgepodge of poorly led seminars that barely prepared us to stand in front of a classroom. There were about 100 other English teachers in attendance, most of which were fresh college grads like myself. By the week's end, we got ready to fly off to our respective cities to start our year of teaching.
Right as we are getting ready to leave, the program leaders told a handful of teachers there was a change of plans. Their assigned schools could no longer take them as teachers, so they would now be re-assigned to schools in a rural part of China.
Rightfully so, these teachers were upset, angry and shocked. They flew across the world expecting to teach in one place, and now they were told they would be going somewhere vastly different.
Luckily for me, I was not in this group. Myself and 15 other teachers flew down to Shenzhen and were greeted at the school gates with surprises of our own. An administrator told us our apartments were still being "professional cleaned," so in the meantime, we would be housed in student dorms. As she guided us to the dorms, I noticed piles of debris and garbage everywhere, which I later learned resulted from an explosion that had occurred on the campus earlier that month.
We arrived at the back of the school to see a row of wooden cabins. Inside each cabin were three pairs of bunk beds, two squatting toilets and a hose dangling over the toilets to shower. I don't think there was plumbing because the toilets wouldn't flush and reeked of... toilet. This was my new home.
After setting our things down, the school hurried us to a "welcome lunch." In the cafeteria, they handed me two containers. One container had a cold pile of rice, and the other had overcooked vegetables alongside a puddle of oil with bits of bony meat. Just before I decided to taste the meal, they handed me chopsticks. I ripped open the chopstick wrapper to find mold lining the side of the chopsticks.
When I saw the mold, I politely declined the meal, returned to my cabin and went to sleep. From then on, things continually got worse.
The next morning, the administrators had us attend a meeting in their boardroom. We were told that before we started working at their school, we must agree to some new policies. They wanted us to work double the hours we agreed to and teach extra subjects besides English. For example, I was assigned to teach U.S. history without any proper curriculum. They handed me a 1,000-page textbook and said go teach.
Mind you, my monthly salary was around $900, which is extremely low for foreigners in China. For the hours they wanted us to put in, it was completely unfair. Instead of expressing sympathy for our concerns, they responded with manipulation and scare tactics. The administrators warned us that if we were to leave, they would have their "connections" find and punish us.
Not only was the school going against our contract and making us work extra, but they now were threatening to harm us if we left their school.
A bunch of us foreign teachers decided we had to come up with an escape plan. After we would teach during the day, we would head to a café, huddle around our laptops and desperately search for other teaching jobs around Asia. I was lucky to find another position that was looking to hire immediately in Shenzhen. Before I knew it, I was packing my bags and shipping across the city to move into a new school.
At first, I was nervous and afraid that this was another program I couldn't trust. It took me a while to open up to Chinese culture again. Thankfully, they were wonderful to me and I had a fantastic year working with them.
My biggest piece of advice for any foreigner coming to China is to have backups. No matter what program you go through, what flashy websites you read, and what promises they tell you, you never know what your situation is going to be until you arrive.
Through this experience, I learned how to adapt, be resourceful, and stand up for myself. If I wasn't someone who sought hope during times of hardship, I'm not sure how I would have gathered the strength to get myself out of hole I found myself in.
I share this story not to scare anyone away from teaching abroad. My intention is to empower those who find themselves stuck in a difficult situation like my own. No matter what, there is always a way out.
Calling all HuffPost superfans!
Sign up for membership to become a founding member and help shape HuffPost's next chapter