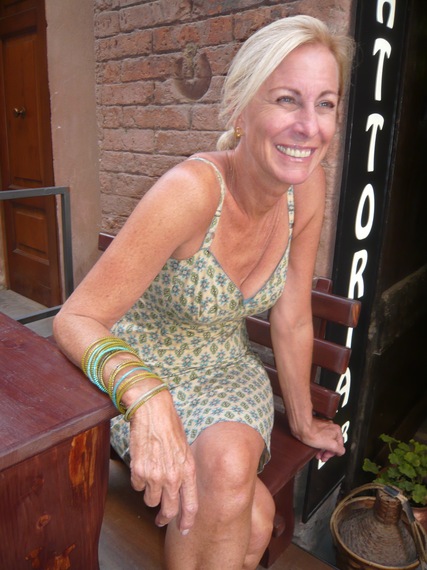 Four times a year, for the very best weeks of the year, I had a sister-wife.
Those were the weeks when Terry came to Chicago for shows at the Merchandise Mart. She would set up camp in our guest room, complete with the steamer and the extra hangers and the running shoes she kept in our closet year-round. She would bring her own coffee, until she was finally confident that I would visit Peet's and stock up before her arrival. She would set up the coffee maker before she went to bed, because she didn't like how I made the coffee. She would remind me to buy light cream before her arrival because she wasn't a black coffee drinker like my husband, John, and me. One year, she asked for coconut milk "coffee creamer," but that didn't last long. She swore off chocolate regularly. She loved every chocolate thing I ever made. She used the good china cups.
I was happier when Terry was here. John was happier when Terry was here. It was Terry who called us "sister-wives," and she was on to something.
I never laughed more than when I was with Terry. I never had deeper conversations about the things that truly matter than when I was with Terry.
Twice, Terry and I went to a spa for a week together. She brought her coffee with her and arranged for a coffee maker in her room -- I woke every morning to Terry's knock, and then a hot mug of coffee she'd prepared. We ate breakfast, lunch and dinner together and never finished the conversation. I admired Terry's painting and she admired my writing, though neither of us made our livings in the arts. We were never ready to leave. I hugged her and complimented her scent and she dug in her bag and gave me her bottle of cologne.
Terry and her husband Elliot joined us in Tuscany for our 25th wedding anniversary. For a week, she was "Teresa" and I was "Susanna." John was "Gianni" and Elliot was "Elio." We laughed and ate gelato and talked and ate pasta and talked and ran around Florence and laughed and walked and walked and walked and talked. She looked gorgeous and chic for eight days. Terry traveled all over the world and never checked a bag.
Terry was style personified. She recruited my daughter to save me from myself by ensuring that I never shopped alone. After I finished treatment for breast cancer, my hair was a grey, quarter-inch crewcut. John thought I should keep it that way because, he said, it sent a message. When I met Terry for our week at the spa, she took one look at me and said, "Yeah, it sends a message. The message is: you're old!" She dragged me to the spa's hair salon and supervised the colorist.
When I admired Terry's style and beauty and panache, which was just about every day, she would say, "Hey, everyone has to be good at something." Or she would say, "It's my job." She was superb at it.
We talked about parenthood, we talked about marriage, we talked about aging, we talked about our sisters and brothers and in-laws, we talked about religion, we talked about great books and trashy magazines, we talked about our childhoods, we talked about love, we talked about sex, we talked about weight gain and weight loss and addiction and demons and angels.
Terry is gone, too soon and too suddenly. Just as I was absorbing the fact that she was ill, she was gone. I thought we'd have some months. I thought we'd look at the ocean at our east or west coast haunts. I thought I'd be able to tell her just what she meant to me. I thought I'd have time to hear her joke, "is there something more you could do for me?" and then do it.
Terry told me: use the good china. Terry told me: live a big life. Terry told me: honor and honesty are all that matter. Terry told me: never cry over anything that can't cry over you. She meant not to cry over material things, but now she's gone and she can't cry over me anymore and I'm bereft and crying over her. I loved Terry with all the pieces of my broken heart. One small part of her legacy on earth will be her voice, informing my thoughts, feelings and prayers, each remaining day of my life.
PHOTO GALLERY
Milestones Through the Years
Calling all HuffPost superfans!
Sign up for membership to become a founding member and help shape HuffPost's next chapter