Chairman King, Vice-Chairman DeSantis, Ranking Member Cohen and distinguished members of the subcommittee,
My organization, the Foundation for Individual Rights in Education, or "FIRE," was founded in 1999 to defend free speech, academic freedom, and due process on America's college campuses. FIRE is a principled, nonpartisan nonprofit and this is reflected in both our staff and the cases we take. For example, our litigation project has recently defended the right of students to protest animal cruelty, and advocate for pot legalization, Second Amendment rights, and more.
Just last week, we filed a lawsuit against Los Angeles Pierce College in California, which told a student that if he wanted to engage in free speech activities, he had to limit himself to a tiny "free speech zone." The zone comprised only .003% of the campus. Put another way, if Pierce College were the size of a tennis court, free speech would be restricted to an area the size of a cell phone.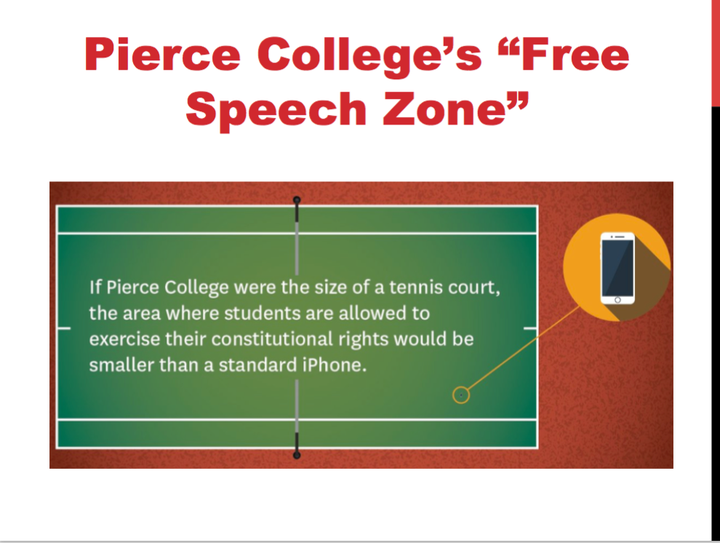 Since our founding in 1999, FIRE has fought "free speech zones"—efforts by administrators to quarantine freedom of speech to tiny areas. And we've defeated many of them, including Texas Tech's infamous "free speech gazebo," the University of Hawaii at Hilo's "free speech swamp," and this sad little one at Blinn College, which was divided into even smaller halves by a bulletin board. Many institutions even require advance permission for students to speak inside the zones: For example, the University of Cincinnati asked for 10 working days' notice.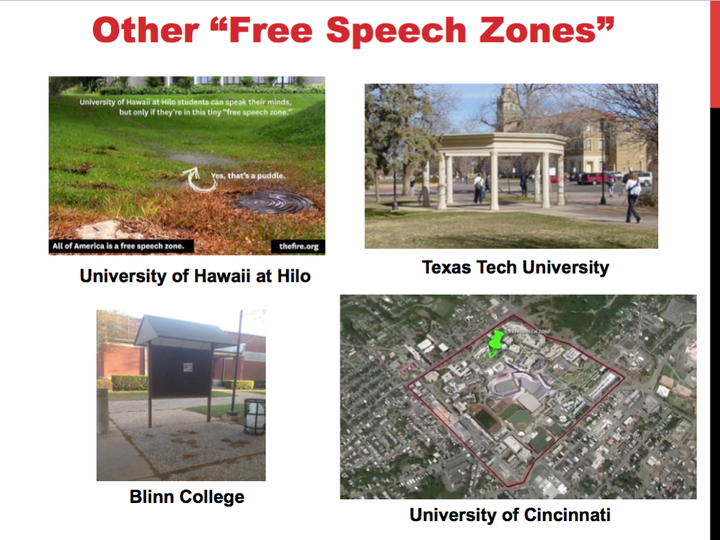 Other speech codes comprise broad and vague restrictions on expression that practically anyone could be found guilty of violating. Take the University of West Alabama's prohibition on "harsh text messages or emails," which is in force, or both the University of Connecticut and Drexel University's now-defunct prohibitions on "inappropriately directed laughter."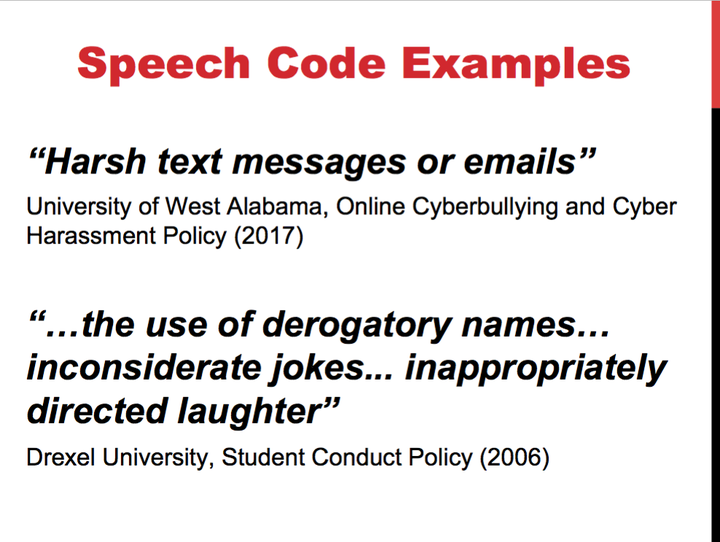 While many speech codes are absurd, fighting them—even at colleges bound by the First Amendment—has required more than 60 lawsuits since 1989. And all of the 56 suits that have concluded have resulted in either a speech-protective court decision or the repeal of the speech code.
The money and time public campuses waste defending these manifestly unconstitutional codes in court is a national scandal. Campuses should not have to be forced to respect students' First Amendment rights.
But there is good news: Since I last spoke with the Committee in 2015, and thanks in no small part to a letter Chairman Goodlatte sent to 161 colleges and universities across the country, (and many additional lawsuits), the number of speech codes on campus has decreased significantly.
FIRE uses a simple red, yellow, and green traffic light system to rate colleges' written policies on expression. When we first published our findings in 2007, 75% of colleges maintained "red light"—or laughably unconstitutional—speech codes. In 2015, after years of fighting both inside and outside of court, the percentage of red light codes had dropped to around 55%. And since Chairman Goodlatte's letter was sent, that number has now dropped below 35% at public colleges. At the same time, the number of green light schools (colleges whose codes do not threaten protected speech) has nearly doubled.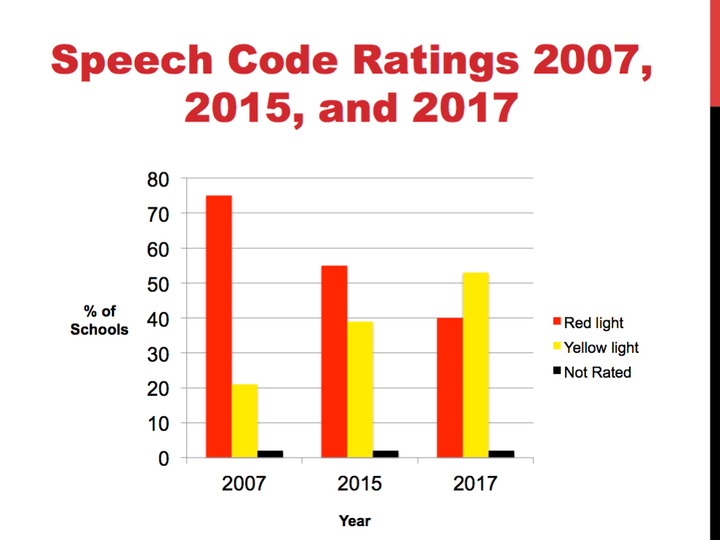 While there is no need to be fatalistic about speech codes, much work still has to be done, particularly as the Department of Education has championed a definition of sexual harassment that is so vague and broad that it seriously threatens campus speech. The Department of Education hailed this as a "blueprint" for all universities to follow, but it specifically eliminated the requirement that speech be both subjectively and objectively offensive, and it reduced the definition of harassment to any "unwelcome verbal conduct" (also known as speech) "of a sexual nature."
To give you an idea of how broad such a code is, professor Teresa Buchanan was fired from her job at Louisiana State University for violating a policy just like this "blueprint," allegedly because she explained in realistic detail the way that some parents talk to some teachers. She is currently suing Louisiana State University, with FIRE's help, and we believe that any judge looking at the Department of Education's blueprint definition of harassment would have to find it glaringly unconstitutional.
The House Judiciary Committee has already been a great ally in the fight for free speech on campus. Even in these polarized times, we hope that free speech on campus can be an issue that unites all parties.
Warn public campuses in each state that speech codes are unconstitutional and can unnecessarily cost the state money.
Support the CAFE Act to put a legislative end to "free speech zones."
Codify the Supreme Court's definition of student-on-student harassment, set forth in Davis v. Monroe County Board of Education.
Pass a federal New Voices Act to protect student journalists.
Popular in the Community