I had a case of writer's block this week. I just couldn't get going on the two beautiful coffee table books I was going to write about. There was something bubbling just below the surface and it took me until this morning to tap into it. This blog is about art, literature, creativity and the gentle souls who are called to a life in the arts -- people whose contributions generally go unrewarded, unrecognized, and are even disparaged or ridiculed. Thirty-six (and counting) of those souls perished this week in the horrific tragedy of the Oakland Ghost Ship Fire.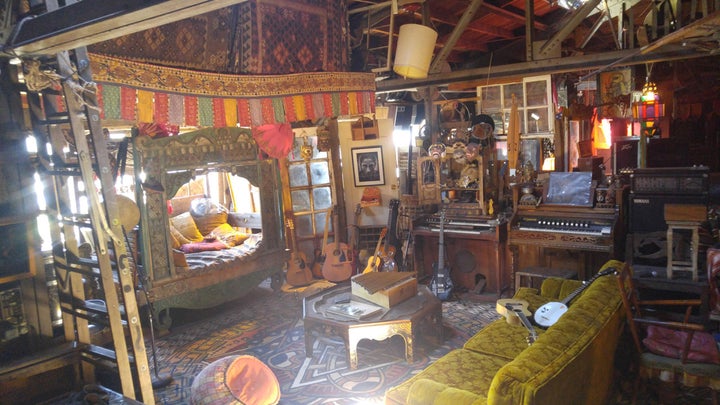 Often branded as flakes, losers or slackers, these are courageous people who turn their backs on corporate life, the slow death that a 9-5 job represents to them and the comforts that a regular paycheck bring. They live authentic lives and sacrifice greatly to do so. Instead of being rewarded for their bravery and the work that enhances all of our lives, they are forced to live marginally, often in dangerous environments.
I've never been to the Ghost Ship and I don't know anyone who has perished or is missing, but I have been one of them, know many like them, and have spent time in those environments. The Ghost Ship was a rich labyrinth of repurposed furniture, art, kilims, hanging lanterns, speakers, guitars, clocks, turntables, old pianos and pipe organs, scrap wood railings, impromptu sleeping lofts and intimate seating areas, ideal for long languorous conversation – in short, a greenhouse for creativity.
This should not have been a place where so much vibrant young life was extinguished.
Click here to see photographs of the Oakland Ghost Ship before the fire.
Click here to donate to the Fire Relief Fund for Victims of Ghost Ship Fire.
We all know, or should know, the role that artists play in revitalizing down-trodden neighborhoods. Artists go to those neighborhoods because it's the only way they can afford to live and do the work they are compelled to do. After much hard work and sacrifice by artists, the neighborhoods suddenly become fashionable. Shops, restaurants and hipsters follow -- and inevitably the artists who breathed new life into these neighborhoods are forced out in search of affordable and often unsafe digs.
Case in point is the Santa Fe Art Colony in Downtown LA. Funded by the Community Reinvestment Act, the Colony has provided rent-restricted live/work space to artists for 30 years in what was an industrial no-man's-land. Now the area is booming with high-end art galleries, shops, restaurants and a construction boom. Sadly, the CRA restrictions are due to end soon at the Santa Fe Colony. The rent increases will force many of the artists out.
Click here to sign a Change.org petition to help save the Santa Fe Art Colony.
I often felt conflicted as director of a commercial art gallery. My heart was always with the artists, and I was uncomfortable in my role as go-between with collectors. Offramp Gallery wasn't selling art at huge prices, and most of our collectors were good people who understood the circumstances of the artists. But there were those, one in particular (you know who you are), who relished trying to get that price down another five or ten percent, even while sitting in the artist's humble studio, oblivious, salivating at the bargain he was taking away to his new mansion in Pacific Palisades. Another way artists are being regularly exploited is by being asked to donate works for auctions. They're already living at the poverty level, and then are asked to give their work away to raise money for various causes. It should be a standard practice for artists to receive a percentage of the proceeds (kudos to organizations that are already doing this), instead of donating 100%. They aren't greedy people, they're struggling to pay the rent.
Let's support art and artists in real ways. I'm not talking about headline-making auction prices, mega-galleries and the fou-fou see-and-be-seen art fairs. Click the links above to donate and support. Go on studio tours, support lower- and mid-range galleries, try to understand what artists are doing and why they are living the way they do. They deserve better and we need to see that they get it.
Send me your art-related stories and links to your causes (janechafinsblog@gmail.com) and I will report on them.
Calling all HuffPost superfans!
Sign up for membership to become a founding member and help shape HuffPost's next chapter