The older I get the more I find "time" to be one of those concepts that takes on new meaning and often creeps up on me like a pair of poorly tailored slacks.   I have a remarkable life, filled with extraordinary opportunity and the pleasure and honor of calling a handful of very special people my friends. Yet, time continues to march and with it I am reminded of all the things I need to do, planned to do and most importantly want to do.   All of which cannot be accomplished without a deep respect as well as a well-adjusted relationship with my most powerful ally, Time.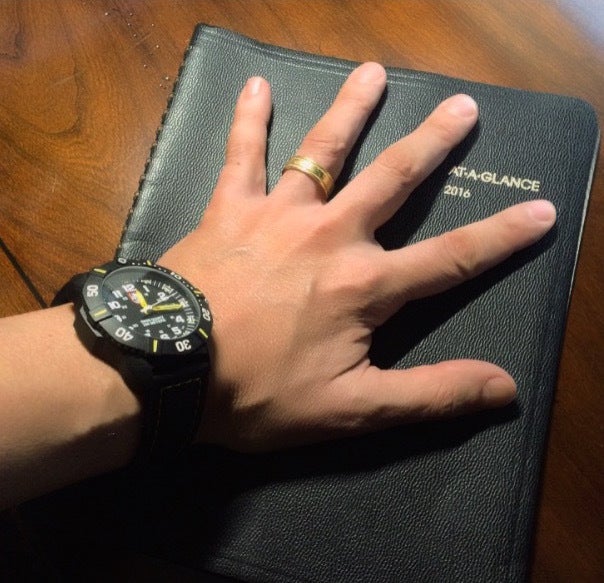 Therefore, it is no surprise that I take my time, (quite literally) very seriously and keep track of it not only with due diligence, but with a sense of loving responsibility.   This is not any easy task as I believe any life well lived demands a tough watch that stands up to one the toughest jobs on the planet. Keeping me on track and for lack of a better cliché, on time.
Clearly, my life while deliciously unique simply because it is mine is not the benchmark by which to measure all watches, but if collectively, professionals including Navy SEALs, FBI, U.S. Air Force and law enforcement officials turn to Luminox Watches when they need the very best I feel I am in good company. These Swiss-made watches rely on a proprietary, self-powered illumination system that allows them to be continuously light my way for up to 25 years.
Luminox has integrated the "soul" of the watch to interact with my movements, making it possible for me to forget if only for a moment that my dear friend Time is looking over my shoulder and doing all the work. No need to remember to wind the watch or to stop to change a battery as I am graciously given the freedom to take life by the short hairs and live without regret. Since 1989 Luminox has designed and created watches that work in rugged and extreme conditions and in turn has created a watch that reflects a life well lived in four distinct series.
Sea Series: Shortly after its introduction, the Navy SEALs turned to Luminox to design a dependable watch for crucial night missions. The Sea Series now includes the A.N.U. (Authorized for Navy Use) model which is provided to new graduates of BUD/S training, Modern Mariner, and Deep Dive specials, developed in conjunction with noted American explorer, underwater filmmaker and counter-terrorism expert, Scott Cassell.
Air Series: Based on the success of the Navy SEAL watches, Luminox was asked to develop a watch for U.S. Air Force pilots flying the famed F-117 Nighthawk fighter jet. Now connected with Lockheed Martin, the Air Series utilizes aircraft-inspired details in models that are supplied to elite pilots around the world.
Land Series: As its expertise and reputation grew, Luminox began providing exceptionally shock-resistant timepieces and navigational aids for professionals in the military, law enforcement, border patrol, and motor sports.
Space Series: In conjunction with XCOR Space Expeditions, Luminox has launched a line of signature watches that can be worn by both astronauts and passengers who are exploring the final, great frontier.
Time will never agree to stand still, but that does not mean he can not be on my side and Luminox watches are my choice as part of some the most important essentials in life allowing me not only to scale the highest mountains and swim the deepest seas but do so with a sense of security that even though I am not in charge of Time he certainly has my best interest in mind asking little more of me than a commitment to wearing a talisman that keeps me well grounded and ready for anything and everything that comes me way.
NOTE: In the spirit of full transparency I was not paid to write this nor do I have any commercial connection to the brands mentioned. I am merely a guy with some time on his hands who likes a well made watch.
REAL LIFE. REAL NEWS. REAL VOICES.
Help us tell more of the stories that matter from voices that too often remain unheard.
This post was published on the now-closed HuffPost Contributor platform. Contributors control their own work and posted freely to our site. If you need to flag this entry as abusive,
send us an email
.