It was 2:30 p.m. on October 5th, and I was in the heart of Phnom Penh, Cambodia. I watched Chum Mey as he hovered over one of the Khmer Rouge's former torture chambers, a detention center called S21. I felt a chill, realizing this exact spot -- what is now a large, crumbling grey pit -- was once where 17,000 Cambodians knelt before they were blindfolded, anchored with steel shackles, and tortured every day for as long as six months. Later, they were driven to a second site ten kilometers away, and killed with a blow to the head.
Pol Pot was the Cambodian revolutionary who led the Khmer Rouge communist insurgency that eventually took power in 1975. He instituted a radical form of agrarianism, forcing everyone from the cities to work on collective farms in the country. This forced labor was accompanied by mass arrests, torture, and executions, and many collateral deaths through malnutrition and medical neglect. It is estimated that at least 1.7 million Cambodians died as a result of the actions of its government -- about 25 percent of the entire population -- over a four-year period. In 1979, the Khmer Rouge was brought down by the Vietnamese Army, the culmination of a war Pol Pot's regime had provoked.
The Khmer Rouge executed vast numbers of its victims in the countryside, a scenario dramatized movingly by the film, The Killing Fields. But there were many who were tortured and executed in urban detention centers. S21, or Tuol Sleng, is in the Cambodian capital of Phnom Penh, and Chum Mey, now in his early eighties itself, is one of the few prisoners who lived to tell about it.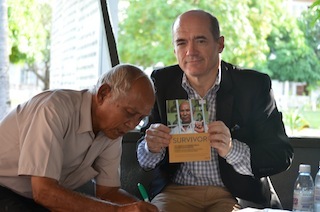 Chum Mey with the author, holding a copy of Survivor (Rodney Walker Productions).
I met Chum Mey at the site of S21, where he, remarkably, was allowed to live because he could fix his jailers' typewriters. Tragically, he could not save his wife and son, who were shot before his eyes as they were being moved to a different camp.
It took Chum Mey more than 30 years to share his story in an autobiography, Survivor, copies of which he sells to tourists at the site of his former prison, the Tuol Sleng Museum. He felt he had an ethical responsibility to tell Cambodia's young people and the outside world what he saw and experienced. Published in 2011, no books had heretofore been written by survivors.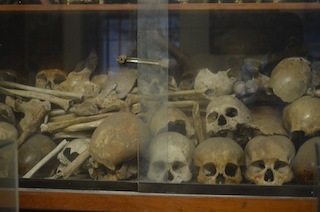 Exhibit at the Tuol Sleng Museum ( S21) (Rodney Walker Productions).
I interviewed Chum Mey, the entrepreneur, innovator, and above all, a survivor, that afternoon.
Steve Mariotti: Do you feel bitterness toward the Khmer Rouge, who killed your wife, and at least almost two million other Cambodians?
Chum Mey: I don't feel bitterness, but I do want justice done. [Pointing his head toward the TV screen showing two ex-Khmer Rouge who were being tried on charges of genocide.] If justice is done and they go to prison for the rest of their lives, I will be happy.
SM: What have you learned from remembering the horrors of the Khmer Rouge for the last 35 years?
CM: The importance of protecting everybody's rights. Once one person is taken away and shot, or tortured, sooner or later, you are going to be next.
SM: Would you like to sell your book on the Internet, or find a major publisher?
CM: I will consider it, but enjoy having people come to Cambodia, to visit the bookstore -- right at the prison -- and talk to them directly before selling them a few books.
SM: Do you have any tips for young booksellers?
CM: Make sure the book you get is accurate. (He spent years writing and fact-checking, with the assistance of Youk Chhang of the Cambodia Documentation Center. Youk helped Chum Mey establish Survivor's facts through files kept by the Khmer Rouge on all those tortured and murdered.)
Make sure that you have a good location. [Pointing to his ideally-located booth, where all of those touring the torture chamber must pass.]
Don't hesitate to promote what you're selling.
Make sure you get a good cover, and that you learn how to find the best printer. (His book costs $1.50 to print and is sold for $10.)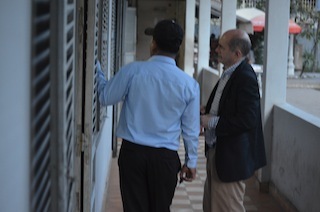 Touring the s21 prison site (Rodney Walker Productions).
Chum Mey has been selling about a thousand copies a month at the museum, where he also talks to tourists standing in the doorway of his former cell. It was there that he was kept chained and regularly beaten, and had two toenails pulled out.
Survivor is one of the great texts of genocidal literature. It is being used as evidence in the trials of Khmer Rouge officials. The present government's efforts to prosecute these political criminals is a sign of the significant change that has come to Cambodia. You can find more information on Chum Mey online, including the Chum Mey Foundation.
CORRECTION: An earlier version of this post incorrectly referred to Youk Chu of the Documentation Center of Cambodia. His name is Youk Chhang.
Popular in the Community