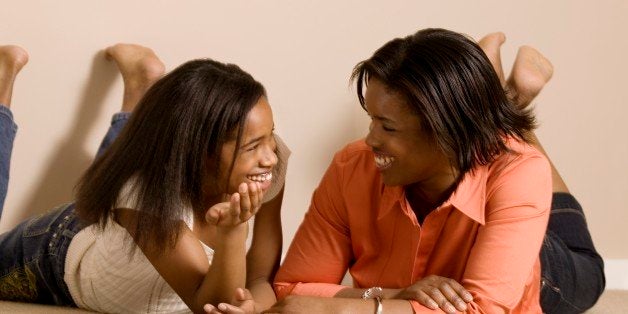 1. The most important thing is to communicate, communicate, communicate.
Some of my daughter's college friends have adopted me as their "Bermuda Momma," because I've made it easy for them to share. I credit my wonderful mother, who is now 92 years old and lives with me, for teaching me to be open, interested and patient. From a very young age, talk to your child regardless of age or where you are. Make it fun for them to share with you; this will eliminate any barriers or apprehensions your children may have regarding certain conversation topics.
2. Get to know people your child is around.
Know who your child is friends with. Speak to the teachers and spend time at the school. After school when at home, walk along with them while they ride their bikes or go to the playground. Take them and stay to music lessons or activity that they enjoy. Don't just drop them off.
3. Create one-on-one time every night.
Lie in bed just before bedtime and let your child just talk about their day. Despite your busy time as a parent, this lets the child know that you have time for them.
4. If a single mother, encourage involvement with your positive male relatives or godparents.
They can play a major role in their upbringing, especially if there is no contact with your child's biological father. I'd avoid introducing boyfriends because of any potential risk of child abuse (although you should still be cognisant of anyone that will spend a large amount of time around your child).
5. Travel together, if you can.
School and teachers are only a part of education. When my daughter was learning about currencies, we had almost every currency at home and when she learned about glaciers in her geography class, she had seen them already on a trip to Alaska. There is so much learning by what is seen and experienced. If you cannot afford to travel, watch the Travel Channel with your child, read National Geographic, or even create themed day trips. It's just as effective in its ability to expose your child to new places and people.
6. Keep your child busy.
This keeps the mind active and keeps your child out of trouble. Encourage them to play tennis, do art classes, gymnastics. Get them to enter contests like Easter coloring or egg decorating. At Halloween, making pumpkin faces and best customs stimulates their creative side and their sense of competition.
7. Make learning fun.
On school runs, we'd pick out a letter or number on the license plate of the cars we would see and create a game around that. If we weren't driving, we would make an activity out of the colors we saw on clothing or shoes. These also reinforced my daughter's color, numeracy and literacy skills while she was still a pre-schooler. She went on to enter college while she was only 16.
8. Teach your child money discipline.
When going out with friends, make sure they have a little more money than what they need and just say bring back what you do not use. They grow up knowing to return your change instead of keeping or spending it all. Additionally, it teaches your child the early principals of money management.
9. Give back.
Let them do some charity work to help others. My daughter and I started giving to homeless people, while she was only 3 years old. I would always have extra snacks and drinks for her to give out. I would not give money, because most times that is used to buy illicit drugs or alcohol. As an adult, she still buys food to give them and is one of the directors of a youth performing art's charity. When in college she volunteered for the IRS to assist low income families with filing their taxes.
10. Trust the upbringing you give your child.
Yes, with university comes freedom, but don't worry so much. Trust your upbringing. Proverbs 22 verse 6 says, "Train up a child in the way he should go; even when he is old he will not depart from it." Be confident in your parenting and enjoy the qualities your child shares with the world.