Described as "the most influential gathering of Millennials in the world," from October 4th-7th the Forbes Under 30 Summit convened over 1,500 of the world's most transformational young entrepreneurs and game-changers in Philadelphia, Pennsylvania. Speakers included: Elizabeth Holmes (billionaire Founder and CEO of Theranos), Shaun White (2-time Olympic gold medalist), members of the iconic U.S. Women's National Soccer Team, Sean Rad (Co-founder and CEO of Tinder), Barbara Bush (Co-founder and CEO of Global Health Corps), Michelle Phan (YouTube Personality and Co-founder of ipsy), and Monica Lewinsky (Social Activist). As the 22-year-old Co-founder and Co-director of AsylumConnect, an ambitious young social venture, I could not have been more excited to attend this year's Under 30 Summit.
AsylumConnect is creating the first ever website and mobile app to feature an online, centralized database of service providers useful to LGBT asylum seekers in the U.S. The pilot version of the AsylumConnect catalog is now live for Seattle, Washington. Our goal is to help persecuted LGBT people find basic human needs resources upon their arrival in the U.S. In the long run, we hope to scale the AsylumConnect catalog model to transform how vulnerable populations connect with basic human needs service providers in the U.S.

The Under 30 Summit is the young entrepreneur's dream. From inspiring keynotes to pitch contests to the Under 30 Music Festival, the Summit celebrates bold ideas and challenges attendees to continue to push boundaries. I left the Summit reinvigorated - ready to once again pour myself into advancing AsylumConnect. Below are my top 10 takeaways from this year's Under 30 Summit:
This year's panelists stressed the importance of persevering in the face of even the greatest adversity. No one gets to the top of any industry without overcoming significant challenges. As Shannon Boxx, a 2-time Olympic gold medalist and veteran member of the U.S. Women's National Soccer Team, told the Summit:
Nothing is going to be handed to you.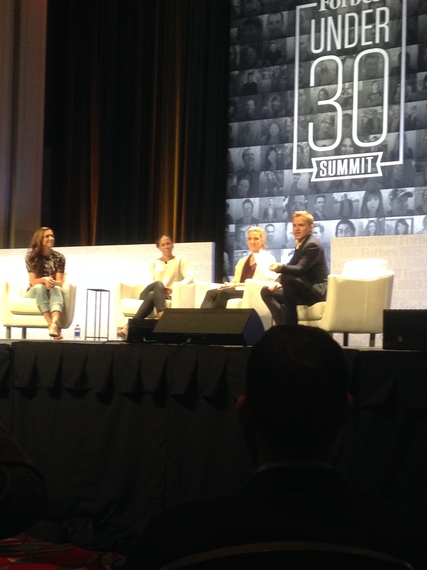 Ronan Farrow (Host, Ronan Farrow Daily, MSNBC) interviews from left to right: Alex Morgan, Shannon Boxx, and Julie Johnston of the U.S. Women's National Soccer Team.
Elizabeth Holmes, the Founder and CEO of Theranos and the world's youngest self-made female billionaire, urges entrepreneurs to find the idea that they would pursue even if no one was watching.
I would have started it over 10,000 times if I had to.
Holmes said of Theranos, her revolutionary consumer healthcare technology company.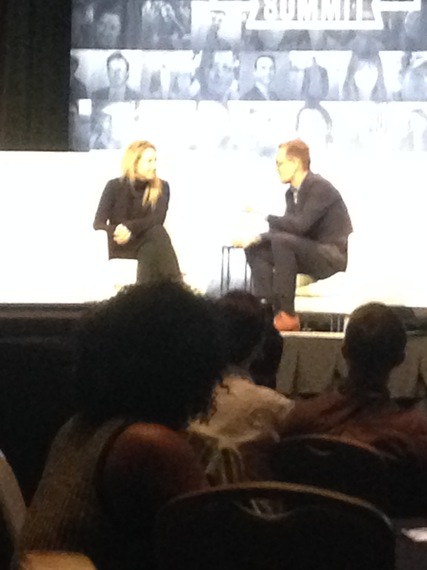 Elizabeth Holmes (Founder and CEO, Theranos) interviewed by Matthew Herper (Senior Editor, Pharma and Healthcare, Forbes Media)
3. Surround Yourself with Experience
Your company is only as good as your team. Just as no one climbs to the top of an industry without overcoming substantial setbacks, no one can hope to transform an industry alone. Speakers recommend young entrepreneurs with scalable and disruptive ideas surround themselves with polished professionals with years of "real-world" experience. Raw ambition is a valuable asset but it is not a replacement for decades of industry knowledge. The best route? A combination of young ambition and expertise: hire people who are more skilled than you so you can complement each other and grow your company together.
As Aaron Levie, Co-founder, CEO and Chairman of Box, stated,
Technology is going to be at the center of everything.
Technology-based startups are now going after markets that were not traditionally thought of as technology-based markets. This trend has blossomed over the past 5 years. Tech's versatility gives it the enviable potential to revolutionize a host of different industries. For instance, tech allows products to transcend physical boundaries and adapt to specific regulations with ease. By turning different features on and off, technology has the rare ability to compensate for nuances between states or even countries.
5. Focus on Mobile App Development
This year's Under 30 Summit emphasized the power of technology and its limitless future. Young entrepreneurs are applying tech in innovative ways to a host of new industries in order to create meaningful and sustainable social change. Michelle Phan, YouTube Sensation and Co-founder of ipsy, informed the Summit that the future will center around mobile app development: users are increasingly turning to their small screens (phone screens, ipads, etc.) for information at the expense of their larger screens (computers and televisions). This phenomenon should make mobile app development a priority for any company hoping to disrupt an industry and build its consumer base.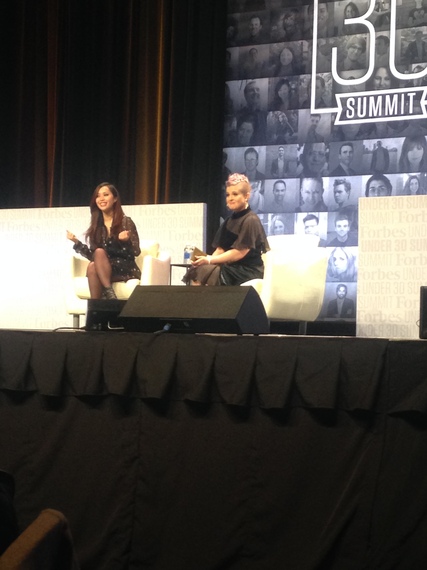 Michelle Phan (Youtube Sensation and Co-founder of ipsy) interviewed by Kelly Osbourne (Television Personality, Host, Fashion Designer, Singer and Actress)
6. Today's "Success" is Not Defined by Net Worth or Status
Despite the number of millionaires and billionaires in the room, this year's speakers emphasized the importance of building companies that add social value to the world. Dr. Amit Sood, Director of the Mind-Body Initiative and Professor of Medicine at the Mayo Clinic, perhaps summed up this sentiment best:
Success should be measured by the people you serve, who wouldn't have been served otherwise.
7. Scaling Too Fast Can be Catastrophic
A uniform trait among young entrepreneurs is ambition. We all want to change the world and we all want to do it now. However, left unharnessed this enormous ambition can inevitably lead to our downfall. Elizabeth Holmes advises young entrepreneurs to remain "mission-critical" and to build their impact incrementally (person by person and city by city). Nothing fails faster than a company that scales too quickly.
8. Co-founders Are Like a Marriage: "For Better or For Worse"
This year's Summit featured a session of "co-founder relationship therapy" led by 87-year-old Dr. Ruth Westheimer (Sex Therapist, Media Personality and Author). Dr. Westheimer guided us to the realization that while many romantic partners come and go, co-founders mate for life. Launching a venture is no easy feat - it involves long nights, and even heart-wrenching sacrifices. It is absolutely vital to establish clear communication with your co-founder. Dr. Westheimer recommends co-founders, especially young co-founders, invest in "couples therapy" in order to protect both their personal relationship and their business.
9. Influence Comes with Responsibility
The Under 30 Summit brings together an extraordinary amount of influence under one roof. The approximately 1,500 young innovators who attended this year's Summit span industries ranging from Finance to Games to Hollywood and Entertainment. All of us represent different communities and different agendas. One of my favorite quotes from the entire Summit comes from Barbara Bush, Co-founder and CEO of Global Health Corps:
As a leader it's your responsibility to use your voice for the issues you care about most.
10. Nothing is Impossible: Never Say Never
The Under 30 Summit was brimming over with people who have defied expectations. Life can sometimes feel like an endless series of "cant's." At one time or another, you will inevitably be confronted with depressing statistics of how unrealistic it is for you to change the world. But it is that one percent, that single possibility, that can transform your life and the lives of those around you.
I never planned to come out to anyone. Yet over this past year I have found myself advocating for global LGBT rights both in print and in person at influential platforms ranging from the Under 30 Summit to the United Nations Headquarters in New York City.
I've learned that changing the world starts with changing yours. Nothing is "impossible."