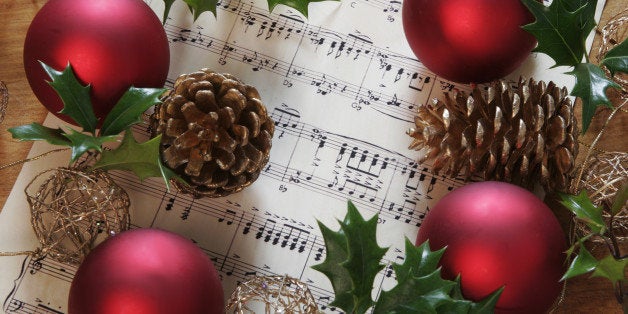 Let the record show that Jews and Christmas have always gone together, since Jesus, or at least since Irving Berlin. Personally, I love Christmas, Christmas music, Christmas TV specials, and most of all Christmas vacation. So while I'm otherwise on mine, here are my top 12 Christmas songs for this year. God bless us all, every one, with the possible exception of a certain Grinch-y Supreme Leader who almost made it impossible for me and mine to see The Interview again on December 25th.

"Christmas In Hollis" - Run DMC
I believe this is the first and still way coolest example of Christmas rapping. Those "Very Special Christmas" collections actually were very special.

"2000 Miles" - The Pretenders.
The magical warmth of Chrissie Hynde's vocal here remains an eternally powerful force, especially when the temperature drops.

"Little Drummer Boy/Peace On Earth" - David Bowie and Bing Crosby
The strangest and somehow most moving musical duo ever brought together by a couple great Christmas songs. If these two can get along, you and your relative can too.

"All Is Well" by Carrie Underwood and Michael W. Smith
This brand new recording of "All Is Well" included on Smith's 2014 "The Spirit of Christmas" album features Carrie Underwood's most stunning and spiritually uplifting vocal yet. This song makes me a believer, especially in Carrie.

"Father Christmas" - The Kinks
Here's a beautifully barbed Christmas gift from Ray Davies and company. I recently heard this dark Yuletide gem covered by gifted singer-songwriter and Kinks fan Matt Nathanson, and it reminded me of its enduring and Kink-y genius.

"Christmas Wrapping" - The Waitresses
This New Wave Xmas standard worked for me as a younger man. It works for me now. RIP Patty Donahue who knew what this boy likes and who lives on forever in this song.

"Someday At Christmas" - Stevie Wonder
The title track of one of my favorite Christmas albums ever by one of the true musical geniuses of our times.

"I Pray On Christmas" by Little Big Town
These four voices are always a harmonic convergence, but even more so on Christmas.

"Fairytale Of New York" - The Pogues featuring Kirsty MacColl
Like all the greatest fairytales, there's something timeless and real here.

"Santa's Got An Airplane" - The Beach Boys
Quite likely the most lovable -- and perhaps only -- Christmas song that dares to refer to Santa as a "pudgy person."

"If We Make It Through December" - Merle Haggard
Like virtually everything Merle's ever done in every season, this masterpiece is vivid and real.

"Happy Xmas (War Is Over)" by John Lennon and Yoko Ono and The Plastic Ono Band
So timeless. Too damn timeless.
Calling all HuffPost superfans!
Sign up for membership to become a founding member and help shape HuffPost's next chapter