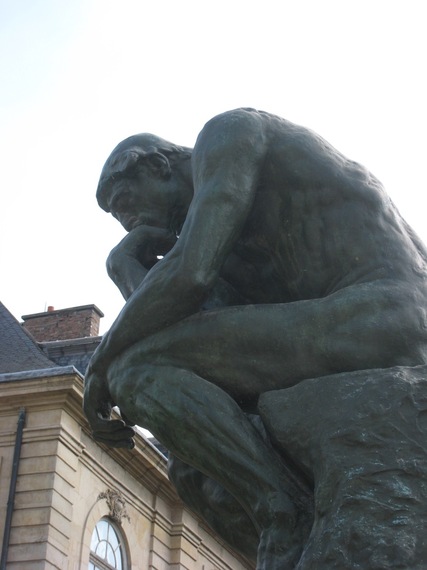 *
Art plays an integral role in my life - and my travels. When traveling, an art museum (or series of them) holds a crucial importance to me second only to food. As I plan my first trip back to Paris in several years, I have been researching a few old favorite art museums and some new gems to check out. Paris - a roaring epicenter of the art world - offers a bright menagerie of art museums ranging from the obscure to the mainstream. My Parisian art-saturated schedule for this year includes:
1. Musée Rodin at Hôtel Biron
With sprawling gardens dappled with Rodin's characteristic dazzling and sun-speckled bronze sculptures, this former home and workshop of Rodin displays Rodin's most famous pieces as well as those of some of his celebrated peers - Renoir, Monet, and Van Gogh - and his lover, Camille Claudel - a sculptor in her own right. Dart in and out of the tree lined pavements, stop to marvel at the full, dawning rosebuds of late spring and early summer, gape at the passion of "The Kiss," the pensiveness of "The Thinker," the stubborn potbellies of middle-aged male figures, the grace and distress of "Eve," and the pointedness of "Diane's" stare. This museum simply cannot be missed while in Paris.
Musée Marmottan Monet is a relic of Impressionism, brimming with the life's work of la crème de la crème of the Impressionist Era - and named after one of their best-known compatriots: Claude Monet. With an array ranging from Degas to Renoir to Gauguin, these dreamy portraits and landscapes will transport you back to another world where art was changed forever by a few disruptors who added a hint of fairytale, a dash of light, and a few slashes of paint to the severe realism of their world.
Salvador Dalí: infamous melter of clocks, possessor of splendid mustachio, designer of the Chupa Chupa lollipop wrapper, and perpetrator of disturbingly compelling surreal paintings and sculptures is the theme of this petite museum in Montmartre. With more than fifty of Dalí's sculptures - including his melting, slipping clocks, whimsically bright watercolors, sensual drawings, and a multitude of mythologically sourced ideas manifested in every composition and medium, Dalí's dark, quirky, eccentric, and fanciful style lives on in this museum.
Flying ceilings, glass filtered natural light streaming in, stunningly antique light dripping from the gently sculpted ceiling, Musée d'Orsay - a former railroad station - stands tall among the most unique art museums in the world. This breathtaking musée houses pieces of art spanning from 1848 to 1914 that are categorized into six classes: Paintings, Sculptures, Objets d'Art, Photographs, Graphic Arts, and Architecture. An artistic feast for every variety of art lover, Musée d'Orsay never ceases to amaze.
A rarity in Paris, the Petit Palais is a free museum; I repeat: free - in Paris. But beyond the thrifty benefits of this museum lies its true worth - centuries upon centuries of art dating back to the days of Ancient Greek dominance and spanning to early twentieth century Parisian work. A time machine to the times now long gone, this museum guides the viewer through history - from vivid Greek vases to plump Renaissance maidens to drunken Dutchmen to elegantly suited, turn-of-the-century Parisian women. If you seek a broad, yet intimate, view of artistic history, the Petit Palais is the museum for you.
Of all of the museums that I have experienced, these five, stunning Parisian museums are among the best. In my pursuit of art, I have visited the large, "Louvre-esque" art museums of the world, yet the ones that I am continually drawn to - especially in the ever crowded and busy Paris - are the slightly more intimate and quirky ones; and these five are certainly both intimate and full of character.
*Photo Courtesy of Author