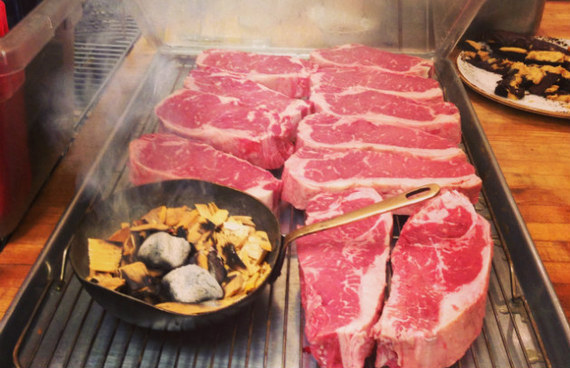 A lot of people complain that barbecue just isn't what it used to be, and they're right.
It's better in traditional barbecue hotspots, like Kansas City and Dallas. It's better in places where you'd never expect to find killer 'que, from Brooklyn to Minneapolis to L.A.
A new generation of pit masters and grill masters has applied time-honored smoking and grilling techniques to the kind of meat most of us want to eat today: humanely and locally raised animals free of growth hormones and antibiotics. We crave bespoke cocktails and wine lists, not cheap beer, and we admire the pit master who goes the extra mile of pickling his own peppers or baking his own sandwich buns.
I had the good fortune to visit more than 30 cities in the U.S. and Canada while on book tour for Man Made Meals.
Herewith, my Top Five Smoke and Fire Restaurants of 2014.
Pecan Lodge in Dallas: Lucky for me I got to this new Deep Ellum restaurant before it opened its doors to the public. Otherwise, I'd be standing in line with hundreds of other Dallas barbecue fanatics for some of the smokiest brisket and spiciest hot guts this side of the Chisholm Trail. Talk about the American Dream: refugees from corporate consulting, husband-wife team Justin and Diane Fourton got their start serving out of a station wagon at a the Dallas Farmers Market.
Miller's Guild in Seattle: Head-to-tail butchery. 75-day aged prime beef. A fire-belching wood burning grill that would make the mouth of hell seem like a campfire. Hey, they had me at the strip steak--smoked daily in a smoke chamber before grilling over fruitwood. No down home joint this--it's a high design restaurant where venture capitalists would be comfortable wooing startups.
Butcher & the Boar in Minneapolis: I have two words for you: beef ribs. I have two more words for you: pork chops. Everything at this sprawling roadhouse is smokier than a fireplace and bigger than life, including the buzzy outdoor terrace. Chef Peter Botcher moves adroitly between the smoker and wood-burning grill, often using both to prepare a single dish.
King + Duke in Atlanta: 24-foot open hearth with monster wood burning grill? Check. Smoker from which emerge home-cured bacon, pastrami, and salmon? Check. And while you're at it, try the coal-roasted onion soup, wood-fired burgers, and a one-kilo rib steak that bears the imposing name "The King." Just as you literary types suspected, this Buckhead restaurant is named for two characters in Mark Twain's The Adventures of Huckleberry Finn.
Jake's Handcrafted in Brooklyn: Nepotism alert: Jake Klein, owner of this punk rock bar turned smoked sausage Mecca is my stepson. But the old man had nothing to do with Jake's imaginative sausages, which range from double smoked brisket bratwurst to Miami-inspired lechon asado sausage to a Reuben brat made with house-cured corned beef and home-fermented sauerkraut. Dine in the courtyard in the summer and tell Jake I said to take care of you.
I know this highly subjective list will generate controversy. It's supposed to. I may have left off your favorite new restaurant (sorry) and you may disagree with my choices. So please tell us your favorites (on the Barbecue Board, Facebook, or Twitter) and give me a reason to visit your town in 2015.
SIGN UP for Steven Raichlen's UP IN SMOKE newsletter to learn more about barbecue!
Steven Raichlen is the author of the Barbecue! Bible cookbook series and the host of Primal Grill on PBS. His web site is BarbecueBible.com.
Related