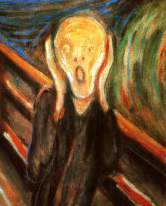 1. My son's allergies will get worse. They are not numbers on paper. I have seen my son Eden react progressively to a trace of walnut oil, peanut butter, sesame seeds, milk, soy, one green pea, one fava bean and sauteed garlic. And those foods just rolled off the top of my head. When I describe Eden's allergies to strangers, usually their first question is "But he will outgrow it? Right?" Maybe. But his is a new generation of allergic children and some medical studies are playing catch up.
2. My son will decide to be a Tough Guy. In the Journal of Allergy and Clinical Immunology there is a study that was performed on a large university campus that revealed that only 39 percent of students with an identified allergy consistently avoided that allergen. And only 47 percent of the students consistently carried their medications.
3. My son won't be well nourished as he grows. Teenagers favor group meals at pizza parlors where he may be feeding his growing bones with cheese-less bread and sauce. He may feel too embarrassed to keep toting safe food around. I hope that instead his hunger will guide him to eat well, despite the stigma of being different.
4. I will screw up and forget my Eden's medicine. This scenario is, in fact, a reoccurring nightmare of most allergy parents. That red nylon kit, complete with Epipen and enough Benadryl to gargle, rinse and repeat, will get left by the door. Or in the car. Or back at the hotel. Or on the subway...
Eden and I sit at a low table, legs crossed beneath, on soft pillows. Everyone we love is with us. And in front of us there are puff pastries -- phyllo wrapped spinach and feta, cheddar cheese dotted with chive, lump crabmeat in shallot cream; fried wonton dumplings stuffed with juicy pork shards and small bowls of shiny soy sauce; rounds of garlic toast, slivers of roast beef; chicken mole and avocado inside wedges of tortilla; thin pizzas flecked with oregano, buffalo mozzarella; fried chicken legs circling twice baked potatoes browned to soft peaks; fluffy spinach souffles steaming from their middle; Caesar salads anointed with homemade garlic croutons; bowls of ropey pasta, yellow teardrop tomatoes, pesto and walnuts. And there are tubs of ice cream -- mint chip, vanilla bean -- a gravy bowl of hot butterscotch; painted ceramic crockery piled with fresh strawberries and blueberries, soaked in whipped cream; angel food cupcakes capped with bonnets of yellow frosting; lumpy peanut butter cookies, nubs of peanuts sticking out; chocolate eclairs; two pies - lemon meringue, droplets of caramelized sugar beading off the top, coconut cream with fresh shredded coconut jutting out from the graham cracker crust. We all laugh, pass plates.
Eden reaches, takes and offers. He is a prince. I move his plate closer, butter his dinner roll, our lips anointed with infused oils because he is a prince and I am a queen. We are not ruled by fears -- instead, we rule the table.
Related