There are moments in life when even a photo can't seem to replace the words to describe what you are actually witnessing. In my career as a photojournalist, m¬y work has taken me to six of the world's seven continents, and I am awestruck on a regular basis. I felt this sense of complete wonder as I sat on top of Table Mountain eating Biltong as I watched the clouds pour over the top of the mountain like a slow motion waterfall. This phenomenon is what gives Table Mountain its name and signature effect of the clouds as a white tablecloth cascading over the cliffs. It is just part of the dramatic landscape that frames Cape Town, South Africa.
Picture flying into a city where an amphitheater of mountains are thrust between buildings and all is surrounded by pristine beaches. It is one of the cleanest cities I have been to, and the only way I can describe Cape Town is to imagine combining San Francisco, Los Angeles, Big Sur and Napa into one peninsula. It is one of the few places I have been to where I felt like I could live there; that I wanted to live there.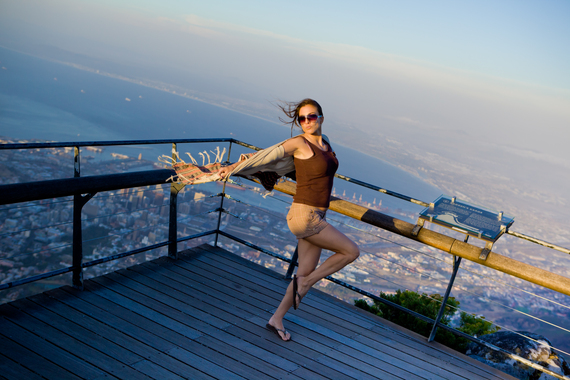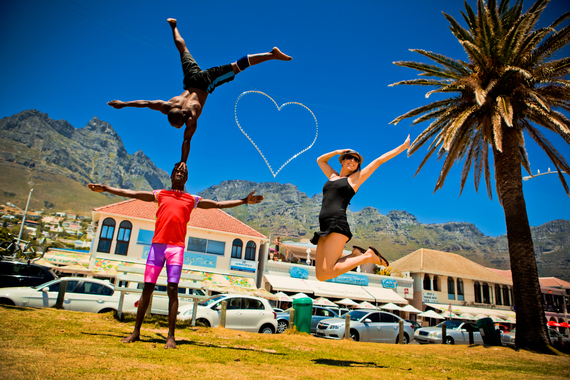 I had a specific agenda for this trip. I wanted to experience everything this city had to offer in just five days. Cape Town boasts activities that would make it on to most people's "bucket lists," including my own, so it did not take long for me to compile a list. There are dozens of exciting places to see, foods to try, and things to do in Cape Town, but here are the ones that made my need-to-do list:
1. Chill at the Top of Table Mountain
2. Drive to Cape of Good Hope
3. Visit the Cape African Penguins in Boulder Beach
4. Wine Taste Stellenbosch Wine Country and visit the Cheetah Sanctuary
5. Great White Shark Cage Diving
It was an ambitious list, but my friend Sarah and I managed to check off everything! Our first step was to rent a car because, similarly to Los Angeles, everything is pretty spread apart. This proved to be my toughest obstacle of the whole trip: driving a stick-shift car on the left side of the road, seated on the right side of the car. After pulling into oncoming traffic and turning on my windshield wipers instead of my blinker a few times, I finally started getting the hang of it.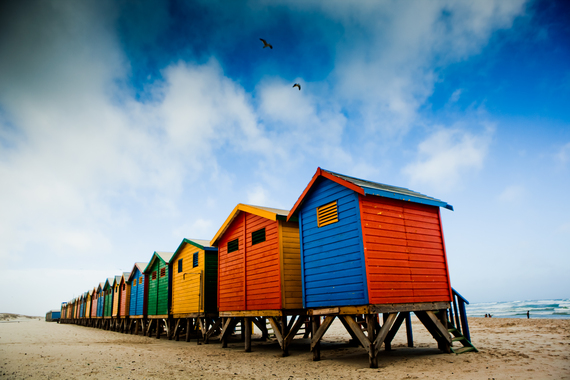 Drive to the Cape of Good Hope
First on our agenda was to drive down to the southernmost point: the Cape of Good Hope. The drive was not unlike driving the gorgeous coastline of Malibu, but instead of driving along the water, I was navigating hairpin turns and hugging steep cliffs with zero guard rails for protection. I could barely turn my eyes away from the road to take in the breath-taking views for fear of killing both of us. Finally, I decided I had to find a place to stop and take some photos. This landscape became even more alien to us after a family of massive baboons came barreling out of the bushes right next to us. To say this was a harsh reality check doesn't quite cut it, and we quickly had to understand--This is Africa. We had seen signs everywhere cautioning us about the baboons, but you do not realize just how huge they really are until face to face with them. That was to be the first of many animal encounters that day.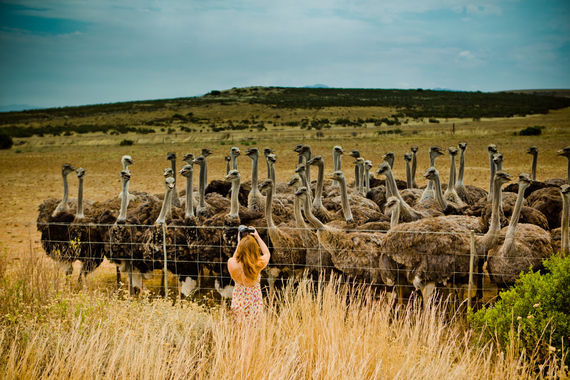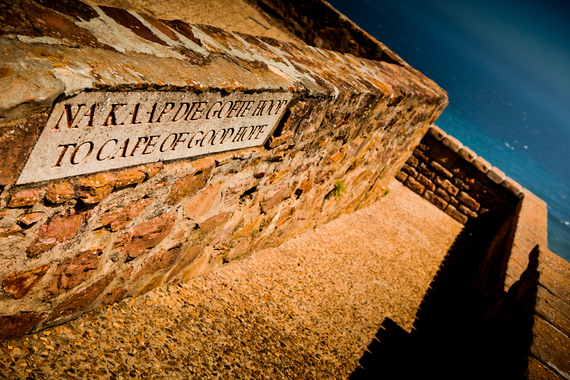 We continued further south on our drive and reached the Cape of Good Hope National Park. Within minutes of entering the park we spotted a massive group of ostriches grazing, and in the span of an hour we had seen penguins, baboons and ostriches. It is moments like these when I have to stop and ask myself, "Where am I?" What a strange, yet beautiful landscape, and somehow the people have become accustomed to sharing their backyards with wild game and monkeys.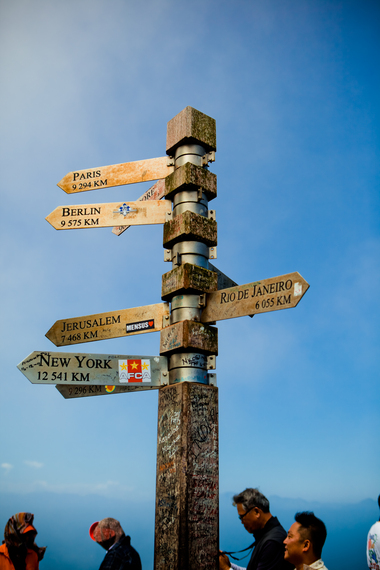 The hike to the Cape of Good Hope lighthouse isn't too strenuous, but I will say I was not quite prepared when I left the house that morning in my flip flops. It was yet another reminder of how little I knew about this city, and that I didn't even realize how mountainous it is. During the hike, Sarah and I could hear so many different languages being spoken, and most of the signs were in Afrikaans (a dialect of Dutch that is native to South Africa). I felt like I was at the edge of the world, and it was wild and gorgeous.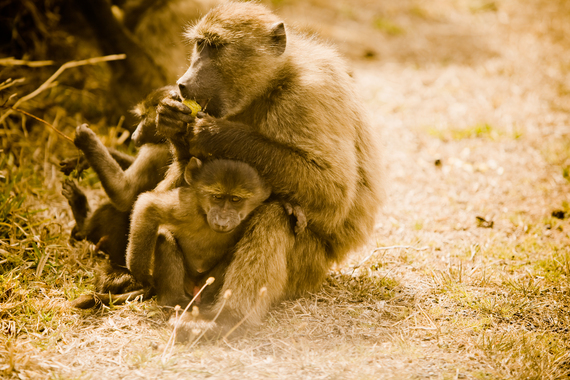 Visit the Cape African Penguins in Boulder Beach
We then stopped at Boulders Beach (aptly named because it is a beach with huge boulders resting in shallow green water) which has become famous for its resident population of endangered Cape African Penguins. In my mind penguins only lived on glaciers, so I figured these guys got lost on their way to the South Pole and decided, like the rest of us, that they didn't want to leave Cape Town. They are ridiculously adorable, and just waddle around the beach like little old men. We even saw them coming out of the sewers further in town, keeping a cautious, yet curious distance from us humans.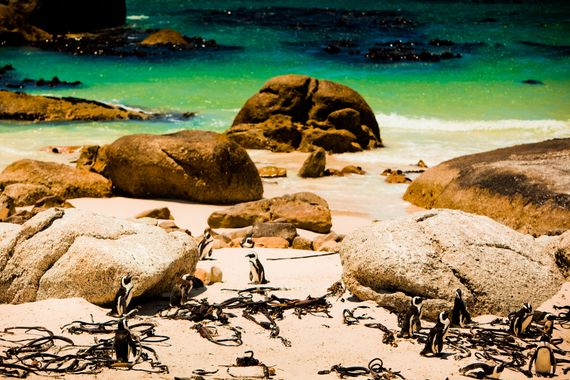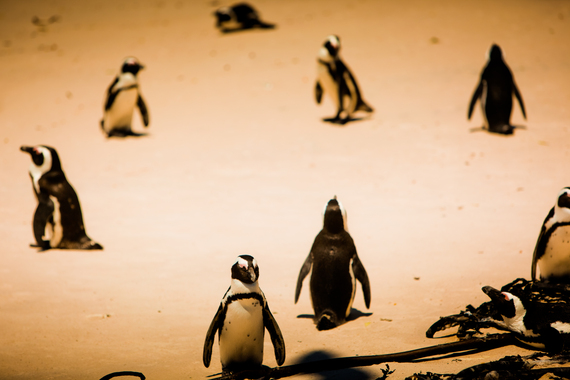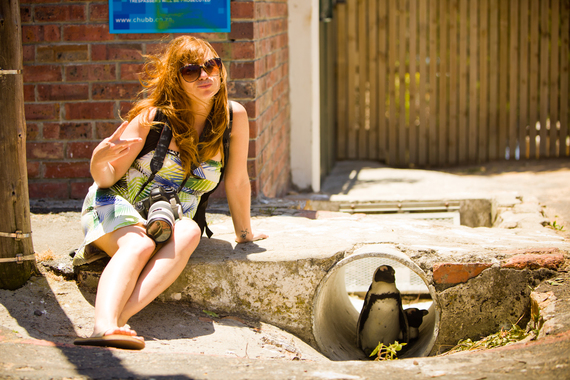 Wine Taste Stellenbosch Wine Country and visit the Cheetah Sanctuary
The Stellenbosch Wine lands are only twenty minutes outside of Cape Town and used to be known as the City of Oaks because of the massive Oak trees that populate the area. It has the feel of being in the Mediterranean, and as quickly as we had switched from Cape Town to driving through shanty towns, we reverted back to tree-lined streets, quaint Dutch-styled wineries with rows and rows of grapevines. Spier Winery was a true experience, not just a winery; it had a diverse collection of activities that included a cheetah and rare bird conservatory.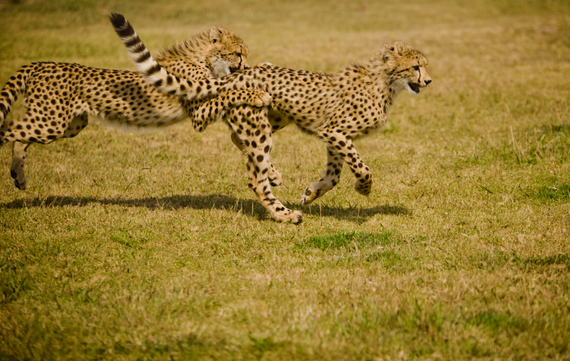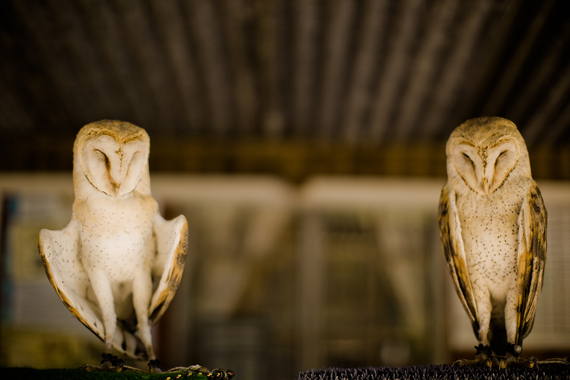 Not only could you learn about the animals but you could go into the enclosures with the animals to pet the cheetahs or hold the birds! It was a life experience I will never forget. The wine tasting and gourmet meal of crocodile and impala in the treetops of their restaurant was just icing on the cake after the conservatory. It is amazing to me that there are so many exotic creatures in such a condensed area, and that the locals have grown so accustomed to being around them. However, they are slowly learning how to conserve these great creatures. Every day of the trip I had encounters with the most awesome animals, like I was living on the Discovery Channel, but nothing could have prepared me for my final experience on our last day in Cape Town.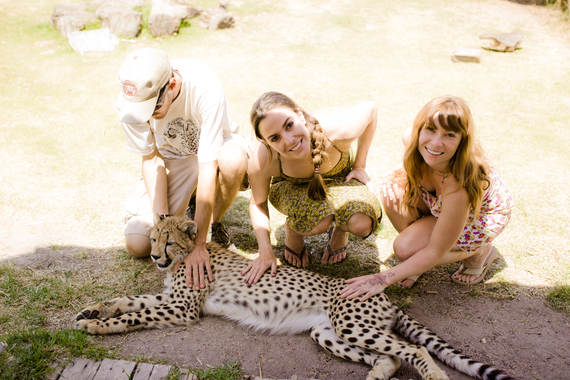 Great White Shark Cage Diving
It was in the "Top 5" of my life's Bucket List, and I refused to leave South Africa without doing it: climbing into a cage (in freezing water) to be surrounded by twenty-foot long Great White Sharks! The big morning finally came. Sarah and I got up at four AM, packed our bags, and left on a road trip to Gansbaai which is a small fishing village two hours outside of Cape Town. The drive was breathtaking, and I was completely energized by fear and anticipation of what I was about to do. I kept thinking, "This is crazy! Am I really about to get into the water with Great White Sharks?". Traveling teaches what you could never learn in school nor gain from any book. For me, I knew I had to be face-to-face with a shark to finally conquer my fears of them.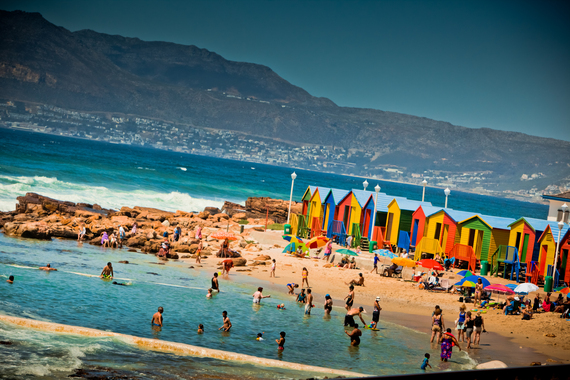 I will never be able to fully express how it feels to have a shark the size of a Suburban come at you baring all 3,000 of its teeth, but I could never come to appreciate their sheer power and presence without having done that. One second I saw nothing but a few fish swimming near me, then in a split second a shark was grabbing ahold of the cage just mere inches from my face. It was terrifying, exciting and beautiful in an odd way. The feeling I had was the epitome of being alive and in that moment I felt electric, like every part of me was synched to reality. Moments like this are what ignite my wanderlust.