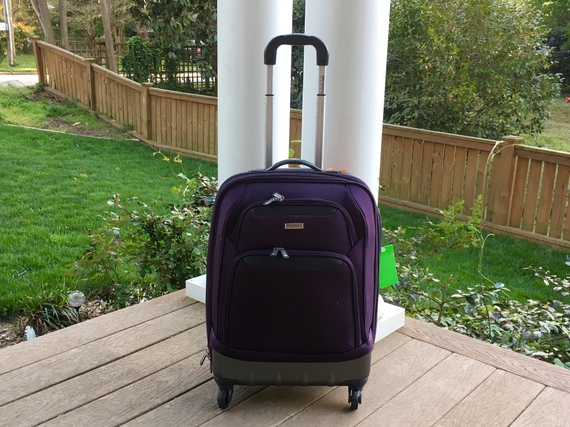 Hawaii to South-East Asia to Australia and New Zealand to Southern Africa: 8 countries, 3 continents, summer, winter, and a supreme packing challenge. So how do you pack for a multi-month, multi-location trip? Here are my tips to packing a diverse and compact suitcase!
First things first -- look up what locations will have easy access to washing machines and dryers before you pack (be it at a hotel, an apartment, or a local Laundromat), and pack for the amount of time between laundry stops.
1. Before you pick your wardrobe, invest in a small, sturdy suitcase.
I use the Ricardo Elite and love that this suitcase has four wheels that spin, making it easy to navigate cobblestones, tight corners, and slick airport floors. Make sure that it has a few compartments; these make it easier to sort between dirty and clean clothes as well as distribute the weight of the clothes and shoes and find what you need quickly without having to unpack everything at every stop.
2. Purchase some organization tools.
Too many can weigh down your suitcase, so I recommend sticking to the basics: a shirt organizer to keep your shirts unwrinkled and mesh bags for delicates and socks.
3. Now for the fun part: clothes!
Select clothes that all match: the more versatile the piece, the better. Keep your palate fairly monotone - dark clothing stains less and is overall lower maintenance than a rainbow of color. It's no fun leaning over a bathroom sink, trying to scrub a delicious raspberry red stain from a canary yellow shirt - trust me on this one. With a concentrated group of colors, washing will be easier and clothing less likely to run.
~ On that note -- remember your stain pens, Tide wipes, and mini detergent packages: it is always best to be prepared! ~
Once you have your dark basics, add in a few pops of color; I am partial to blues, so most of my travel wardrobe is blue or black with a pop of red jewelry or a vivid blue scarf.
As far as clothing goes, know the season first and then cover your bases for planned activities: a beach trip, a city excursion, a night on the town, a meeting. Outside of the U.S., apparel veers to the more elegant side of the spectrum -- especially in cities. Look into the specific locations and their climates at the time of year that you will be there; this will help you to avoid an unexpected chill in a Slovenian or Swiss summer or a midwinter heat wave in Australia or Argentina. Try everything on before you pack it, imagine where and when you are going to wear it; these imagined situations make picking an outfit on the go easy and streamlines the packing process by making sure that nothing you will not wear makes it into your suitcase.
As far as what to bring, this is my list for women for a month or longer trip covering both summer/spring and winter/fall:
2 Pairs of Jeans: 1 dark wash, 1 black or charcoal
5-7 Shirts: depending on your locations, mix sleeveless and short and long sleeved tops. I typically bring 3 sleeveless tops, 2 short sleeve shirts, and 1-2 long sleeve blouses
2-3 Skirts: I am partial to skirts, so I typically bring a few styles - 1 pencil, 1 flared, 1 long; if you prefer pants, capris, or culottes, trade those in place of skirts.
1-2 Active Outfits (1x athletic leggings or shorts + 1x t-shirt): be it hiking, going to gym, or venturing into the wild, it's always good to have at least one active-wear set. If your trip has a bigger focus on the outdoors, reverse my model and bring 1-2 dressy options and the rest in active wear.
2-3 Dresses: Dresses are the perfect option for a warm summer day, a night on the town, or a semi-formal event. As far as styles, bring what you feel best in! I would recommend 1 maxi dress, 1 shorter dress (whatever style you are most comfortable in), and 1 little black dress.
1 Scarf: I always recommend bringing a scarf, be it to ward off a chill at night, to drape over a sleeveless top in a Church, or to cover your head when visiting a mosque.
1 Windbreaker: Wherever you are going, there is always the chance of a sudden cold spell or cool night, windbreakers fold small and are incredibly useful for early morning hikes, mountain adventures, or late night exploits.
1 Cropped Sweater/Cardigan: I have a trusty cropped black sweater that travels with me everywhere from the Caribbean to China, this sweater dresses up any outfit and helps to take the chill away on a cool night.
1 Hat: Depending on where you plan on going and personal preference, bring along a knit or broad rimmed sun hat or baseball cap. When headed on a mainly beach vacation, I wear my floppy black straw hat on the plane. Knit hats and baseball caps are smaller and fold much more easily.
4 Pairs of Pants: As far as types of pants, I would recommend denim, colored, and dress. Jeans are great for a chilly day, colored pants are very popular in urban locations with deep reds, greys, and greens being the preferred colors, and a pair of dress pants can dress up a date night or a meeting with a business acquaintance.
2-3 Pairs of Shorts: For shorts, try to bring along colored, navy, or black shorts. In Europe and Australia, shorts are typically shorter than in the U.S., but length is up to the wearer.
7-8 Shirts: Pack enough shirts for one week. I would recommend bringing 2-3 "print" or well-designed t-shirts and 5-6 button downs for a fashionable look. For your button downs, try one sleek black, one crisp white, one pastel (pale yellow, pale red, or if you're brave - pink!), one patterned or striped, and one color block (one color from the collar to chest, another color from the chest to hips); sleeve length depends on the seasons and the locations. Golf or polo shirts are also great for travelling and fold well.
1 Active Outfit: I would recommend bringing one pair of athletic shorts and one wicking shirt to hit a trail or explore local natural wonders.
1 Windbreaker: The same goes for men as women with windbreakers.
1 Hat: Try a newsboy cap for a very stylish look or bring along a baseball cap if preferred for hikes and sunny days - avoid wearing a baseball cap in most cities
Bring shoes that you can envision wearing anywhere and that you are comfortable in. Try to avoid sneakers for city life and flip-flops anywhere but a beach.
It seems that many women abroad have an incredible knack for maneuvering the cobblestones of Europe or the busy streets of urban Asia in impossibly high heels - I find that a pair of flats looks as chic and is far more comfortable. These can be worn everywhere from a Moroccan market to a Hong Kong walk to a dinner in the countryside of France. For men, try a pair of deck shoes or stylish brown or black laced low boots.
Sandals work wonderfully anywhere, as do ankle boots, depending on your style and the season.
Overall, I would bring 3 pairs of shoes -- or less. Venture into one of the local shoe stores in your destination -- if you save space in your suitcase, you can splurge on a pair of unique, local shoes to always remember your trip.
5. Bring along a fold-up duffel.
This helps to expand your packing ability once in your destination and no longer limited by airline restrictions, making carrying shoes or new purchases easier. Carry on this bag on your return flight or better yet -- check it. Suitcases always seem to expand over the course of a trip and this eases the struggle of zipping the suitcase!
6. Protect your toiletries.
Last, but not least, pack toiletries in Ziploc bags and clear containers so that you can easily find what you need and minimize spills from liquids.
Remember to save space in your suitcase for special memories purchased along the way, and enjoy your trip!
What are your favorite packing and style tips for travel? Let me know in the comments!