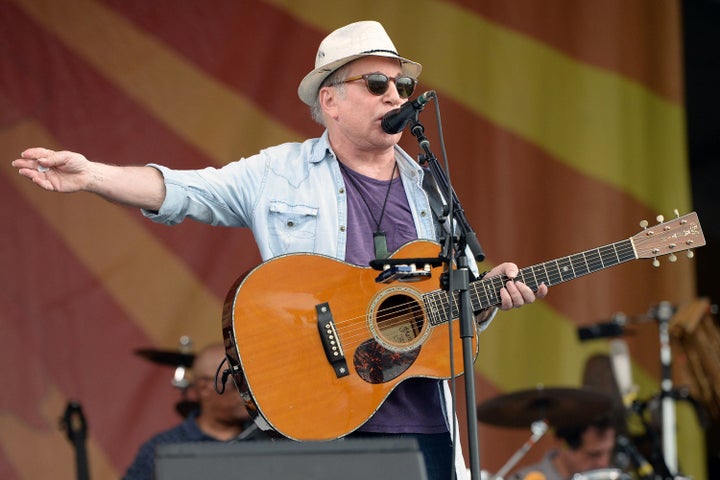 Paul Simon hinted to his possible retirement a couple of weeks ago in the New York Times with a quote as beautifully introspective and cryptic as some of his best work:
It's an act of courage to let go. I am going to see what happens if I let go.

Then I'm going to see, who am I? Or am I just this person that was defined

by what I did? And if that's gone, if you have to make yourself, who are you?
This was in the midst of his tour-ending run of East Coast shows, a day or so after I had seen him completely enrapture a sold-out crowd in Philadelphia at the beloved Mann Center. My first reaction was contented understanding. For a half-century, he has given the music world and those who loved his work more than we ever could have hoped for.
Amazingly, when I first saw Simon a little over 25 years ago on The Rhythm of the Saints tour in Chapel Hill, NC, we thought we were seeing one of his last runs. In a press conference kicking off that tour, Simon was asked about "still being on the road at this stage of his career" (he was 49). "As far as age is concerned, you go and play as long as you enjoy playing and people want to hear you," he said at the time.
His band that night was enormous; their performance was bigger still. And even more transformational for me, a moody, slackerish high-school know-nothing know-it-all, was the trip itself.
A close friend's father happened to be the adult assigned to loosely monitor our three-hour trip away from home. As luck would have it, he just happened to be an English professor at our small-town college, and sexier yet, had gotten his Ph.D. at Berkeley. Although I had been a voracious reader since early childhood, I was only vaguely aware of what an English professor might even be. But I knew Berkeley. I devoured Rolling Stone and was in the early throes of what was to become a lifetime obsession with the Beats, Ken Kesey, the Grateful Dead, and all things counter-culture.
Right about that time, I had haphazardly sent in a few college applications, mostly at the pleading of my parents. Personally, I was much more interested in partying my way to a satisfying high school conclusion than making any kind of big decisions about where my life was going or what I was suited to do. My recent meeting with the school's guidance counselor had ended in irritated sighs for both us. Somehow, we both knew I could do better, but neither one of us quite knew how to make it happen.
Before the show, we went to one of Chapel Hill's pretty little sidewalk cafes (certainly my first time eating in anything like that). There were college kids going by in cool t-shirts with backpacks slung over one shoulder ('90s style), and the whole memory, faded, still seems otherworldly. But there was a crystalline moment when my friend's dad asked me, genuinely interested, what I liked to read. It's one of the first times I can ever remember caring desperately about the answer I was getting ready to give an adult, terrified of the reaction I might get.  
I haltingly told him I was reading On the Road and Grapes of Wrath and was interested in how the "American Road" had changed so much from the Depression to post-War. When he nodded and said, "you know in literature classes in college, we talk about those things every day. Some classes even focus on things like studying lyrics of songs."
I muttered "Oh yeah, I know." But I didn't, not really. We talked a bit more about it, and going into the show, I couldn't think of anything else.
Still high from the conversation that had already become the blueprint of what I now knew was a path—any path—we entered the arena and saw the shocking diversity of Simon's audience.
Remember, we're just five years after the explosion of World Music interest Simon's Graceland had brought about, and though there were your normal old-heads, the crowd I remember was made up of things I'd never seen: dashikis and dreads and yarmulkes mixing in a beautiful mélange. In the small southwest Virginia town I grew up in, a little different was a LOT different, and a lot different was so suspect as to be borderline criminal. But the colors and the smells and the imagery and the feeling to do whatever you damn well pleased—to dance as we danced until the sweat pooled at our feet. . . I knew that this, this was my scene, my people.
When Simon's band played a full repeat of "You Can Call Me Al" right after the crowd had gone apeshit at their first playing of it, I was astounded. "You like that? Hell, let's just do it again": a pure statement on the release of joy. Seventeen musicians strong, all those horns and African guitars, and those drums. My god, the drums. I was 17 and gloriously shattered.
I found later that it was a showstopper that they often played back-to-back during that tour, but to me, it was unlike anything I'd ever felt. The crew I was with loved it all too, and we sat in post-show traffic and talked all through the night of trips we would make to the Amazon and Africa, of buying hand drums for our dorm rooms, and of the wonderful smell of clove cigarettes.
I don't know if any of the rest of them made those trips; truthfully, I don't even know where some of them are now.
But I did. I do. Such was the music's hold on me. Such is the music's hold on me.
Nine years ago my wife and I were readying ourselves for the arrival of our first born. We had been recently devastated by news at her 20-week ultrasound of the difficulties and disabilities we were about to face with our child's birth. We refused to learn the sex of the child; we wanted to be surprised. But in a twisted irony, we knew and had seen grainy images of everything else about that tiny human.
On the car rides to and from specialists' offices, we found ourselves redrawn to the lushness of The Rhythm of the Saints, the whispered prayers to the planet, the rainforest drumming of South America, the buoyant but clear-eyed invocation of it.
Like most truly great albums, it made us feel powerful and completely insignificant all at once.
When we stenciled ". . . Born at Right Time. . . " on that waiting, melancholy nursery wall, it was as much a hope as a statement. But every time that chorus hit us in the car, in the kitchen, it would both lift us and also ground us to the reality of our situation:
Never been lonely

Never been lied to

Never had to scuffle in fear

Nothing denied to

Born at the instant

The church bells chime

And the whole world whispering

Born at the right time
We don't think about that time much anymore. The walls have been repainted. It was a shock to both us and our doctors when our daughter came out perfect, just a little early life correction and physical therapy needed. All that scuffling in fear for naught.
As our other kids have come and life has settled to a steady, throbbing rhythm, those moments in darkened doctors' offices looking at ominous x-rays have faded some, the edges sanded.
A couple of weeks ago, I took that 9-year old to her first concert. She's been to festivals and small local performances, but at the end of the school year, when she wrote her Summer Bucket List, "see first concert" was the number one item. Her hand-me-down iPod had a few Simon & Garfunkel songs on it, and my wife and I had been exchanging bemused glances for a year or so as we passed her shut door and heard "Mrs. Robinson" and "Cecilia" increasingly mixed with Taylor Swift and Katy Perry songs.
So when I surprised her with tickets to the Mann Center show, her eyes got wide as she asked "he's still playing?"
When daddy-daughter date night finally came, we had already done our due diligence around the logistics of the evening: dinner plans, venue maps, the difference in lawn and pavilion seats. I was drilled with questions: what we would do in case of rain, what she should do in case she was lost, would we stay the whole time, was there an opener and what they would be like, were people allowed to dance?
On the way down, having prepped ourselves fully, we got to talk about more meaningful things, which for us is often books and memories. Since I had stopped reading her bedtime books a couple of years ago, I'd been astounded by how she chewed them up, devoured them herself. It was wonderful and a little frightening: almost like a science fiction movie where the alien downloads the whole of human history and knowledge and you eerily know there's no way he's ready for it.
"Dad, what do you like to do most for fun?" she asked me at one point.
"Well you know that, sweetie. I like to write and read and travel and play golf and play with you guys . . ."
"But what do you really like to do most?"
I hadn't thought about it much, to be honest. I've got three kids. "This, I guess," I told her. "When I think about it, most of the best nights of my life were centered around music and friends and dancing."
It'd been 25 years since I'd had so much fun in traffic.
We talked some about the pacing of a show and how artists built a set list for drama or cohesion or to even manipulate the audience. I got to explain what Kodachrome is to someone who's never really seen a roll of film.
I got to explain how good seats make a huge difference, but how any seats are better than no seats. And how people up on the lawn usually have the most fun anyway.
A bit depressingly, Simon's audience had gotten shockingly older and whiter since my last visit. Though Simon and his exceptional band started hot, we were at least a half-dozen songs in before there was as much as a standing ovation after a tune, much less any dancers in our section of the pavilion. Surrounded by 60- and 70-somethings who were just fine with some mild seat-shimmying, by the time the band finished a great version of "Spirit Voices," neither of us could take it anymore. I grabbed her hand and bolted our row.
When we got up to the lawn she spun like a top out of my hands, gave a quick look to a couple groups of older hippies and younger hipsters dancing together in little circles of joy, and let herself surrender to it. The lights of the show and the city skyline beyond danced off her twirling hair and her eyes.  My eyes.
I got to recognize somewhere early in the show, deeply for the first time, how many of those songs I knew by heart were about parents and kids: connecting with your kids, disconnecting from your kids.
I got to worry about opening her up to a world that was and is so important for me at an age much beyond hers. Was it too soon, too quick, too open?
I got to freak out for a really long five minutes while she went into a crowded ladies room before she finally emerged and gave me a look that said "what's wrong with your face?"
I got to completely open my heart to my shame, for maybe the first time in 25 years, to seeing a concert completely dead sober. Thank god it's not that much different. Better even.
I got to explain why, when Simon didn't play my favorite song, "Graceland," or hers, "Born at the Right Time" (yeah), that sometimes that happens, and it's completely the artist's choice to take you on the journey they think you should go on. But how sometimes, you discover a completely new favorite song, and the world blooms.
There's been a lot said and implied about what our pop stars owe us and don't owe us, particularly in this age when virtually no one buys most of the work they produce.
I think the better question is how we can serve them.
Artists are the canaries in the mine. So there's that.
But for me, more importantly is this: if you can make the hair on my arms stand up on a random Tuesday afternoon when I'm driving a minivan and trying to beat back the real world, I owe you $9.99 for your new record. When you usher me into a world of art and freedom and conversations, I owe you a few hours when you come to my town.
In truth, I owe you a lot more than that.
Although Simon's career arc was early enough to grant him the financial success now reserved for the very elite of the pop music world, and he sure doesn't need the money or the drag and the fatigue of the road, I don't completely buy it that it's the last we'll see of him. I think when you create art, really create art, you are defined by what you do.
I think "Artist" is a pretty damn good definition of a life.
And while we danced, I got to hear her whisper in my ear—twice—"this is the best night of my life."
                                                               mmannon@3minutestoryteller.com
REAL LIFE. REAL NEWS. REAL VOICES.
Help us tell more of the stories that matter from voices that too often remain unheard.