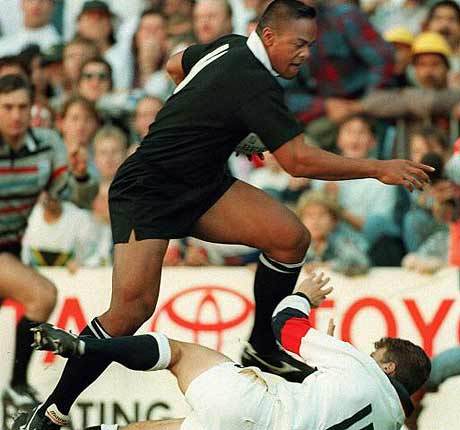 With one image, the one of Jonah Lomu smashing over Englishman Mike Catt, rugby burst into the global consciousness. Before Lomu smashed over Mike Catt, rugby may as well have been played in black and white. Lomu's performance against England that day, scoring four tries in the 1995 World Cup semi-final, was so influential to the game of rugby that it was without comparison. While it is true that rugby did not become professional until the following year (1996), and plans were already in motion for it to go professional that year, it would not have become professional in the way it did without one Jonah Lomu. But Jonah was about so much more than just his rugby exploits, his humility and the way he conducted himself off the field was top class. Just in case no one has yet realized, or has been living in a cave for the past week, Jonah Lomu died on the 18th of November at the age of 40. This article is my tribute to him.
There are not many people in any field who are known by just one name. Madonna is one, Pele is another. If you say Madonna, no one is going to get confused about who you are talking about. The number of sportspeople who known by just the one name is not many. Jonah Tali Lomu, or just Jonah, is in that category. His performances in the 1995 Rugby World Cup transcended sport. What Jonah showed to us is what human potential is really about. The way that he dominated defenses, and swatted aside mere mortal's with effortless ease, was nothing short of inspirational. People that weren't even interested in rugby, or sport for that matter, suddenly switched on their TV screens to watch this man mountain. Indeed, at 1.96 metres and 120 kg, Jonah was a beast of a man. But what made Jonah extra special is that he could run 100 metres under 11 seconds, all while having incredible balance. Just take a quick look at some of his incredible tries to see the true brilliance of the man.
Sadly, and perhaps unsurprisigly, in late 1995 Jonah found out that he suffered from a rare kidney condition called Nephrotic syndrome. During most of 1996 and '97 (he missed the All Black South African tour that year), he took time out from the game in order to deal with his illness. He came back at the end of '97 to take part in the British Isles tour and again terrorized his opposition. At the 1999 World Cup, he came back to his top form and scored a record eight tries in the tournament. In the semi-final, he scored one try by carrying eight French players to the tryline. In 2000, he scored the winning try in arguably the greatest test match ever played. In 2002, in his last test (his 63rd), he scored two tries against the English. With these scores, he brought his international tally to 37 tries in 63 tests.
While watching all of Jonah's great deeds it is very easy to forget that he was constantly battling a very serious illness. And while other players would go out to socialize after a game, he would often have to go back to his hotel room to rest. Personally I think that it is this element about Jonah that makes him one of the greatest sports figures to have ever lived. There is no doubt in my mind that he is among the Jim Thorpe's and Bobby Jones's as easily one of the greatest sportsman to have ever been. He is one of the very few to have transcended sport though and did so to a greater extent than perhaps any other. I think more than his sporting deeds, the thing that I believe we should remember about Jonah is his humility off the field, graciousness in victory and defeat, and willingness to constantly battle against his illness to achieve greatness.
It is so often true that we will encounter forces outside of our control that threaten to halt our progress in life. We all know that Jonah certainly did, but that didn't stop him from participating in bodybuilding contests as his condition worsened. It didn't stop him from re-igniting his professional rugby career, after his kidney transplant in 2004, playing for the Cardiff Blues and North Harbour. He also scored a try in the Martin Johnson testimonial match in 2005. He was a headline figure at both the 2011 and 2015 World Cups, doing a huge amount of promotional work, and motivating our All Black team. I just think that it was great that he got to see his beloved All Black team win back-to-back World Cups this year, before his passing. He had previously mentioned that he wanted to live in order to see his children at their 21st birthdays, and while he will not live to see this milestone, his memory should live on forever. His memory will certainly live on forever in the minds of his children, but it should live on with all of us too. With his memory, we must always be reminded to push the boundaries of what is possible within us, and to meet our personal challenges with humility and grace.
God bless you Jonah, and thanks for the memories.
Calling all HuffPost superfans!
Sign up for membership to become a founding member and help shape HuffPost's next chapter