By Artie Van Why (avanwhy@aol.com)
I fell in love with the World Trade Center my first week down there. I had certainly been there before in all my years of living in New York; usually as a tour guide for friends or family who were visiting. Then, all I thought it was about was going to the observation deck. I had no idea those Twin Towers, the buildings that surrounded them and all that was beneath them were like a city within the city.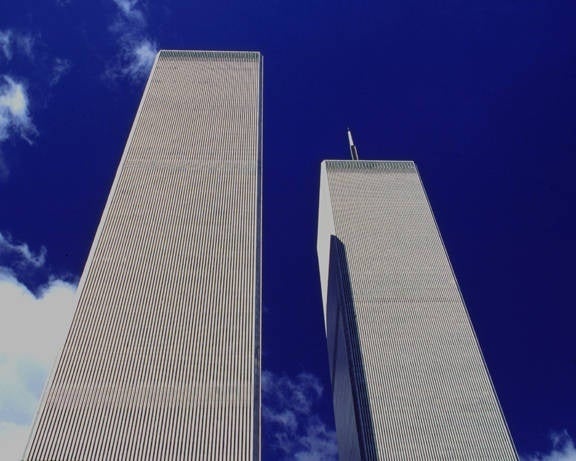 I adapted quickly to working days. Since I had become sober, I had discovered the pleasure of rising early. I loved getting downtown early each day and soon developed a daily routine. I'd be coming up out of the subway by 8 a.m. If it wasn't raining (which I don't remember it doing much during those months), I'd walk the few blocks to the World Trade Center. The streets were always dotted with the familiar sight of shiny aluminum carts, with just enough space for a person to stand inside and serve coffee, bagels, and assorted pastries. My first morning, I stopped at one, and I went to the same cart, on the same corner, across from Building Number 5, every morning; including September 11th.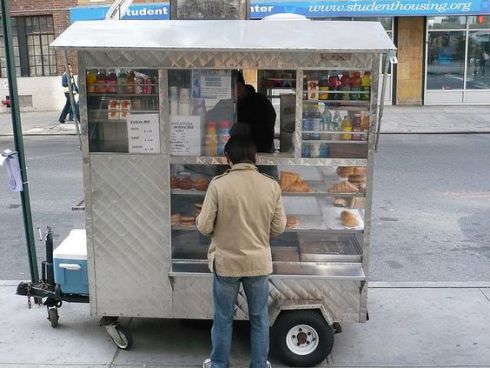 The man in that cart became my "coffee man." Within my first week, he had memorized how I liked my coffee. Every day he greeted me with a "good morning, my friend" and had my large coffee, half regular, half decaf, skim milk, Sweet'N Low™ on the side, ready for me by the time I got my dollar out. If I happened to miss stopping by on any given morning, he'd ask me where I had been the next time he saw me. That's a New Yorker for you!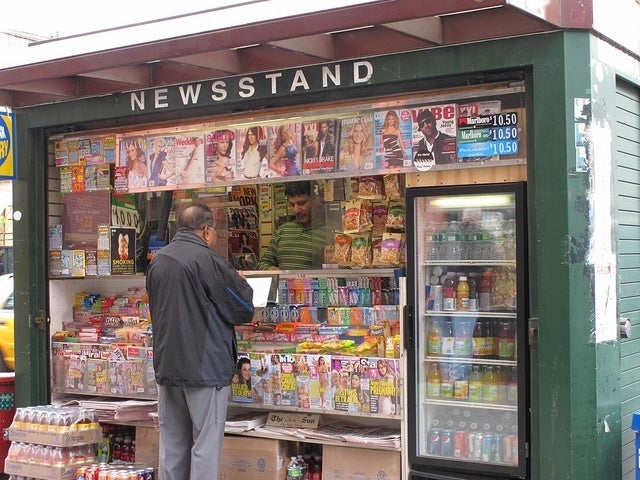 I'd then stop at the same newsstand on my way to the World Trade Center plaza to get that morning's newspaper. I'd then go sit on one of the stone-slab benches that were around the perimeter of the fountain at the World Trade Center with the newspaper; reading it while drinking my coffee. I would also watch the people passing me on their way to work.
Often, during that morning ritual of mine, I felt reassured that life was good. When the weather was favorable, the sky a bright blue, and the summer breeze light and warm, it always seemed that all was right with the world in those quiet minutes alone; just as it did that morning in September.
If the weather was bad, there was the massive shopping mall below those looming towers—a perfect refuge and ideal place to pass extra time. There was an array of stores and shops to look through and several places to get something to eat.
I also spent many a lunch hour in the bookstore in Building Number 5, flipping through a magazine, looking for that next good book to read, or listening to CDs in the music section.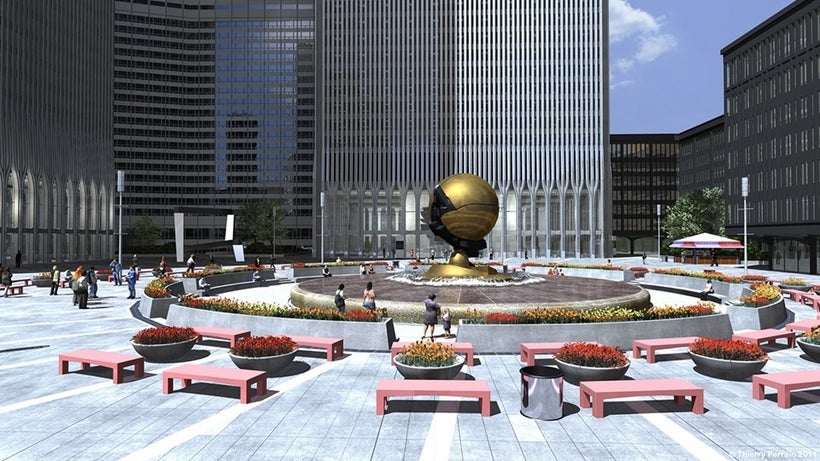 But, my favorite thing to do at lunchtime, if the weather permitted, was to sit in that expansive plaza area watched over by not only the towers but also the other buildings that made up the World Trade Center. It was summer, and summer at the World Trade Center was glorious.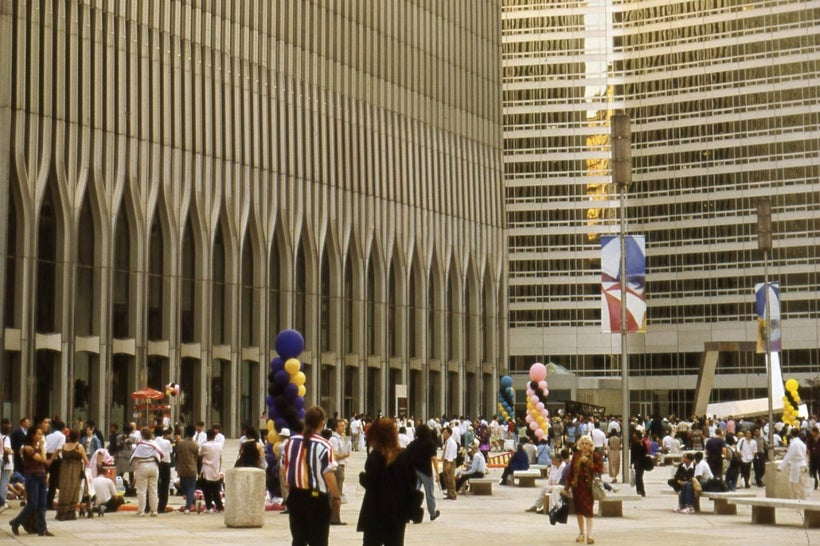 At lunchtime, the plaza would be filled with people and activity—vendors selling hot dogs or ice cream or pretzels; people who were part of the community of workers would eat their lunches (brought from home or bought from there); the men would have their suit jackets off, their ties loosened, and top shirt buttons undone; the women, in their business attire, would be sitting with their shoes kicked off. People would be getting a head start on their tans, sitting within and around the plaza area, heads tilted back, facing the sun, getting those few important minutes of "sun time."
There were the tourists, identifiable by the inevitable cameras around their necks or in their hands. Though they were easy targets to poke fun at, they're the ones who reminded me of the magic of this city, seeing in their expressions and hearing in their exclamations the astonishment of what they were experiencing all around them.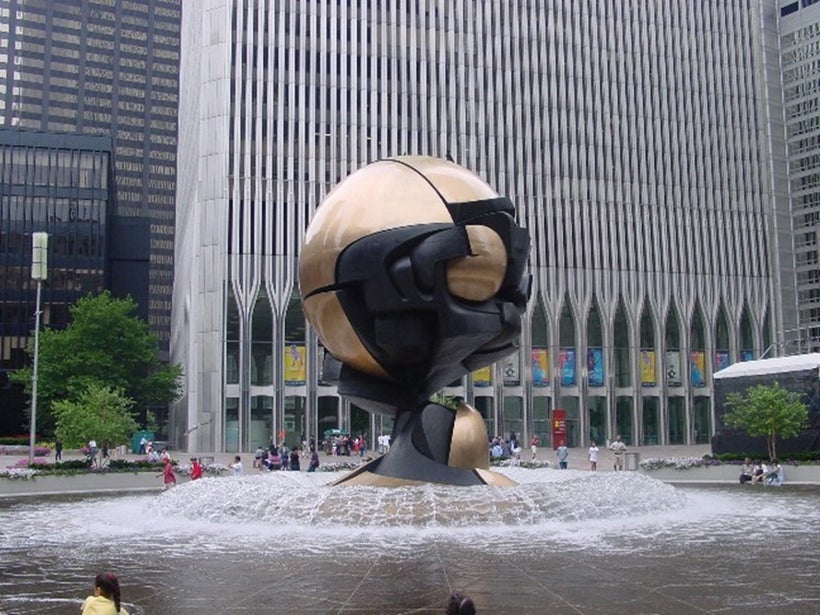 In the center of the plaza there was the fountain, balancing the sculpture of a sphere atop it. It was a stylized globe made of different color metals. It was right in the middle of the fountain; which was circled by one continuous bench. I often sat there, my own face up to the sun, listening to the soft sound of the water spilling over into the fountain's bottom. If I closed my eyes, I could pretend I was near an ocean's shore—very relaxing.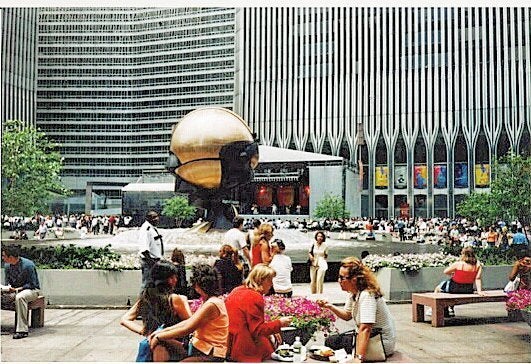 During the summer months, there were free noontime concerts in the plaza. Rows of folding chairs faced a temporary stage of steel and metal. Each day a specific style of music was performed live: jazz, country, bebop, doo-wop or my favorite— "golden oldies" day. Here I'd be, in the middle of New York, in the middle of my workday, listening to Peter Noone of Herman's Hermits one day, Mark Lindsay of Paul Revere and the Raiders on another. On those days; the "golden oldies" days, people would get up out of their folding chairs and dance in front of the stage or right where they were—an elderly couple here, two female coworkers laughing while dancing over there—the maintenance man, the businessman, the young secretary, everyone forgetting they would soon be heading back to work—and, oh yes, the tourists smiling for the picture being taken of them dancing away.
Perhaps I idealize it, now that it's gone, but I don't think so. It was an oasis for the worker in a tedious workday, a fascination for the visitor seeing the sights, a small world of its own that held some of the elements that make New York so dynamic, so interesting, and oh so alive.
It had a breath of its own.
(From by book, "That Day in September")
Calling all HuffPost superfans!
Sign up for membership to become a founding member and help shape HuffPost's next chapter
This post was published on the now-closed HuffPost Contributor platform. Contributors control their own work and posted freely to our site. If you need to flag this entry as abusive,
send us an email
.