When you're in Florence, you must drop in to the Giubbe Rosse, one of the most famous cafés in Europe, located in the heart of the Republican Square. It was founded in 1896 by two Austrian brothers named Reinhaus. It was the center of Florence's literary and intellectual life from 1909 to 1939. At the table at the back left side, the Futurists met -- the intense group of artists that advocated for a rebirth of Italian art per the authoritative ideas outlined in the Futurist Manifesto in 1909. These were ideas I could never support as advice for any person or country.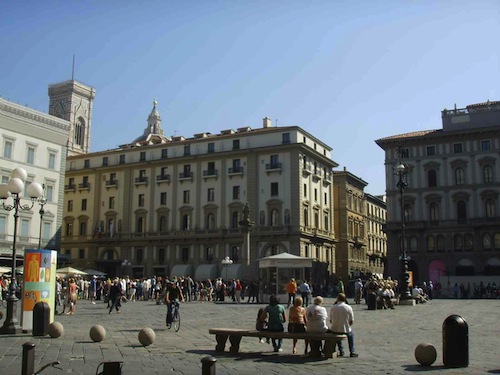 The Republican Square in Florence
The cafe attracted many famous figures, including Lenin, Dostoyevsky, and Giuseppe Prezzolini, founder of Leonardo magazine and a professor at Columbia University with an expertise in Machiavelli. I was fortunate enough to meet and interview the former owner of this legendary cafe, Martino Smalzi, and we had both lunch and dinner together. He and his two brothers owned this cafe from 1989 until 2010, when they sold it. But Martino, at 65, stayed on as manager after the sale. Before our interview, I had the pleasure of meeting his other brother. who owned another famous cafe across the street, Gilli.
I asked Martino to give some advice to young entrepreneurs around the world. He had four lessons for us:
2. Listen to what the market is telling you and find a niche.
4. Build a brand because that is what drives so many decisions.
That's great advice for anyone. Every two weeks, Giubbe Rosse has art on its walls from top young European artists. Twenty-four times per year, they have a book launch here. It remains a center for the literary and fine arts in this beautiful city. When you go to Florence, it is more than worth visiting this wonderful cafe. I sit here now, enjoying a cappuccino and reading Crime and Punishment in the front of the cafe, reflecting on this city and what it means to be a small business owner around the world. So often entrepreneurs like Smalzi are voiceless and behind-the-scenes, so I hope this interview will give all the readers the opportunity to benefit from his advice in running a successful small business and loving what you do.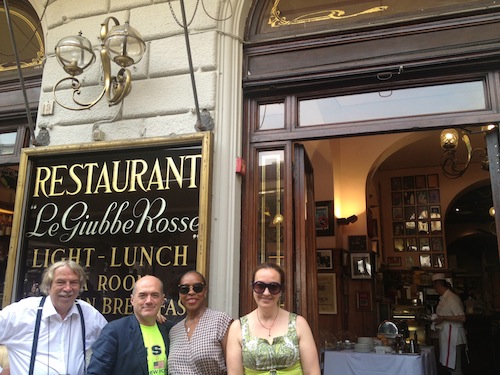 In Florence with Martino Smalzi and my friends Brenda and Carolyn
REAL LIFE. REAL NEWS. REAL VOICES.
Help us tell more of the stories that matter from voices that too often remain unheard.