History of WWO in Haiti and the Earthquake of 2010
Long day traveling from New York to Haiti for camp in Montcel, which is one of the highest points in Haiti. I have a stiff neck from the ride up the mountain from Port au Prince. The roads are a challenge; they are not paved, very rocky, and often inclined so that the cars and buses are on the edge of the mountain when there is a need to pass another vehicle. If Haiti had paved roads, it could be a tourist attraction, but alas the roads are miserable. The ones that are paved are a gift to travelers.
So you know, I have traveled down unpaved roads all my life. They are a great metaphor for how I have lived since I can remember. I wonder if I was created for rocky roads. I choose those roads and then struggle to navigate. Well, more on that at another time.
I will always think the same thing every time I travel to Haiti; after seven years and twenty plus trips to this enigmatic country; I think she is gorgeous, but scary. There are songs written in Haiti that compare her to a woman! I didn't know that until this trip. I actually think that about some women I have known in my life.
The poverty in Haiti is beyond my comprehension and I have been out in the world and seen poverty. On one of my many trips to Haiti, after a few years had passed after the earthquake, I felt that there was little evidence of the rubble and ruins. I visited Haiti every few months in the seven years since the earthquake to grow the work of Worldwide Orphans. I watched the rubble disappear like time lapse photography and the city return to "its" normal. Imagine the destruction which left the white presidential palace broken and frozen in a pose for years; I photographed the palace on every trip with my iPhone held tightly with one hand through the fencing to get my photos. And though there are no hard and fast numbers, likely 300,000 people perished that afternoon, January 12, 2010 in just about a minute of time. Those souls still live in Haiti, but are buried en masse outside the city unmarked. Most Haitians believe in souls!
The deaths occurred because of the non-existent building codes and rebar became a violent weapon as the walls of buildings crumbled and crushed people and things. Because it was at the end of the school and work day at 4:53 pm, people were in harm's way in their homes and at work. I visited Haiti for the first time two weeks after the earthquake and there were still tremors and the home where I slept that week, in La Boule (up the mountain to Kenscoff), had cracks in the foundation and we should have slept outside. I went around that house and noted the cracks with disbelief and wonder. I am not sure why we didn't sleep outside… probably denial; I know nothing about earthquakes even though I taught earth science for years and loved the science of earthquakes, i.e., tectonic plates!
I volunteered at a MASH unit on the property of the Petion-ville Country Club where the 82nd airborne swooped in on day #1. I love those guys; they were real heroes. Because University Hospital was destroyed, medical facilities were housed in large tents in the spaces around the hospital. Surgeries and medical treatments were managed by triage with international medical teams who flew into Port au Prince instantly. The Israeli government care of El-Al was the first to set up a surgical unit in the soccer stadium in Port au Prince… others followed from all over the world. I remember the feeling of peace as we walked around the city. That didn't last; there were fights over the care of patients in the stadium and people were fighting over food and water; UN forces and soldiers from the US were busy controlling the desperation. I was sad to see soldiers leaving at one point, frankly.
Worldwide Orphans and Kan Etwal in Haiti
There is so much to say about that earthquake, but for me, what it meant was that Worldwide Orphans could put its vision to work for the tens of thousands of orphans in Haiti and we are still here providing toy library, soccer, camp for children living with HIV, and training programs for youth who want to help the children of Haiti. Haiti "is not for everyone", but WWO has been able to understand/love the culture and we have found a niche where we could build capacity and provide workforce development to youth as well as to support young vulnerable children in orphanages and in very poor homes in Kenscoff in the mountains. We chose not to work in Port au Prince because there was such chaos there and frankly we felt a calling from the tight-knit religious communities of the mountains. It was not about God… it was about community.
Ed Collier, our photographer, came with me on this trip; he found WWO in a chapter of Amy Poehler's beautiful book, Yes Please, describing her feelings about a trip she took with me to Haiti. Ed and I traveled to Haiti in May of 2016 with the WWO Junior Board. We were in Ethiopia together in October making our annual gala film, when martial law was declared. He also joined us in Bulgaria in May 2017 for our first ever strategic planning meeting with all of our Country Directors from Bulgaria, Ethiopia, Haiti, and Vietnam. He is friendly and is an athletic "picture" taker. He provides us with the images of our kids and programming so people know what we do. Ed's perspective of the work makes the photos live. I have spent a lot of time talking to him about the story we need to tell and he is a partner in this process. We sat next to one another on the flight down and we shared stories of travel and family. We laughed and connected readying ourselves for the rigors of our travel and the visit to camp.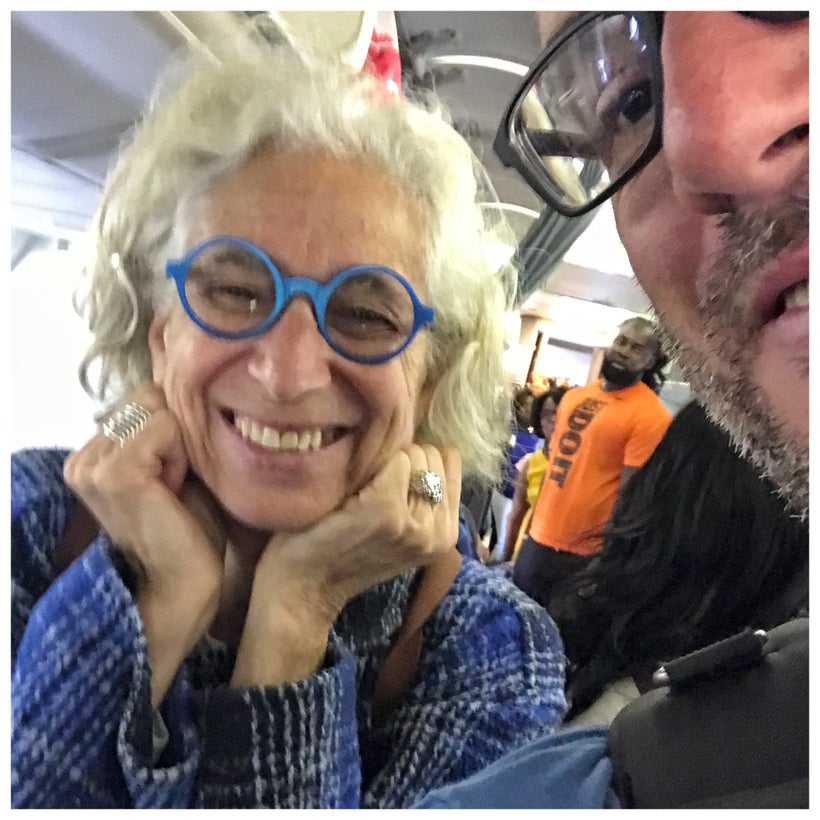 As we drove through Port au Prince and up the mountain, I stared at the shiny faces of Haitian adults and children and wanted to know more, but by the time I finish a day, I always want to get back to New York, so that I can do something about what I see. I am enthralled and maybe even intoxicated by the street life and the endless stories that I can see unfolding as we sit in traffic. I am never bored on a trip to Haiti….or maybe anywhere I go. I am an adventurer and eager to learn and participate in the lives of the children and adults we serve around the world. I am lonely in the midst of all that need, but somehow I feel part of it. I want to be there.
A Quiet Day in Kenscoff. Video by Ed Collier
Check back later this week for Parts 2 and 3 of Dr. Aronson's latest trip to Haiti.
REAL LIFE. REAL NEWS. REAL VOICES.
Help us tell more of the stories that matter from voices that too often remain unheard.
This post was published on the now-closed HuffPost Contributor platform. Contributors control their own work and posted freely to our site. If you need to flag this entry as abusive,
send us an email
.