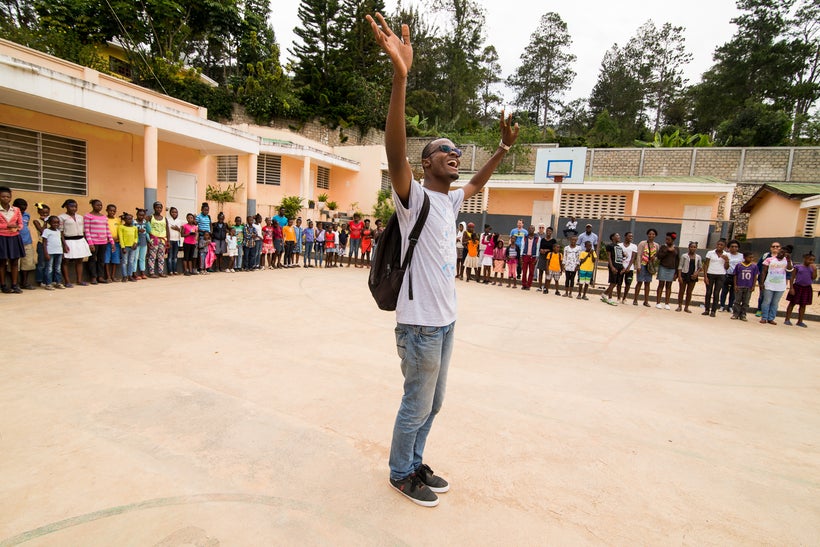 Alex Hercules is a long time staff leader at WWO. When the campers finish daily, they line up in their groups (blue/green boys, red/yellow girls) and Alex asks them to talk about what they learned and liked each day. This reminds me of my end of day queries to my sons, Ben and Des, at dinner. It is parental and Alex achieves that level of caring and nurturing for the children who live with older siblings, or a grandparent or an aunt or uncle. Their parents have died from AIDS in most cases.
Alex has mastered the magic of SeriousFun "camp language." The words and phrases are made up and if you go to camp you will march home with those phrases in your head….Coony La!....well this actually means, "now" in Kreyol, but Ozzi, ozzi, ozzi means nothing, but makes me laugh and cry… and the kids scream these anthems. Then they do a kind of Simon Says that is brilliant and funny.
Step one with arms up in the air
Step two with arms straight out in front of you
Step three with arms down on your thighs
These steps are practiced over and over again and then you debut as a leader. You are allowed to rearrange the placement and match it with one of the phrases to fool the group and then some of you are "out"… I fall victim to this game every time I am in Haiti. Ha! Feels good to lose!
No one plays "musical chairs" like the Haitian children at camp… such tenacity and focus… and their laughter is still in my mind as I write now. And then "steal the old man's bacon" with the conviction of a soldier… all out war for sure.
One late afternoon there was a fire drill with a loud repetitive megaphone sound which Jackie warned me about. The children assemble appropriately as do all of the counselors. They are rewarded with compliments by Jackie because they came as instructed and all 40 are accounted for when their names are called… my name, Dr. Jane, is included in the roster. I say, "present" with a French accent.
The night of the day I arrived, I met with the staff of WWO Haiti. They are veterans… been with us since near to the beginning and they are so devoted I feel guilty that we don't have enough money. They don't seem to care much. They work very long days and their love of the children keeps growing. They are so generous, I want to take them home and build a community of them. They are our capacity and our future in this unpredictable world. They stayed up late for this meeting, but they were attentive and kind to me. I have a card from them… they are very polite and the best kids… some are in their late thirties, but they are so young and playful… they are still kids.
Dinner begins with all of the campers walking and singing down stone steps to the "restaurant", the space where the meals are served. The first night we had meatballs, oatmeal, French fries and plantains. Martin shared some of his broccoli and carrots that were made special for him because he does not eat meat! He shared his potatoes, lentils and another green vegetable called "Chaywot" tonight. He was so generous! We might follow him if that is how delicious vegetables can taste.
I was up at 5:30 am today. The wind was blowing and the mountain was covered with a heavy mist and the temperature was likely in the low sixties. I was in bed under my blanket, realizing that I likely only slept four hours because I was so physically uncomfortable. There were beetles flying and a mosquito that buzzed me, but failed to get me because I covered my head with my hood and my blanket. I don't want to be bitten!
The electricity went out and there was no internet to speak of, except for an occasional text that went out reluctantly. I was able to make and receive phone calls, which was fun and necessary.
I think that breakfast is soon, but I will finish this note first…
Dinner starts with wild singing almost chant like in nature. It is loud and energetic. It is a reminder of how important it is to be loud! The counselors and campers clatter into the dining room after each one of them washes their hands. Then the medication is handed out to all the kids one by one and I watch them take their pills. They live with HIV and they are here to play and learn about how to take good care of themselves.
Everyone fills the dining area and group by group the kids get their breakfast and sit at their tables. I watch and listen and wonder when I can rest my head. I sit with Myriam Bigot, our coordinator who was born and raised in Haiti and hired by WWO as a fulltime program coordinator in Maplewood after she moved from Haiti to New Jersey. She is sweet and smart and is our Kreyol translator in Orange… and well, much more. She is the heart of the programming back in Orange. I am still hearing the loud music which is waking up the campers and getting them ready for breakfast.
The Vision of Camp for Vulnerable Children
It was my dream to have camp in WWO's countries. I went to camp for eight years… six years of eight weeks in the summer time and two years of day camp near my home on Long Island. I often credit camp as life-saving for me. I could be myself and feel independent from my parents. Even though I was home sick, I was able to be on my own and feel strong and competent. It was in camp that I became an athlete and a sailor/swimmer. It was in camp that I learned to camp and enjoy the wilderness. It was in camp that I had my first kiss, my first slow dance, and discovered my deep need for love and affection.
We have had camp in Haiti for six years, but the two other camps in Ethiopia and Vietnam are older. These are camps for kids living with HIV. I want camp for all the kids we serve. It takes kids away from stress and allows them to grow up in a social environment where they can play and learn sports and enjoy the outdoors, which can be healing for kids with trauma. Camp is disciplined/regimented and free at the same time. Camp allows self-exploration and camp gives us funny memories of bad food and experiences that are private and sacred. Many American adults who had camp in their lives still have the friends they made in camp as children… even marriages.
Thanks to Lydia Stickney Dugdale, WWO's first Orphan Ranger in 1998, for introducing me to Steve Nagler who was head of the Global Partnership Program at Hole in the Wall Camps, which led to the three camp partnerships for WWO for kids living with HIV.
As I watched the campers taking their anti-retroviral medication at breakfast and dinner, I was aware of how essential camp is to kids living with HIV. They learn to adhere to their drug regimen to ensure themselves of good health. The kids in camp this week were 8-14. Next week's group is 15-17. 40 kids each week will have had fun and felt the love and devotion of their counselors. The campers come from all over Haiti and are cared for by the doctors and nurses from Gheskio and St. Damien's Children's Hospital which are the main centers for HIV care in Port au Prince.
I left camp today feeling that I had learned so much, but I feel that we have fallen short of the comprehensive long term psycho-social support that is necessary for vulnerable children wherever we work.
We don't have the follow-up services that will be necessary for these kids to achieve what I envision…higher education and jobs and families of their own. We need after school and weekend support for kids living with HIV. This is a big year for WWO to be able to raise more funds for the long term care of poor, at-risk kids with HIV, disabilities, delays, and special needs of all kinds. We need to continue to build capacity in all the countries we work, i.e., Haiti, Ethiopia, Vietnam, Bulgaria, and the USA….and we need to be in more countries globally and more cities in the USA.
Children need play; it is education and good for the spirit and body…and it heals trauma inside and out.
Let's keep one another company over the next twenty years. WWO is committed and we don't want to be alone with our vision anymore.
CEO and President, Worldwide Orphans
Celebrating 20 years of very deep commitment to vulnerable children and adults
"Great Things Happen with Time"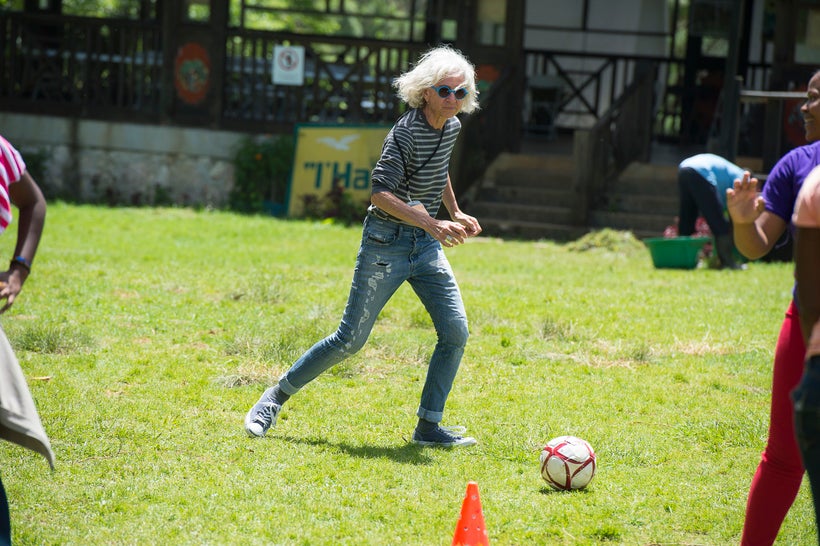 REAL LIFE. REAL NEWS. REAL VOICES.
Help us tell more of the stories that matter from voices that too often remain unheard.
This post was published on the now-closed HuffPost Contributor platform. Contributors control their own work and posted freely to our site. If you need to flag this entry as abusive,
send us an email
.