I almost couldn't wait for the train to get to Pleasantville, New York.
I knew Pleasantville as the home of Reader's Digest, but I didn't know that it was also home to one of America's greatest theaters -- the Jacob Burns Film Center. I was meeting Steve Apkon, the founder of this incredible organization. My friends Kathryn Davis and Diana Davis Spencer had told me for the last decade about a remarkable Harvard MBA. In midlife he had recreated himself as a film expert and an educator -- something dear to me, as it mirrors my own experience in founding NFTE. His center had become nationally-renowned, and on his board sat Martin Scorsese and Steven Spielberg, among others. Being a film buff myself, I was fascinated. Here I was off on my adventure.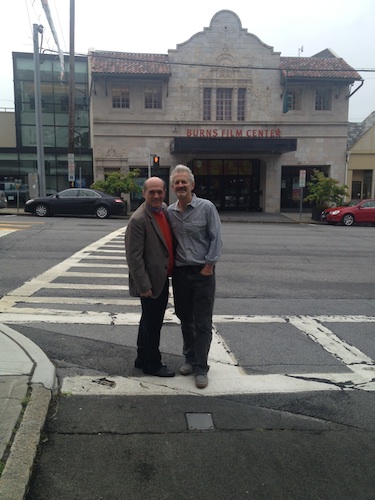 Me and Steve Apkon at the center
He has two buildings -- one is a traditional theater complex while in the other he trained over 65,000 kids in storytelling and film. His story was even more interesting. Raised in Framingham, his father was an engineer and his mother was a real estate agent. When he was growing up, his father was a fascinated by photography and he would take pictures of unique things -- sometimes on Saturdays, he would capture objects at a junk yard. Steve then fell in love with the concept of visual imaging. After graduating Georgetown in '83 and Harvard Business School in '86 with many of my friends, his first job was in private equity with the legendary Odyssey. Then he went to work for Marty Wygod, and was instrumental in selling Medco. While he loved investment banking, he needed a life change.
In 1997, he and his wife moved the family to Israel and Steve entered into a conservative Yeshiva. On the first day of class, he had the realization that perhaps he had made a mistake when the Rabbi said, "We are going to study one book of the Talmud this year -- on business law." He was shocked when he saw all that he had given up and the distance he had come, just to study something he was trying to get away from. Within a week, he had changed his mind. He began to understand business on a much deeper level -- that business was about love and helping people through voluntary transactions. He began to view markets in a more spiritual way.
He came back and decided that he wanted to be part of the educational community focused on digital imaging. He wanted to help tell stories through the theatre and to help educators and children to use imaging for their storytelling.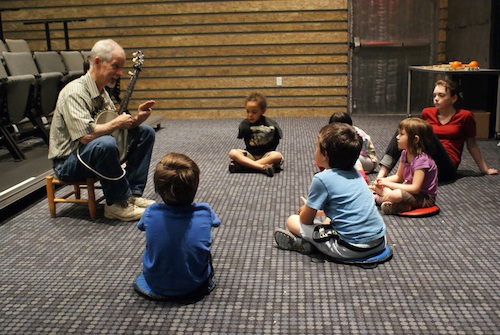 Bill Gordh, educator, teaching children about storytelling
As we shook hands, I knew I had found a friend. We had so many similarities -- a love for film, a love for business, and a love for education. As we left, he gave me a copy of his book, The Age of the Image: Redefining Literacy in a World of Screens, which I read in two days. I learned how the next generation to master digital imaging will have huge advantages and low-income youth need to know this. I hope that every educator will read this book.
Popular in the Community