Deputy AG Rod Rosenstein appoints joyless Munster, Robert "Robert" Mueller as Special Counsel to TrumpRussiaGate.
Someone or everyone from team Trump gets fired. They are immediately replaced by someone 100 times less qualified. Sean Spicer is replaced by Jon Gosselin, Reince Priebus is replaced by Chewbacca Mom, and Betsy DeVoss is replaced by a Lego that you step on.
The President suffers another blow as the Senate suddenly remembers they were supposed to be working on a reasonable health care alternative to the death of millions. Instead, they have spent the last 2 months hiding from reporters and distancing themselves from their party.
The President claims victory.
Robert Mueller comes out of his office and doesn't look angry, just disappointed.
Chris Matthews feels a tingle down his pants leg signaling at least 6 more weeks of investigation.
The Washington Post confronts Paul Ryan with a picture of Putin and Trump looking over the shoulder of a Russian hacker and smiling. Paul Ryan claims the image is doctored. The Post then plays audio for him where you can distinctly hear Trump's scratchy voice. Paul Ryan insists it is manufactured. The Post then presents Speaker Ryan with a 4D / VR experience of the scene where he can actually feel Trumps spittle landing on him as he speaks. Speaker Ryan insists he still has full confidence in the President.
The New York Times unearths proof that Mike Flynn's real name is actually Mikhail "Karla" Flynniakov.
During the White House Halloween Party, President Trump punches a child in the face accusing the kid of stealing candy. AG Jeff Sessions appears on TV saying the President thought the child was a member of the Press and that he was well within his rights to punch a member of the press, especially one dressed as a Minion, on the south lawn. The White House comms team scrambles to explain how the President mistook a child in costume for a member of the press.
President Trump tweets "I'm glad I punched that dumb kid. I'd like to do it again."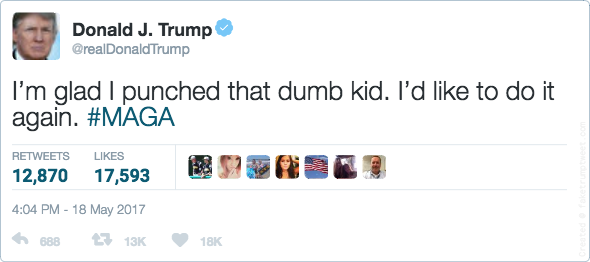 Secretary of Energy Rick Perry submits his resignation finally admitting he had no idea what he was supposed to be doing, and that he'd been playing Mobile Strike the entire time.
Robert Mueller peeks out of his office looks at VP Pence and makes the come here gesture with his fingers. VP Pence gulps, walks in, and the door is closed behind him.
On the same day as their indictments for treason are handed down, Mike Flynn and Paul Manafort are apprehended by the Coastguard in a rowboat trying to rendezvous with a Russian sub. Among their possessions is a framed map of Trump's electoral college win.
Citing health concerns and a desire to rededicate himself to fighting The War on Christmas, VP Pence submits his resignation. Anonymous sources say the Veep has been banking on this imploding much earlier, and did not foresee the toll that supporting a rapey dunce in the White House would take on his personal health.
A hot mic at VP Pence's farewell ceremony catches an awkward struggle where the President is seen clutching at Pence's forearm and is heard saying "Ok, but just take me with you. Ok?" to a visibly alarmed Pence.
On January 1st, at 5 AM, President Trump tweets "F**k this, I quite." The tweet that has already rocked the world and sent the stock market into a nosedive at opening, is deleted 5 hours later. Press Secretary Jon Gosselin explains the full Tweet was supposed to read "F**k this, I quite enjoy being the President and plan to continue to make America great."
President Trump does not emerge from the White House for 2 weeks, sending Jared Kushner to deliver the State of The Union to a half filled joint session of congress. Visibly absent are Speaker Ryan and the VP, since President Trump has failed to replace Pence nearly a month after his resignation.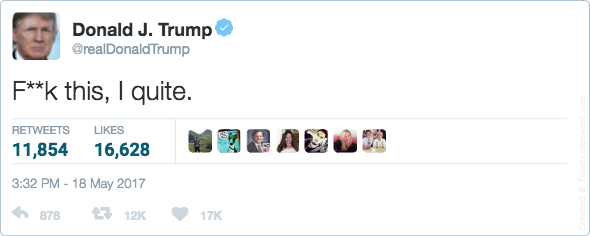 Special Counsel Robert Mueller releases his report. The 700,000 page report shows how Trump campaign officials and surrogates colluded with the Kremlin to hijack the 2016 Election and how once in power they fed sensitive information the the Russian government. The report goes to great lengths to exonerate President Trump who is reported as being "clueless", "easily manipulated", and "dumber than a brick".
President Trump decides to take a well earned vacation at Mar-A-Lago.
VP Kushner remains in Washington.
Claiming he's done everything he set out to do, and pointing out that America is GREAT again, Donald Trump announces that he will be taking an "extended break" from the presidency. Pointing out that he is not, in fact, quitting. When pressed about how long his break will be, President Trump says "Who knows? Maybe forever."
VP Kushner says he will be handle the President's duties while POTUS takes his well-earned "forever break".
The house votes 268 to 267 to begin impeachment proceedings against President Trump. Trump says he's confident the house will prove him innocent and goes out for another round of golf. The House votes for impeachment in a vote of 500 to 32.
The Senate encounters a stalemate with a 50/50 split in the vote to impeach. The final vote will be cast by Vice President Jared Kushner.
On May 20th, 2018, Jared Kushner casts the final vote for the impeachment of Donald J. Trump, effectively making him the 46th President of the United States. In a Twitter apoplexy, former President Trump tweets "Jared, your fired!", as Jared Kushner is sworn in by Justice John Roberts.
The theme from House of Cards begins to play as Jared Kushner takes his seat behind the Resolute Desk in the Oval Office. As we pan out, we see a worker removing the portrait of Andrew Jackson just as the credits begin to roll.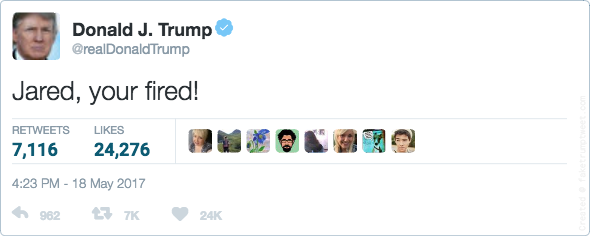 REAL LIFE. REAL NEWS. REAL VOICES.
Help us tell more of the stories that matter from voices that too often remain unheard.
This post was published on the now-closed HuffPost Contributor platform. Contributors control their own work and posted freely to our site. If you need to flag this entry as abusive,
send us an email
.