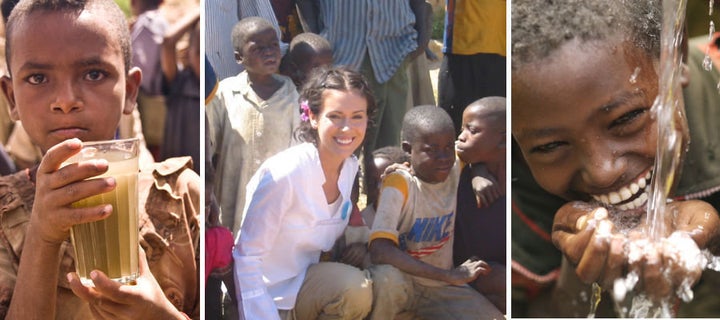 We've all been impacted by the devastation in Haiti. We've seen the pictures and watched the videos with horror and dismay. To watch that kind of human suffering on television is one thing, but to truly grasp that kind of pain is something else entirely. It is unfathomable. Even the most active imagination can't totally comprehend the big picture.
As a UNICEF Goodwill Ambassador, I've seen UNICEF's lifesaving work first-hand. I traveled to Angola in 2004, only two years after the peace treaty was signed ending a 27-year civil war. In 2005, I went to India for the 6-month anniversary of the tsunami. Sure, I had seen pictures from both places prior to my trips. I watched videos and tried to prepare myself. But what I couldn't get from a photo or video, were the smells of sewage and illness, the unbearable heat in a temporary shelter, the feeling of dirt covering my body. These are the things that will stay will me for the rest of my life.
To fully understand the effect of this earthquake, it's important to know some background on Haiti. Haiti is the poorest country in the Western Hemisphere and has been plagued by political conflict for most of its history. Since 2004, the country has suffered profound violence and lawlessness. The chaos has hampered basic services and prevented humanitarian assistance from reaching vulnerable children and families.
Issues facing children in Haiti even before the earthquake:
Haiti has the highest rates of infant, under-five, and maternal mortality in the Western hemisphere. Diarrhea, respiratory infections, malaria, tuberculosis and HIV/AIDS are the leading causes of death.
Some 60 per cent of people, primarily in rural areas, lack access to basic health-care services.
Numerous schools and hospitals have closed because teachers, social workers, and health providers could not go to work for fear of violence.
It is estimated that about 5.6 percent of people aged 15-49 years old in Haiti are living with HIV/AIDS. This includes about 19,000 children. Antiretroviral drugs are extremely scarce.
As many as 2,000 children a year are trafficked to the Dominican Republic, often with their parents' support.
Only a little over half of primary school-age children are enrolled in school. Less than 2 percent of children finish secondary school.
Approximately 1,000 children are working as messengers, spies, and even soldiers for armed gangs in Port-au-Prince.
Last night, as I sat in the comfort of my living room, watching the news and obsessively checking my Twitter homepage for the latest developments, I felt completely helpless. I cried, and then I did the only thing I could do...I wrote a check to the U.S. Fund for UNICEF for $50,000. But I woke up this morning feeling that this wasn't enough. As I sat in my bed trying to brainstorm how to raise more money...I turned to Twitter and tweeted the following: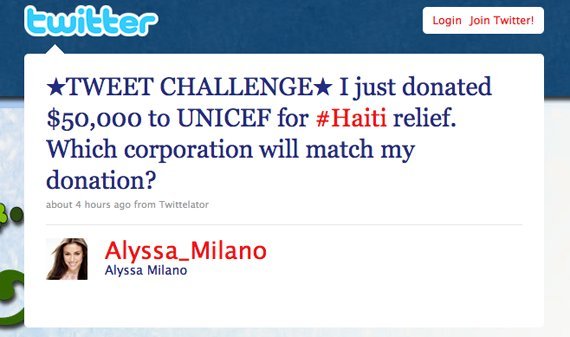 I'm constantly amazed by the power of Twitter. For my Birthday, with the generosity of my followers, we were able to raise $92,568 for my charity:water campaign, bringing life-giving, clean water, to 4,628 people in Ethiopia. For two weeks, I tweeted about the campaign and was so overwhelmed by the result.
So... it's on! I challenge any corporation to match my $50,000 donation to the U.S. Fund for UNICEF. 100% of every dollar will go directly to supplies that include tarpaulins, water-purification tablets, oral rehydration salts, family water kits, medical supplies, medical kits, food, shelter, and protection.
Who is up to this challenge? Will someone help me help the victims of this catastrophe?
Related
Popular in the Community