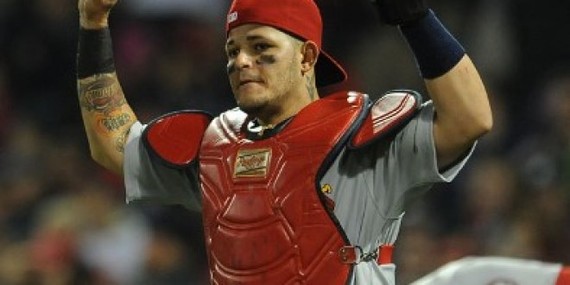 One of these is none other than Miguel Cabrera of the Detroit Tigers. Let's face it; you don't have to be a baseball guru to have guessed that Miguel Cabrera was going to be at the top of the list for his second American League MVP award. His .348 Batting Average, 44 Homeruns and 137 RBI's basically sealed the MVP for Miguel.
Just like last year, Mike Trout was right behind him, but Miguel led the league in batting average (.348), slugging percentage (.636), on-base percentage (.442), and OPS (1.078). He did this with fewer at bats than last year, but still hit 44 home runs, crossed the plate 103 times and drove in 137. Let's face it Miguel is a monster at the plate. So Congrats to this native Venezuelan for winning his second American League MVP and for what will most probable be his third LatinoMVP.
The National League MVP was, Andrew McCutchen of the Pittsburge Pirates. This well deserving award was for his .317 Batting Average, 21 Homeruns and 84 RBI's. Though his numbers were not overwhelming especially when you compare them to the monster, Cabrera in the AL, but the award is called "Most Valuable" and there is no doubt that Andrew was a key valuable factor to help the Pirates make it to the post season something that they have not done since the phrase, "There's no crying in baseball" said by actor Tom Hanks in the 1992 film, A League of Their Own. Congrats to Andrew. However, there was one Latino who made this prestigious list of top four in the National League voting and that was, Yadier Molina.
Yadier did not win the National League MVP, but I believe should win the prestigious 2013 LatinoMVP award for the National League. This award has been given to the top Latino baseball players since 1989. The award is coordinated by Latino Sports and voted on by the Latino Sports Writers & Broadcasters Association (LSWBA).
Molina, catcher for the St. Louis Cardinals was the only Latino who was among the top vote getters in the National MVP vote. Yadier received 219 votes, of which 2 were first place votes and came in third place behind, Arizona Diamondbacks, Paul Goldschmid.
Some baseball fans, especially Latino fans, might blurt out names like fellow Cardinals teammate, Carlos Beltran, but again the words "Most Valuable" are more applicable to the other Puerto Rican, Yadier Molina who might not have been in many highlights of game winning homeruns, or spectacular catches. However, if the Cardinals made it to the post season it was in great part due to their pitching. There behind home plate Yadier was the "master" guiding a bullpen that was young, inexperienced and not considered a major threat. Yadier is credited for helping to develop that young bullpen that was not considered to be much at the beginning of the season into a formidable core that took the team to the World Series.
Therefore, these two are my picks for the prestigious LatinoMVP Award.
Miguel Cabrera, American League
Yadier Molina, National League.
What do you think?

Visit www.latinosports.com to enter a chance to win an autographed limited edition Miguel Cabrera copy of his first LatinoMVP award.
Calling all HuffPost superfans!
Sign up for membership to become a founding member and help shape HuffPost's next chapter