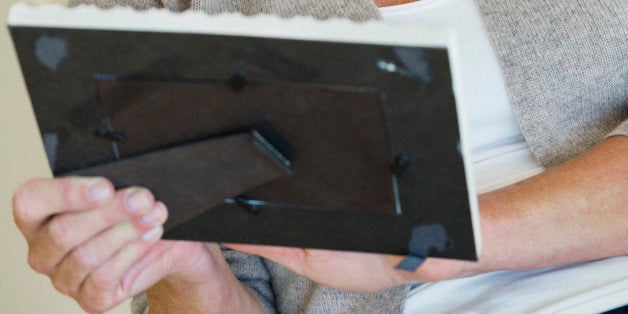 I have two sons. They are little carbon copies of their older sister, from their blonde locks to their bright blue eyes. They share the same flirty smile and deep dimples. They both have an over-the-top personalities. At a young age, both boys were the biggest snugglers, and I could spend hours just cuddled up with them in bed.
My older son Bennett was always a good sleeper and an easy baby. He didn't cry for six months. My younger son Fletcher was born screaming and hasn't stopped making his presence known since. Bennett was a mischievous toddler. Every day was a new adventure as he tried to find some new limit to push, another line to cross. Fletcher is only seven months, so I can only imagine what little boy escapades I'm in for.
They're brothers, yet they've never met. Bennett died in a car accident in our driveway in 2013 and Fletcher was born some 19 months later. The lines are so blurred, I sometimes forget where one boy ends and the other begins. I struggle in writing this knowing what tense to use, the past or the present.
Since Fletcher was born, we have had a hard time not mixing up the boys' names. At first it was tough as we constantly called Fletcher by Bennett's name. I would watch people's faces as they would do the same and look at me in horror, waiting for a reaction. After a while, the slip started to become a balm for my sadness. I kind of enjoyed hearing Benny's name again, even if it was in the wrong context.
Having a baby is an invitation for strangers to ask questions like How old is he? Is he sleeping through the night? Do you have other children?
I struggled enough with that last question after Benny died, this just added a whole new level to it. Having a baby is supposed to be exciting and joyful, and I would cringe every time I knew the inquiries were coming. I recognized how quickly the conversation would become uncomfortable. Then I would feel so guilty because I didn't want Fletcher's life to be overshadowed by his big brother. Add double guilt for worrying about Bennett's life being forgotten because of his little brother. It's a no win situation.
I worry about us as Fletcher's family. He was born into a household of loss. How will this affect who he is? Would he be different if Bennett was still here? He's supposed to have an older brother to look up and get into trouble with. Now the only way he will know his big brother is through pictures and stories. Bennett will never be real to Fletcher, as he was to us. He'll always just be this idea, something that is missing.
As Fletcher gets older, he reminds us more and more of his older brother. We will never have a family picture with all of our children in it. Our memories have been sorted into before the loss and after.
We are lucky to have Fletcher, this I know. We have hope that we didn't have 2 years ago. Our daughter is no longer an only child again. Sometimes it's just hard to feel so much joy and so much sorrow at the same time.
This post is part of Common Grief, a Healthy Living editorial initiative. Grief is an inevitable part of life, but that doesn't make navigating it any easier. The deep sorrow that accompanies the death of a loved one, the end of a marriage or even moving far away from home, is real. But while grief is universal, we all grieve differently. So we started Common Grief to help learn from each other. Let's talk about living with loss. If you have a story you'd like to share, email us at strongertogether@huffingtonpost.com.